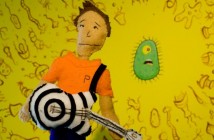 Recently, we reported that Nerf Herder released a new track called "I'm the Droid You're Looking For" as part of the Crappy Records compilation Have a Crappy Summer. As a follow up to that tid-bit of news, and out of general concern for the heroes of Geek-Punk, staff writer Sean Mikula spoke to Nerf Herder's front man Parry Gripp.
Gripp spoke about his family business, touring with Weezer, being part of the Fat Wreck family, how Waffles led to writing theme songs for Cartoon Network, and of course, the future of Nerf Herder.
I was actually just watching some Nerf Herder footage on Youtube
Uh oh.
Tigger costume, eh?
I've gotten a lot of mileage out of that Tigger suit. It's nice and warm.
So you co-own an Orchid Estate?
My father started an orchid nursery here in Santa Barbara in 1957, so I grew up with it. Through a series of tragic events, my sister and I ended up owning it. I've worked there on and off for years. Currently I'm off.
So is it something that you're passionate about?
Not really. I never wanted to work there. When my mom passed away (just as Nerf Herder was forming, actually), the nursery was super-broke. Someone had to be there, and my sister had a good job at the volcano lab in Hawaii. I was a broke musician/writer, so I actually moved into the office at the nursery and lived there. About two years later, Nerf Herder was signed, and I was able to afford to go on tour. Eventually my sister came back and now she runs the place.
What year did NH form?
It must have been 1994, about when Weezer's Blue Album came out.
You said you were a broke musician/writer, what were you doing previous to NH?
I was in a band called "The Decline Of Paisley John Shaver". We actually did some of the early Nerf Herder songs, like "Down On Haley" and "Sorry". I also wrote a weekly music column for our local free paper. I wanted to write for magazines.
What happened to that band?
It just fell apart. The other guys were interested in other things, so it just kind of crumbled. Then, my mom had a heart failure in Japan, and I flew over there and was there for five weeks. That time sort of divided up my life. When I came back, things were different, and I didn't see the guys from my old band. I was hanging out with Steve Sherlock (Nerf Drummer). We went to our friend's birthday party (Marko72 from Sugercult), and Weezer was playing (this was a couple of weeks before the blue album came out). We were really inspired by that.
Steve, whom also makes appearances in the lyrics of many of your songs?
Yeah, I guess Steve figures a lot into the early Nerf Herder lyrics. We'd be goofing around in the practice studio, and the songs needed words, so I'd just make up stuff about him because he was sitting there. It was a lot of fun, actually!
Nerf Herder was called Geek Rock/Geek Punk/Nerd Core, whatever someone chose to make up that day and Weezer seemed to be the pioneers of the genre. How did you feel about being branded that way?
Well, a lot of people said that we were a Weezer rip off, which I actually take as a great compliment. We got incredibly lucky, and our first tour was actually opening for Weezer on the East Coast leg of the Pinkerton Tour. It was really a dream come true. But that also associated us strongly with them.
However, the super-Weezer fanbase never really liked us that much. We were way too goofy and ridiculous, mainly due to our other main influence, NOFX.
That's funny, because there are a couple interviews with Fat Mike from '94 where he talks about really liking the Blue Album.
What's not to love?!?
So, did you strike up a relationship with any of the Weezer guys?
Not greatly. They were in a very dark time. Pinkerton was sort of disaster for them. Matt Sharp was leaving the band. The shows were awesome, but backstage it was grim, and I'm sure they didn't want to hang out with us. Later, before the The Green Album came out, River's contacted me to set up their first shows after a long time of not playing. I suppose we got to know them a little better then.
Set them up how?
Well, River's called me out of the blue and said that they wanted to start playing again as Weezer, and that they wanted to play with us in Santa Barbara (our hometown). I can't remember exactly what happened, but I believe I might have put him in touch with the club owner at the place we would always play. The whole thing was nuts! He seemed concerned that people might not be interested in seeing them, which to me seemed ridiculous. Anyhow, we ended up playing 4 or 5 shows with them at that point.
Great! So back to your first album, how'd you meet Joey Cape?
We all are from Santa Barbara, which is a small town, so everyone knew each other. Joey wanted to start his label, and our pal (Marko72 -Sugarcult), was involved with it and convinced Joey to do a CD with us.
And after "Van Halen" started getting some play the band then got picked up by Arista and the disc was re-issued, correct? But your follow-up came out on Honest Dons. How did your contract with Arista end?
Well, we were signed to Arista at a time when a lot of weirdo bands were getting deals. Our song "Van Halen" was going up the modern rock charts, so we got snapped up. It was a crazy and fun experience, and I feel really lucky that we got to taste a little bit of major label life. However, when we started coming up with demos for our follow up, the label didn't really like them. After a while we got frustrated and actually asked to get out of out contract. We knew we could go to Honest Dons (part of Fat Wreck), where they actually liked us.
And how did you know Honest Don's was interested?
Well, we were pals with Fat Mike and people at the label. They actually distributed our first CD when it was on Joey's label, and they were the ones who took our CD to Live 105 in San Francisco, which jump started everything for us. Nerf Herder opened for the first Me First and The Gimme Gimme's show, and Mike's (then) wife Erin was a fan of ours. We played at her birthday party! Anyhow, we had history with them, and we knew they were a great label.
And you said NOFX was an influence, were you a fan prior to meeting them?
Yes! I remember seeing them on tour with Green Day opening ! I loved them the second I saw them. They were so funny and kick-ass. And super nice dudes, too.
You seem to have an affection for a lot of the bands that you eventually would start playing with. Weren't you also a metalhead in the 80's?
Yes, totally. Although, I really liked New Wave and classic rock, too. I really liked everything, and still do. Back then, mostly you would either be into metal or new wave. It was like following a sports team- you hated the other guys. I love the song "Pantera Fans In Love" but I didn't write it. Dave Ehhlich, wrote a few of the Nerf Herder songs, and that was one of them.
So how did your two LP's for Honest Don's do? Did you find support from the punk community?
Yes, we did. And by being signed to Honest Dons, we joined the official punk rock community. That was great, but it also meant that we were labeled "punk", which wasn't exactly what we were.
But you fit under the umbrella of punk?
Sure, I think we were part of what became Pop-Punk. It's just if you went to a show expecting Lagwagon or NOFX, you might be kind of disappointed by Nerf Herder. We were just too slow and Weezery.
Were you aware that Honest Don's was going to cease to exist? How did that affect your relationship with the Fat Wreck crew?
Well, that happened a long time after we had stopped doing stuff. Everyone moves on. Things are great, and then they are over. Such is life…
Did you officially take a hiatus after American Cheese?
Yes. It was a good time to stop. Driving around in a van is just not a healthy lifestyle. And that kind of music was getting less popular, and that made everything harder. Also, there were a lot of personality issues going on.
So what spawned IV ? You were probably dying to put out an album with that numeral, eh?
Ha ha! No, I think we were just kind of bored. It was something to do. Part of it was Steve and I trying to clear the air with Charlie (first Nerf bass player), who we had kicked out after the first album. In the end, that totally backfired.
How so?
Well, we basically ended up kicking him out again.
So when did you start doing the jingles?
Well, after American Cheese was over, I decided to get out of music. I was going to sell my gear and everything. But out the blue I got an email from Lisa Klein, who had been doing licensing for Fat Wreck. She had this request for a song to sell frozen waffles, and she thought I could come up with something. The first thing I came up with was "Do You Like Waffles?". It ended up not being used for the ad, but I had so much fun writing and recording it that I just went nuts writing fake jingles. It was really a great outlet for me! It had always been a struggle to write songs for Nerf Herder, but these jingle things just popped right into my head, like magic! So that's how I got started. And "Do You Like Waffles?" went on to be very successful for me.
So do you make revenue off these?
Well, now I make my living writing "crazy" music. It's been awesome - really a dream come true. I sell a lot of music because of the YouTube videos. These songs are really popular as kids songs and ringtones. Also, I get advertising and TV work because people know the music.
Anything on TV or ads our readers might know?
I'm working on a big national ad campaign right now for well known toy/game company (which I can't name at this point). Also, I wrote the theme song for Marvel's "Super Hero Squad Show" and I just did the new theme for "Ben 10", both on Cartoon Network.
Ever gone to or played Comic-Con?
I went to Comic-Con in 2009, and I'm going this year. It would be fun for Nerf Herder to play at something Comic-Con related. When I was there in 2009, I ran into Joss Whedon in the hotel lobby. He was very nice, and told me that he played "Nosering Girl" for his kid. That was awesome!
Ok, so how did Nerf Herder's appearance on the recent Crappy Records comp Have a Crappy Summer come about?
So, Linus Dotson, who is one third of Crappy Records, has been playing in Nerf Herder since IV came out. Also, IV was released by Oglio, and Carl who owns that label is also one third of Crappy Records. The final third is Jaret from Bowling For Soup, who is our pal. It would be fun to do another Nerf Herder CD, mainly because Steve, Linus, Ben Pringle (who played with The Rentals) and I all get along really well. I could ride in a van with those guys for a while.
You seem pretty busy with other projects, did they bring up the idea of doing a song for it?
Yes, Linus asked for a song. I have been super busy, so it was kind of rough getting it together. We've all been busy, so it is a miracle it happened at all.
"I'm the Droid You've Been Looking For" is really great. I've been a fan since '98 and would say this is one of the best tracks you've ever put out. Lyrically it's clever and funny, musically it's epic and a bit dark… the lead line in the bridge is wonderful…And most importantly the song is fresh, sounds like 2012 Nerf Herder and not a rehash. Do you think that all of the jingle writing has improved your writing skills?
Thank you! I'm glad you like it! Hmmm… I don't know if my skills have improved or not. It really helped having Linus produce it. He just knows how to make stuff sound good.
You mentioned that you'd like to do another album with the current crew, do you think it'll happen any time soon?
Yeah! I know what you mean. I guess it's possible… We'll have to wait and see. I'm going to ask those dudes to play at my wife's birthday party. That will be a good starting point.
How about a few top 3 lists before you go?
Sure! Okay, songs, lately:
1)"Outdoor Miner" by Wire (I've been listening to this over and over and over)
2)"Black Hole In My Mind" by The Lillingtons
3)"Baby Driver" by Simon and Garfunkle (not sure why I have been so into this one)
Favorite albums:
1) The First Modern Lovers album
2) Blue Album Weezer
3) Hunky Dory by David Bowie
Favorite NOFX songs:
1)"The Longest Line"
2)"Bob"
3)"The Moron Brothers"
Favorite Weezer songs:
1)"In The Garage"
2)"No One Else"
3)"Sandwiches Time"