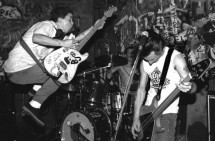 As they celebrate their 25th year together, Green Day has been revealed as the subject for not one but two upcoming documentaries. Billboard reports that Filmmakers Tim Lynch (Bullet in a Bible) and Tim Wheeler (The White Stripes: Under Great White Northern Lights) are working on the two films.
One will focus on the making of the band's upcoming trilogy of albums - ¡Uno! on September 25, 2012, ¡Dos! on November 13, 2012, and ¡Tré! on January 15, 2013 - it's their first new material since 2009's 21st Century Breakdown in 2009. The film will consist of new footage shot by "the two Tims" of the band performing in clubs, rehearsing and recording over the last year and a half.
The second documentary is being assembled from vintage footage consisting primarily of material recorded before they signed to Warner Music Group and released Dookie. Those of you still pining for the band's Lookout! Records days will probably prefer that doc, which will largely include live versions of songs that appeared on 1,039/Smoothed Out Slappy Hours and Kerplunk!.
The filmmakers are aiming to have the docs done in time for the Sundance Film Festival in January 2013.