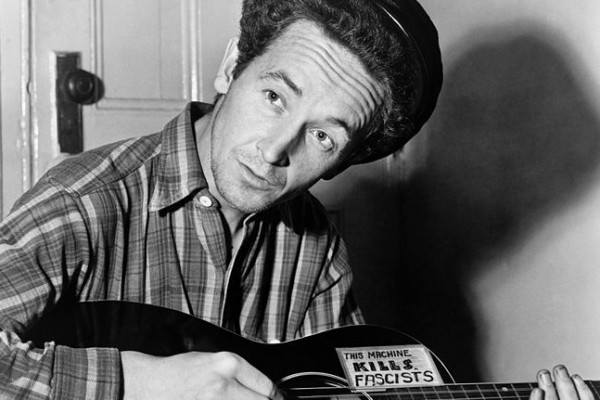 Today marks 100 years since the birth of folk legend Woody Guthrie, 'The Dust Bowl Troubadour', famous for his songs of protest and social justice, and for playing guitars emblazoned with the legend: THIS MACHINE KILLS FASCISTS.
Guthrie was born in Okfuskee County, Oklahoma in the summer of 1912. His father, a prominent businessman in the area, was involved in the Nelson lynchings in the area the previous year, a topic Guthrie covered three times in song, maintaining that his father later became a member of the Ku Klux Klan. His mother suffered from Huntington's Disease, a degenerative disorder which affects muscle control, and was institutionalised when Woody was 14. His father Charley abandoned the family to work in Texas. Guthrie taught himself to play the harmonica and later the guitar over this period, and eventually made his way to California, where he established himself as a working musician.
Guthrie's work encompassed a range of subjects, but he is perhaps best known for his protest songs, frequently using his work to tell stories of poverty and unemployment, repression and violence, but also tempering this with more hopeful and lightly comic songs like 'The Biggest Thing That Man Has Ever Done'.
Guthrie took his lyrical inspiration from many of his experiences travelling during the Great Depression, but he took a great deal of musical influence from early blues musicians, insights which were passed on through a direct line of descent to Bob Dylan, as evidenced by the following quote. Woody's son, Arlo Guthrie, maintained that he and Dylan were taught by Guthrie's protege, 'Ramblin'' Jack Elliot, since Woody's Huntington's Disease had progressed too far for him to tutor them directly. This account was corroborated by Elliot:

I was flattered. Dylan learned from me the same way I learned from Woody. Woody didn't teach me. He just said, If you want to learn something, just steal it—that's the way I learned from Lead Belly.
Guthrie was institutionalised, first in hospitals, then in a psychiatric institution, over the final decade of his life. He died from complications relating to his Huntington's Disease on the 3rd of October, 1967, having inherited the condition from his mother. Following her husband's death, Marjorie Guthrie founded the Committee to Combat Huntington's Disease, which later became the Huntington's Disease Society of America.
Guthrie's influence on the musical landscape is difficult to gauge, but it is undeniably lasting and significant, particularly in punk rock. Joe Strummer famously insisted on being called 'Woody' for a good chunk of his youth, a period nodded to in the Gaslight Anthem song 'I'da Called You Woody, Joe'. Billy Bragg cites Guthrie as a major influence, and, together with Wilco, collaborated on two albums of original music set to Woody's unused lyrics, Mermaid Avenue Volumes I and II. More recently, the Dropkick Murphys took a disused Guthrie lyric, and crafted it into 'Shippin' Up to Boston', on the 2005 full length The Warrior's Code.
In a subculture based on guitar music and, at it's finest moments, committed to freedom and justice, we owe a tremendous amount to Woody Guthrie. His work has inspired a great many people to a great many things, but has come full circle in the case of one Flaviano Giorgini. Formerly of Squirtgun, now a lecturer in Mammalian Genetics at the University of Leicester, Dr Giorgini's research interests have focused on neurodegenerative disorders. Simply put, following years as a touring musician in a genre which owes so much to Guthrie, Flav and his colleagues work to better understand, and more effectively treat, Huntington's Disease, and disorders like it. We can think of no finer tribute to Woody than that.