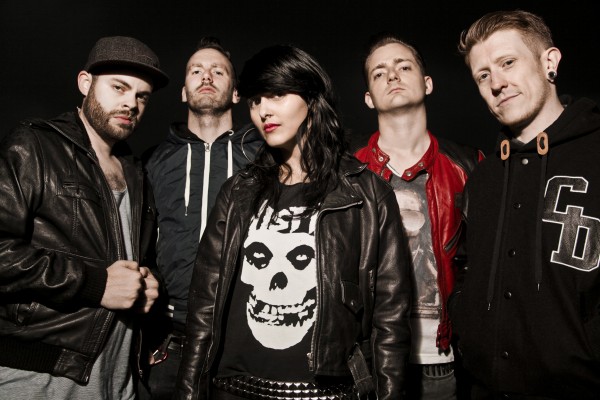 Longstanding Manchester punk/Hip-Hop/ska merchants Sonic Boom Six have joined the roster at Xtra Mile (Frank Turner, Future Of The Left), with a view to releasing a self-titled full length on the 15th of October, 2012.
The band have also announced an extensive headlining UK tour to follow the release, and a single to precede it. Said single, Virus, is due on the 17th of September
Front woman and vocalist Laila K has this to say:

Not only is 'Sonic Boom Six' like the start of a new day for SB6, but I truly believe it's the best record we've ever made. The whole purpose of the album was to get our ethos and message out in a way that is inclusive and inviting to everyday people. We don't want to be preaching to the converted any more, we actually want to change minds and viewpoints, not confirm what people already know. I think that's exactly why we're so excited about working with Xtra Mile. Not only are some of our favorite artists on there but they've actually proven with Frank Turner that they can make an artist accessible and popular within the public eye while retaining the core message and philosophy that the artist came into the industry with. That's something that is vital to us, so it's a perfect fit!
| Date | City/Town | Venue |
| --- | --- | --- |
| Fri 02 Nov | Nottingham | Rock City Basement |
| Sat 03 Nov | Leicester | Soundhouse |
| Sun 04 Nov | Manchester | Academy 3 |
| Mon 05 Nov | Leeds | Cockpit 2 |
| Tue 06 Nov | Glasgow | King Tut's Wah Wah Hut |
| Thu 08 Nov | Hull | Welly |
| Fri 09 Nov | Bedford | Esquires |
| Sat 10 Nov | Cheltenham | Frog & Fiddle |
| Mon 12 Nov | Bristol | The Croft |
| Tue 13 Nov | Exeter | Cavern |
| Thu 15 Nov | Plymouth | The White Rabbit |
| Fri 16 Nov | Truro | B-Side, Bunters |
| Sat 17 Nov | Andover | The George |
| Sun 18 Nov | Portsmouth | Wedgewood Rooms |
| Tue 20 Nov | Norwich | Waterfront (Upstairs) |
| Wed 21 Nov | London | The Borderline |
| Thu 22 Nov | Birmingham | Academy 3 |
| Fri 23 Nov | Newcastle | Academy 2 |
| Sat 24 Nov | Newport | Meze Lounge |