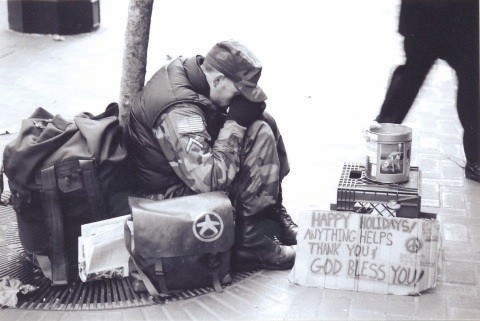 A press release sent out in March has led to a bit of a controversy around acclaimed Massachusetts hardcore band Defeater. The band's label originally sent out a press release about a one-time donation the band had made to veterans returning from combat in Iraq and Afghanistan. In the release, the band referred to these wars as a "fight for our nations freedom" which sparked the problem. The Czech Republic-based promoters of Fluff Fest seized upon this one line and argued that it meant that (1) Defeater supported the wars in Iraq and Afghanistan and (2) was pro-nationalist and pro-military.
The band itself addresses this in the original emails, but those seem to have been ignored as the band was protested against during the set by people holding up banners denouncing them and booing them. They told the Fluff promoter:

As far as we're concerned, the donation was as apolitical as possible- we have different viewpoints, but there is a group of people in the United States, many of whom are our friends, who come back from a war and need a support structure so they don't end up becoming homeless, mentally insane, or committing suicide. We wanted to help them avoid that. That's all. I can understand how that would, on first glance, appear problematic to people who live outside of america, especially if you view helping ex-soldiers as supporting the military. But to be anti-war, yet not help people recover is, to me, inconsistent.
Even thought labelmates Soul Control and Verse defended them as "pro-troops, not pro-war," European hardcore band True Nature called them a "government-loving militaristic band."
It's worth noting that deaths from suicide actually exceed combat deaths for veterans and that veterans represent a disproportionate number of the homeless. Charity Navigator has a list of trustworthy organizations that you can support.