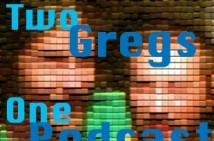 Punknews.org is happy to continue our exploration of the regional scenes with a new episode of Two Gregs One Podcast, our spotlight of the U.S. Midwest from Org staff reviewer Greg Simpson and pal Greg Moore. On this episode:

…we introduce a new segment to the podcast, "Third Coast Classics", in which we discuss a legendary midwest band's record. Hüsker Dü's Metal Circus is the first to fill this coveted spot. Also on this episode are reviews of new releases by Polyvinyl's Stagnant Pools (Bloomington, IN), Midnight Reruns (Milwaukee) and Rip Owczarski and The Morning Afters (Bloomington, IN). Meanwhile, Greg M. does some word-policing and Greg S. mans the news desk.
Click Read More to stream and/or download the show, or subscribe via RSS or via the iTunes Store.
Two Gregs One Podcast - Episode 5