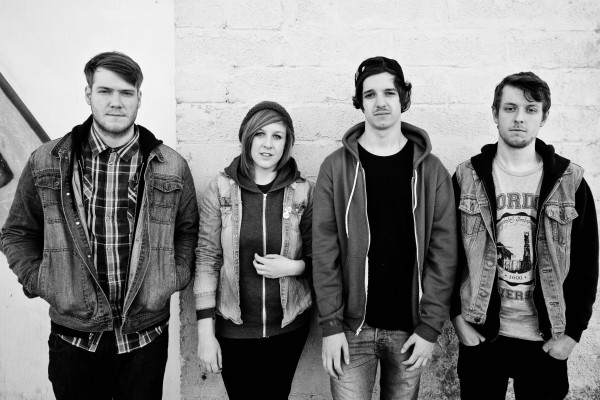 Formed just over a year ago, UK melodic hardcore/screamo newcomers Vales have achieved a hell of a lot - having already released an EP, toured internationally, signed to 6131 Records, and with the band touring and recording in the US next year, their success doesn't appear to be grinding to a halt. Punknews interview Faye Turnbull caught up with the band ahead of their set at Hevy Fest in Kent, where they got talking about their accomplishments, a recent lawsuit which forced them to change their name and being part of the emerging 'UK swell' scene.
For those who aren't familiar, can you give me a rundown of Vales? Chlo [vocals]: We started in February last year and just kind of started touring, we've played over 100 shows now. I don't really know what we are, screamo/melodic hardcore, I guess.
Ben [guitar]: We just wanted to play some sweet music without any preconceived ideas of what we were going to do.
You've recently had to change your name from "Veils" to "Vales", can you tell me the story behind that? Chlo: There's a band called "The Veils" that are technically more well-known and established than us - they've been a band 10-years and recorded loads of albums - they've got a "The" before their name, we didn't think it would be a problem.
Nathan [bass]: We had been a band for a couple of months and I saw one of their CDs at the library, and we didn't really think about it, since we were a little band touring around England.
Chlo: We got an email from their manager threatening legal action if we didn't change our name, and we've got no money, so we just had to suck it up.
Have there been any major ramifications of changing your name, like reprinting records/merch, etc? Has it cost you anything? Chlo: It hasn't cost us money; it's just cost us a bit of time. Our record came out two months late, because we had to get our artwork changed and everything like that, so that was a bit annoying, but everything's changed now.
You've just signed to 6131 Records, which is a pretty big deal for a UK band. How did that come about? Chlo: They emailed us saying they were really stoked on what we were doing. We had a few Skype calls with them and they were genuinely excited about our band, and you could tell they really wanted to help us. It was really exciting.
You haven't been a band for very long, yet you've achieved loads in that timeframe. What have been your highlights thus far? Nathan: Touring Europe with The Long Haul.
Chlo: Maida Vale was amazing and we got to play one of Unbroken's last ever shows. We've just had such a good time.
Nathan: The highlight is probably every single person we've met, like we've made so many friends.
You see bands all the time that just keep going for years and years, still stuck in the same position and don't really seem to progress. What do you think's drove you to achieve all of this in such a short time? Ben: It's just hard work; we're constantly on tour. We live in Cornwall, which is so far away, so we have to make a bit of an effort just to get anywhere. We've never been able to play one-off shows, like in London or Southampton. We always have to make a weekender or a tour out of something, because of the distance, so pretty much everything we've done has been a weekender or a tour.
That's what I was going to mention, you don't hear about many tours or shows hitting Cornwall. Chlo: Yeah, it's not easy down there. You don't get your big bands like your Defeaters anywhere near us, so we really have had to get out there and make our own name for ourselves. Instead of jumping on big shows and stuff, we've just had to get out there and go touring on our own, but it's been cool, because we've met loads of people.
I've found that a lot of female-fronted bands are usually known as, "Oh, that band with the girl singer," but with Vales, I haven't came across that. Chlo: Yeah, it's cool. The only times I've ever heard it mentioned, it's always been in a positive light, like from girls saying it's really cool. For me, it's no different. I just feel like a guy, really. [laughs] I don't feel any different.
Ollie [drums]: We never think it until someone says it.
Nathan: Yeah, it always feels really weird when someone describes us as a female fronted band.
With a lot of female vocalists in hardcore, a lot of their voices are screechy, but your voice is so powerful and beastly, how did you find out you could project such a mammoth vocal? Chlo: I don't know, really. All of the inspirational people who I look up to are like Greg from Dillinger Escape Plan and Jake Bannon from Converge, and their voices are hench as fuck. I don't copy them, because I sound nothing like them, but I've never looked at female vocalists.
You just released the Clarity EP this year, are you writing anything else at the minute? Chlo: Yeah, we're going to be recording our new record in LA, which sounds insane when you say it and tour America for four weeks. That's sort of the plan, but at the moment, we've literally got nothing booked until next year, so we're just getting on writing it, which is really alien to us, because all we've done is toured, so it's strange.
Nathan: Clarity just sort of happened, we didn't really just sit down and say, "Right, we've got to write a record." The songs were just written, but this is something we've got to do now. We're releasing an album with a record label and it's a bit strange to us.
There's definitely a lot of melodic hardcore vibes to your music, which isn't all that common any more, will you be continuing on with that sound? Chlo: Yeah, we've never really wanted to be a certain genre. Like we're writing at the moment, and the things that are coming out are still us, but it's definitely a progression.
Ollie: Every band progresses, not like change their style of music, but just get better as musicians. We'll change, which will always be for the better and not to fit with a style of music. We're writing for us.
You're part of this emerging and growing scene in the UK, which some refer to it as the 'UK Swell', can you explain what it is? Chlo: It's literally just a group of friends, we don't see it as anything else. It's just a group of people. It's just the Tangled Talk and Holy Roar bands, bands we've ended up on tour with.
Are there any bands you'd like to spread the word about before we finish? Chlo: The Long Haul, definitely. They're an incredible band. Hospitals, amazing melodic hardcore. Single Mothers, they're amazing.
You mentioned a US tour before, so what's next for Vales? Chlo: America will be the beginning of next year and then we'll come back around the release of the record to do a UK and European tour, and then back out to America later on in the year, but we're not touring the UK until next year. It feels really strange.