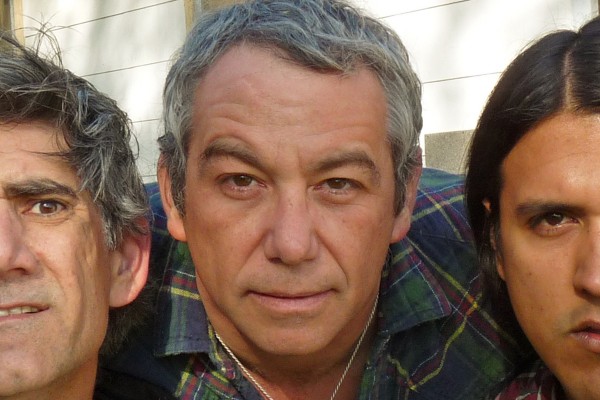 Mike Watt and the Missingmen are hitting the road next month, with what they're calling the "2nd Heapin' Helpin' of 3rd Opera Tour 2012." Watt writes:

people, I wanna bring my third opera "hyphenated-man" around the u.s. again cuz there's some towns I missed last time. fuck, we're a big land and of course I'm gonna still miss some towns but that don't mean me, my bass and my missingmen (tom watson on guitar and raul morales on drums) ain't gonna try to do what we can… yeah, doin' it. joining us from october three to twelve will be lite - our dear buddies from tokyo, much respect to them.
Watt also asks people in cities on the tour route print out the flyers for each date (found at his webpage, here) and promote the shows.
| Date | Venue | City |
| --- | --- | --- |
| Friday, Sep 28 | Tractor | Ballard, WA |
| Saturday, Sep 29 | Doug Fir Lounge | Portland, OR |
| Sunday, Sep 30 | A Club | Spokane, WA |
| Monday, Oct 1 | Zoo City Apparel | Missoula, MT |
| Tuesday, Oct 2 | Neurolux | Boise, ID |
| Wednesday, Oct 3 | Urban Lounge | Salt Lake City, UT |
| Thursday, Oct 4 | Laramir Lounge | Denver, CO |
| Friday, Oct 5 | The Waiting Room Lounge | Omaha, NE |
| Saturday, Oct 6 | Vaudeville Mews | Des Moines, IA |
| Sunday, Oct 7 | Turf Club | St. Paul, MN |
| Monday, Oct 8 | Schubas Tavern | Chicago, IL |
| Tuesday, Oct 9 | Mickey Finn's Pub | Toledo, OH |
| Wednesday, Oct 10 | The Basement | Columbus, OH |
| Thursday, Oct 11 | North Star Bar | Philadelphia, PA |
| Friday, Oct 12 | Bell House | Brooklyn, NY |
| Monday, Oct 15 | Black Cat | Washington Dc |
| Tuesday, Oct 16 | Dogfish Head | Rehoboth Beach, DE |
| Wednesday, Oct 17 | Brighton Music Hall | Allston, MA |
| Thursday, Oct 18 | Valentine's | Albany, NY |
| Friday, Oct 19 | The Mohawk Place | Buffalo, NY |
| Saturday, Oct 20 | Club Cafe | Pittsburgh, PA |
| Sunday, Oct 21 | Motr Pub | Cincinnati, OH |
| Monday, Oct 22 | Union Bar And Grill | Athens, OH |
| Tuesday, Oct 23 | Zanzabar | Louisville, KY |
| Wednesday, Oct 24 | The End | Nashville, TN |
| Thursday, Oct 25 | The Earl | Atlanta, GA |
| Friday, Oct 26 | The Bottletree Cafe | Birmingham, AL |
| Saturday, Oct 27 | Hi Tone Cafe | Memphis, TN |
| Sunday, Oct 28 | George's Majestic Lounge | Fayetteville, AR |
| Monday, Oct 29 | Fitzgerald's Downstairs | Houston, TX |
| Tuesday, Oct 30 | Red 7 | Austin, TX |
| Wednesday, Oct 31 | The Conservatory | Oklahoma City, OK |
| Thursday, Nov 1 | Santa Fe Brewing Company | Santa Fe, NM |
| Friday, Nov 2 | Crescent Ballroom | Phoenix, AZ |
| Saturday, Nov 3 | Vinyl | Las Vegas, NV |
| Monday, Nov 5 | The Casbah | San Diego, CA |
| Tuesday, Nov 6 | Slo Brew | San Luis Obispo, CA |
| Wednesday, Nov 7 | Bottom Of The Hill | San Francisco, CA |
| Thursday, Nov 8 | The New Parish | Oakland, CA |
| Friday, Nov 9 | Velvet Jones | Santa Barbara, CA |
| Saturday, Nov 10 | Alex's Bar | Long Beach, CA |