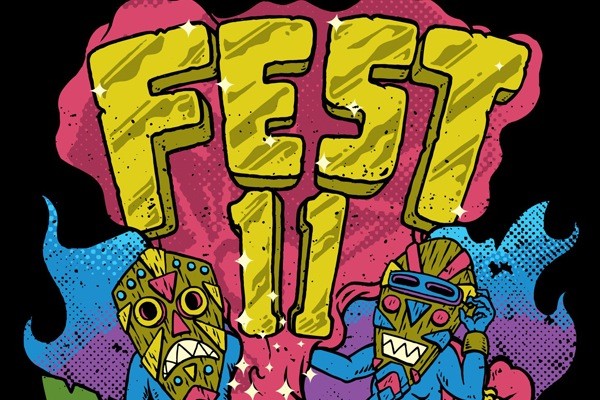 It's that time of year again: The beards are getting longer, anxious from a summer off; the flannel is being pressed, only to be quickly wrinkled and worn; there's pumpkin in damn near everyone's food and drink; The Fest is rapidly approaching.
Punknews.org is again beyond excited to be a top-tier sponsor for what's become not unlike what iPhone announcements are to Apple nerds, and with that in mind, it's time to roll out our now annual preview features. For the next four Fridays, we'll be posting a list of bands to watch, schedule conflicts to decide, and more. Like last year, we're kicking things off with a collection of bands we feel are flying under everyone's radar amidst the Propagandhies and Lattermans of the world. These are bands (mostly) playing smaller venues at the Fest that have yet to build a sizable audience. Here's to hoping a few of you stumble into their sets.
If you've yet to get your Fest tickets, it's not too late. Buy 'em.
Campaign
HQ: Atlanta, Ga.
Check out: The Black Album EP (self-released)
Fest set time: Friday 11:20pm - 11:50pm at Loosey's
Operating somewhere between Avail and the Midwestern Orgcore punk ya'll love so much, Campaign seem like an ideal, must-see band for the Fest. The guitars are gnarly, the vocals are gruff, the bears are…ya, know, all beardy and shit. Do you like big throaty whoas that rip through the room? Propulsive beats that shake your bones? Fun? No seriously, do you like fun? Because we've been upping this band for years now via reviews 'n' streams, and they've gotten better with each release. They're about due for some body rocking recognition live. Somebody sign these guys to Red Scare already. —Joe Pelone
Direct Hit!
HQ: Milwaukee, Wis.
Check out: Direct Hit!/The Haverchucks split 7-inch (Kind of Like Records / Bright & Barrow)
Fest set time: Saturday 11:20pm - 11:50pm at 1982
It is my personal opinion that Direct Hit! are the best band playing the Fest 11, and I will be extremely upset if I'm unable to get into 1982 because my power of persuasion causes all of you to show up and I'm left in the (humid) cold (figuratively speaking). If you're unfamiliar with the band I advise you to get familiar quick. Their Myspace page describes them as funk, but that is not the case; they play really fun, anthemic pop-punk about nerd stuff like monsters, involving H.P. Lovecraft's Cthulhu, committing crimes, and other nerd stuff because they like comic books and such. If that's not enough to convince you, they don't tour all that often due to jobs and such, but at least they have a new split 7-inch coming out with the Haverchucks and are working on a second LP. —Justin Dickman
Hop Along
HQ: Philadelphia, Pa.
Check out: Get Disowned (Hot Green)
Fest set time: Sunday 2:50pm - 3:20pm at Stereo
Hop Along are that band you've heard your friends talking about seemingly out of nowhere this year. They in fact came out of Philadelphia, a city that apparently is exploding with incredible music. Their debut full-length, Get Disowned, is sure to appear on many a year-end list with its mix of loud, fuzzy guitar, vocals straining at the seams with emotional intensity, and heart-wrenching lyrics that invite sing-alongs at the same time that they sock you right in the gut. Figuratively. Definitely not a set to miss. —John Flynn
The Fake Boys
HQ: Lowell, Ma.
Check Out: Pig Factory (Animal Style)
Fest set time: Saturday 12:10am - 12:40am at Durty Nelly's
Hailing from the hometown of Jack Kerouac, the Fake Boys play a unique style of rock 'n' roll with a jaded perspective. These road warriors take their hardcore ethos blended with melodies echoing Superchunk, bring it to your town and shove it down your throat. Their powerful performance will shatter your world and leave your ears ringing, but you'll still want more. This band takes tones from the early '90s and completely makes them their own. Their newest release, Pig Factory, came out earlier this year and may be one of the most important records you'll ever buy. Go see them Saturday night at Durty Nelly's and get ready for tonal carnage. —Timothy Flynn
Burning Love
HQ: Toronto, Ont.
Check out: Rotten Thing to Say (Southern Lord)
Fest set time: Saturday 7:30pm - 8:10pm at 8 Seconds
The cliche about the Fest is that all the bands sing about whiskey and friendship. Well, if you need a break from drunk niceness, check out Burning Love, who sing about blood and hate. Rooting their sound in hardcore, the band add massive weight to their energetic smash with rumbling drums, dark metal solos, and harsh vocals that while rough are still intelligible. To top it off, their lyrics lean towards the left-hand path, but remain rooted in contemporary socio-politics, instead of falling overboard into D&D fantasy—that is to say, these guys are scary because when they're referencing "Pig City," they're talking about a real place. Their brand new release, Rotten Thing To Say, perfectly balances between their thrash-punk sound and darker, more ominous metal crunching, so you can check out that bad boy in its earliest live manifestation. —John Gentile
We Were Skeletons
HQ: Lancaster, Pa.
Check out: Blame & Aging (Topshelf)
Fest set time: Sunday 9:50pm - 10:20pm at High Dive
Lancaster, Pa.—a very unlikely place to find a vibrant music scene considering its association with the Amish community. We Were Skeletons, which hail from this Pennsylvania town, show how a high caliber band can sometimes come from the most unassuming areas. In some people's eyes I am sure this band gets lumped into the Wave (read: third wave screamo), but I would argue that that does little justice to these guys. Each of their releases to date have been solid and strike a good balance between melodic passages reminiscent of post-rock and the catharsis of hardcore. The band is set to release to a new record on Topshelf Records called Blame & Aging a week prior to the Fest so I am sure those attending will hear new songs. If you are heading to the Fest next month I would not miss We Were Skeletons; prepare yourself for an intense live show. —Andrew Clark
Luther
Hometown: Philadelphia, Pa.
Check out: Let's Get You Somewhere Else (Chunksaah)
Fest set time: Saturday 10:30pm - 11:00pm at Loosey's
Of all the great bands Philadelphia is sending to Gainesville in October, Luther stand out as one that Fest-goers will fall in love with. The band have a pretty impressive resume including tours with the Bouncing Souls, the Menzingers, Timeshares and Smoking Popes amongst others. Their Hot Rod Circuit-influenced stoner melodic pop punk welcomes tripled heart-driven vocals that infectiously demand a sing along throughout every song. Their live show is full of good time-oriented energy and one of the meanest, tightest rhythm sections out on the road today. Expect to hear lots of songs from their awesome new full-length Let's Get You Somewhere Else out soon on Chunksaah Records. —Justin Richter
Sour Boy, Bitter Girl
HQ: Fort Collins, Colo.
Check out: Songs About The Landscape or Songs About The Wolf Army (Death to False Hope)
Fest set time: Sunday 5:50pm - 6:20pm at the Atlantic
Sour Boy, Bitter Girl hail from Fort Collins, Colo. and are making their Fest debut on Sunday at the Atlantic. If you are looking for a respite from fast pop-punk riffs, then skip the Mixtapes/Fake Problems conflict and try something new. A perfect band for grabbing a whiskey and taking a moment to hear a story, SBBG perform with a dry, honest sound that speaks directly to you, telling their story through carefully crafted lyrics and a combination of guitar and piano that establish a time and place we all know far too well. The band play with the solidarity of a bunch of dudes who have seen the other side of happiness and have lived to drink another day. Sunday evening will be the best time to take a breather from the chaos of Fest, sip your whiskey, and catch Sour Boy, Bitter Girl singing everything you've ever felt in the late hours of those drunken, lonely nights. —Britt Reiser
Broadcaster
HQ: Long Island, N.Y.
Check out: Tightrope Walker EP (Jump Start)
Fest set time: Friday 7:10pm - 7:40pm at Loosey's
No doubt about it—Long Island, N.Y.'s Broadcaster play some goddamn catchy rock and roll. With that "alternative rock you'd hear on turn-of-the-century MTV" kind of sound, this trio reminds me of non-embarrassing Everclear. Jesse Litwa's gritty melodic vocals are the perfect complement to dirty guitars and a solid rhythm section. Their Jump Start Records debut EP, Tightrope Walker, is their best release yet. Fair warning though, the title track will be stuck in your head for a long, long time. They will be making their Fest debut at Loosey's on Friday night; This appearance comes after already having played other fests this year with way longer names like Pouzza Fest, Stay Sweet Fest, Get Better Fest and Today's Mixtape Festival. They've got some competition in Gainesville, but Broadcaster are a perfect example of how you can't go wrong checking out a new band at Fest. —Steve Wozniak
DNF
HQ: Los Angeles, Calif.
Check out: Hurt 7-inch (High Anxiety / No Idea)
Fest set time: Friday 8:10pm - 8:40pm at the Atlantic
Members of Trash Talk! Members of Touche Amore! Let's tear this place apaaaaaaart!!!!! Blending together crust, grindcore, sludge, and massive breakdowns (but not the cheesy NYHC kind), DNF take all the nastiest parts of nasty punk and make it twice as nasty. Nastiness incarnate, if you will. Further, the band take such bleak and guttural sounds and build on them with introspective, though equally nasty, lyrics that contemplate hopelessness, depression, and well, just pretty much being bummed out and enraged about it. I would say the band is so nasty that they are nice, but really, they are just super-nasty. —John Gentile
Strong City
HQ: Cedar Falls, Ia.
Check out: Strong City / Dead North split 7-inch (Bloated Kat)
Fest set time: Saturday 1:20pm - 1:50pm at the Laboratory
There's a good chance Strong City could be your favorite band at fest this year. These Iowa natives deliver heart pounding punk rock fury with harmonizing guitars and vocals that deliver a sound that is both unique and familiar at the same time. Strong City's live show can only be described as party time: the band's onstage presence generates a great energy that resonates through any venue they play. The best thing to accompany their ferocious energy and awesome songs is that they are smiling, having the time of their lives throughout the entire set. Strong City are a band that you need to see to get your Saturday off on the right foot. —Justin Richter