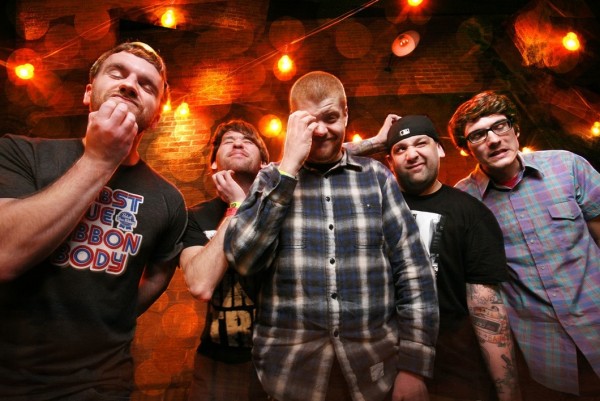 We Are the Union are streaming their new record, You Can't Hide the Sun, in its entirety. The record is due out October 16 via Paper and Plastick. Pre-orders are available here.
We Are the Union have also announced a winter tour with The Sheds joining them November 30 through December 8.
You can listen to the record here .
| DATE | CITY | VENUE |
| --- | --- | --- |
| Sunday, October 14th | St Louis, MO | FUBAR |
| Monday, October 15th | Ft Wright, KY | Shimmers Tavern |
| Tuesday, October 16th | Erie, PA | Basement Transmissions |
| Wednesday, October 17th | Rochester, NY | Dub Land Underground |
| Thursday, October 18th | Watertown, NY | The Dungeon |
| Friday, October 19th | Albany, NY | Hudson River Coffee House |
| Sunday, October 21st | Garden City, NY | Ethical Humanist Society |
| Monday October 22nd | Hamden, CT | The Space |
| Wednesday, October 24th | Asbury Park, NJ | Asbury Lanes |
| Thursday, October 25th | Norfolk, VA | Aletheia |
| Friday, October 26th thru Sunday, October 28th | Gainesville, FL | FEST 11 |
| Friday, November 2nd | Ann Arbor, MI | FREE SHOW at The B Side (You Can't Hide The Sun Release Show) |
| Thursday, November 15th | Toronto, ON | Sneaky Dee's |
| Friday, November 16th | Ottawa, ON / | Café Dekcuf |
| Saturday, November 17th | Montreal, QC | L'Esco |
| Sunday, November 18th | London, ON | Rum Runners w/ Man Overboard |
| Monday, November 19th | Pittsburgh, PA | The Smiling Moose |
| Tuesday, November 20th | Toledo, OH | Frankie's Inner City |
| Friday, November 23rd | Flint, MI | Flint Local 432 |
| Saturday, November 24th | Chicago, IL | Reggie's Rock Club |
| Sunday, November 25th | Minneapolis, MN | 7th St Entry |
| Monday, November 26th | Lawrence, KS | The Bottleneck |
| Tuesday, November 27th | Tulsa, OK | Eclipse |
| Thursday, November 29th | Mesa, AZ | The Underground |
| Friday, November 30th | Murrieta, CA | The Dial |
| Saturday, December 1st | Fresno, CA | Chinatown Youth Center |
| Monday, December 3rd | Stockton, CA | Plea For Peace |
| Thursday, December 6th | Pomona, CA | Aladdin Jr |
| Friday, December 7th | Canoga Park, CA | Guitar Merchant |
| Saturday, December 8th | Las Vegas, NV | East Side Joe's |
| Monday, December 10th | Midland, TX | The Pine Box |
| Wednesday, December 12th | Houston, TX | Scout Bar |
| Friday, December 14th | Nashville, TN | The Owl Farm |
| Saturday, December 15th | Whitesburg, KY | Letcher County Tourism |
| Sunday, December 16th | Columbus, OH | Kobo Live |
| Monday, December 17th | Kent, OH | Euro Gyro |