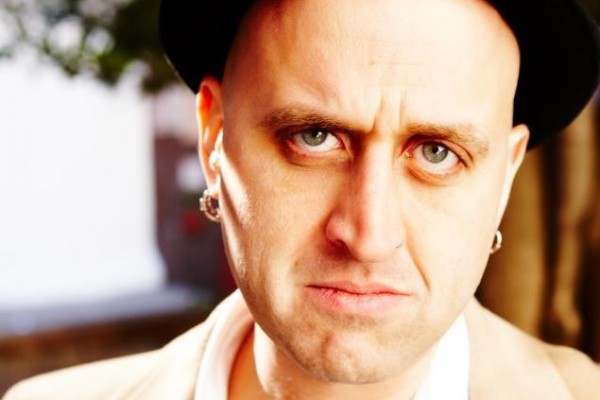 With about a week left on his US Tour, Franz Nicolay has sent us the second of his dispatches from the road. Along with that, he also sends us a deep though about who - terrifyingly - may be the sole heirs to the legacy of the Minutemen.
We got into New Orleans the day after the hurricane in New York, staying with NYC transplants Karen and Justin, who settled in the Arabi neighborhood just east of the Lower Ninth, which I've heard described as the "ghetto for white racists." Their house, near the massive Domino's plant that provides a good percentage of the sugar processed in the US, seemed brand-new, but was a post-Katrina re-fab job. They'd had to check a box on their lease denoting that they understood that this was a "Katrina building," about which I guess it's better not to think too much if you're going to live in it. They'd rented it from a landlord who went by "Shark Eyes," who they'd never actually met. Justin had only had phone conversations in which Shark Eyes both talked to him and narrated his inner dialogue: "I can't come down and show it to you myself, I'm out of town. (OK, you have an interested client but you're not in town, you'll see if your friend has an extra key.) I'm going to call my friend and see if he has an extra key, OK?" The neighbors were thrilled they'd moved in - the previous tenants had been running a meth lab.
Karen, a wraith-thin, patchouli-scented animal-rescue devotee, runs a largely Internet-based custom clothing concern. Justin, somewhat younger but equally skinny; curly-haired and knob-featured, is a freelance journalist with a fascinating past. He had lived up in the Baffin Islands, by the Arctic Circle, with Inuit families: it was a weird dynamic, he says. "All the men had stab wound scars in their chests, and all the women had black eyes." He has a cartoon on the fridge illustrating the "Inuit food pyramid" - all meat: seals, walrus, narwhal. Now he has a gig writing a weekly column about death practices of various cultures for a morticians' blog and is plugging a self-published book about standing in various locations in New York City for 12-14 hours at a stretch and recording what he saw. After figuring out how to deal with the fire ants, they've just acquired a new paranoia: the brown recluse spider, which causes necrosis - flesh death - within ten minutes of a bite. They found one in their mailbox a few weeks ago. Their neighbor has a white, webbed scar on the back of his skull from a brown recluse bite while he was in prison, to which they attribute his (maybe) mental retardation. There's a crayoned map of the route to the hospital taped to the fridge.
We had the day, so we went on a swamp hike in a park named for the 19th-century privateer, or pirate, or import/export man, or ally of Andrew Jackson in the Battle of New Orleans, or all of the above, Jean Lafitte. We crept along boardwalks built over old cypress-lumber canals that led to long-decayed plantations, eyeing stalks that looked like tree frogs, frogs that looked like leaves, black snakes that looked like sticks, small gators that looked like half-submerged logs, and giant gators that looked like nothing except giant gators, or maybe dinosaurs, snoozing murderously within four feet of the walkway. A shirtless man stumbled past us and almost stepped on a green ribbon snake.
We told the park ranger about the ten-foot alligator we'd seen. "Oh sure," she said. "We have a couple of those. To be honest," and she lowered her voice, "I wish they'd eat those pit bulls someone let loose in the northwest part."
Pit bulls?
"Oh sure. Pet owners, who don't want them anymore, they let them loose in the park. They don't stand a chance. Meantime they've been chasing people around."
I'd spent Sunday night at the Fest getting increasingly drunk, and when I get drunk I get schmoozy, and wake up with a phone full of emails and phone numbers of people I'd propositioned for tours, made plans for shows, or just exchanged mutual compliments, and I'm a good professional so I try to follow up, but sometimes it gets messy.
Vid: a phone number for an "Ian," next to an email for the Smith Street Band. Surely this must be a band member, so I text something diplomatic to the effect of "Nice to meet you, have a good trip home!"
The phone beeped. "Franz. This is Ian Graham, from Cheap Girls." We've met enough times, not least when he lowered himself from the balcony of a Hold Steady show in Michigan. "Come hang out in New Orleans tonight."
Shit! Right. My friend Paul, who co-puts on my shows in Southampton, England, and whose rats had eaten my t-shirts while I slept on his bedroom floor in September, was doing merch for the Front Bottoms/Cheap Girls tour, and I'd made drunken plans to come hang out on my NOLA night off. I left Karen & Justin drinking sake cross-legged on the floor and drove over to the Circle Bar.
Cheap Girls were unloading gear from the back of their van and setting up drums by the sidewalk. We exchanged pleasantries and gripes about the difficulties of getting any traction in New Orleans show-wise, and I went in to watch the end of the Front Bottoms set. I knew their name but none of their music, and it struck me as something in between a lo-fi John Roderick and the obscure LES-squatter motormouth Roger Manning, though what do I know.
Here I thought I was just going to a bar show on a Tuesday night - and this was just set up on the floor, British pub-style - and it turned into a whole scene. A couple people told me, rather breathlessly, that Kyle Kinane was coming by (which he did, just as Cheap Girls had finished - they picked up their instruments and played another for him). Fake Problems were hanging around, en route to the start of their tour with Against Me!, and I got buttonholed by Derek, who unrolled a line of such florid flattery I started to think he was fucking with me. I can never quite get a handle on whether those guys are on drugs, taking the piss, or are just that energetic. I went home, shook out my pajamas - brown recluse spiders, don't you know - and curled up on the air mattress.
The next day we moved over to the Sheraton, where Maria had been provided a hotel room for her conference. We were sharing with two of her colleagues, but still.
"She's a plastic surgeon?" someone had asked me.
"No, an ethnomusicologist." But sure enough, they were sharing the hotel with a plastic surgery convention - who had merited a "Welcome Plastic Surgeons" banner on the lamppost outside - which made for a fun lobby guessing game.
Maria said we were lame for not having costumes. We've been driving, I said. No excuse, she said, and Karen gave us some makeup to spice up our usual show outfits. With white pancake, red lipstick, and liquid eyeliner, I looked like nothing so much as a drunk old queen, who just wants to get up behind the mic one last time and croon an old Judy Garland number. Which is not so far from the truth.
We were booked Halloween night at the Hi Ho Lounge in the Bywater, first of three supporting Debauche, who someone described to me as "the New Orleans franchise of Gogol Bordello." I'd booked the show through the band's accordionist, a friend of an acquaintance. Now, the first thing I noticed when we arrived was that we'd been awkwardly added around the edge of the sidewalk chalkboard. The second thing I noticed was that the sound lady, hired by those two bands, was in a crappy, harried mood, and the third thing was that she didn't know we were playing.
Both the other acts were pushing ten instruments apiece, and there was one line left for our three instruments and two vocals when their sound check ended around ten. Some negotiation ensued, with the well-meaning but somewhat overmatched house guy, and our line-check started. No banjo. No accordion. Lines were replaced, cables were accused of malfunction, and now it was pushing 10:40.
"Fuck that," I said. "I don't want to play a guitar-only set in New Orleans on Halloween. Let's get out of here."
Maria talked me into taking the accordion through the guitar line, and she'd hold the banjo - for show, since the line, or the pickup, or something, never did work. We played four or five songs that way to near-total indifference, packed up, and loaded out.
I've toured in close quarters with some people infamous for post-show tantrums. Mostly, they were musicians ten or more years older than I, and I became adept at babysitting them, or at least getting them to a room where they could fall asleep on their own and hit the reset button for the next day. And, while sympathetic, I always felt on some level, "suck it up. This is what you signed up for, and some nights you're not getting impeccable sound and an attentive crowd."
Which is why I'm not proud to say I threw a fit while Maria drove us home, weeping, makeup running, regretting every career decision that brought me to this godforsaken place. It had been an all-or-nothing tour so far; a couple of great shows bracketed around a run of soul-crushing shows. Maria was torn between trying to comfort me and being a little mad that I'd "half-assed" a winnable show, and she was probably right: I've always tried to be the kind of entertainer that makes the best of a bad night and the better of a good night. But some nights you're sabotaged, some nights you sabotage yourself, and some nights your despair of every life choice you've ever made and there's no choice but to go to bed as soon as possible.
(Postscript: I went to the repairman the next day and all my pickups and cables were fine.)
Night off in Vicksburg, of which I shall simply repeat that I've always found that there's nowhere so Southern as southern Mississippi, to which I'd add that nothing so strange as hearing the Indian guys at the motel and gas station counters speaking with a hybrid Indian/deep South accent.
I rolled into Hot Springs, Arkansas, a place I've never been, around sundown. It's one of the oldest places in the region, as hot springs often are, with a massive old hospital squatting on the hill. It's from the sanitarium days when hot mineral baths were generally assumed to have medicinal qualities - which, as an aficionado of Russian baths, I have no reason to dispute. Anyhow, it's a minimum-security mental health facility now - or, as the sound guy puts it, the "crazy house."
He describes himself as a "coon-ass. You know what that means?"
I admitted I didn't.
"Cajun. Southwest Louisiana. I used to play some accordion myself, zydeco."
He'd toured in bands but had settled down to a comfortable living doing live sound and mastering. He agreed that New Orleans was a tough town.
"You can win it if you hit it real hard," but it's a locals-only zone for the most part.
"By the way," he added as I got ready to soundcheck, "We have a strict no-'Wagon Wheel' policy."
"You're not the first club who's told me that," I replied. "Knoxville was very adamant on that point. Even had a sign."
"Oh yeah, I bet they get that the worst of anyone."
"You don't have to worry about me." I said. "At least not on that front."
Maxine's was a brothel in living memory - "My girlfriend's grandfather, who's 82, he knows a lot about it" - and Maxine was the eponymous madam. Capone and other bootleggers ran booze through tunnels under Central Ave. that still exist. "I used to work with a DIY space right down the street that had one of the tunnels, boarded up, running right into it." The owner and his Polish wife have more stories about the bad old days: Owney Madden, notorious gangster and owner of Harlem's Cotton Club, had a place here that hosted the Rat Pack and just closed a decade or so ago. Maxine herself had come into this place when she was still alive, with her lawyer, looking to sue over the use of her name; but she'd decided she liked what they were up to and left an autographed copy of her memoir: "Call Me Madam."
It's a hopping main drag on a Friday night, with just a hint of the Gatlinburg/Pigeon Forge neon about it. A ventriloquist/magician is performing across the street. A group in 19th century clothing pass by the front and hand me a flyer - the community theater, promoting a "steampunk" production of Dickens' "Christmas Carol," which seems redundant.
I opened for David Olney, a Nashville singer-songwriter of the 70s school. Townes Van Zandt once said his favorite writers were Mozart, Lightnin' Hopkins, Bob Dylan, and David Olney (Olney retorted, in a NY Times interview, that the statement had probably come from "somewhere in a bottle of vodka"). His songs have been covered by Johnny Cash, Steve Earle, and Emmylou Harris. One of those mid-level heavyweights, and dressed the part, in black brimmed hat and black-rimmed glasses. He'd seen the Frank Turner 7" on my merch table and was intrigued: "You do songs like Noel Coward?" Not exactly, I said, but we started talking vaudeville and I told him I'd do my Jimmy Durante cover.
He and his partner Sergio take the stage. Sergio is thin, heavily bearded, with a red vest and tight pants, a central-casting Telecaster-slinger. "There's a traveling salesman," said Olney. "He wakes from a nightmare in a hotel room. Grabs a book from the nightstand and throws it against the wall, then realizes it's the Gideon Bible. He picks it up, runs his finger down the page, stops at Revelations. Chapter 10, verse 13, which says - and you're from Arkansas, so I know you know this - it says, 'No man stands so tall, as when he stoops to pick up a ukulele.'"
It's a mix of classic-sounding originals and crowd-pleasing covers - "Chain Of Fools," "Who Do You Love." During a quiet number, a drunk girl and her boyfriend set up shop right behind me, and carry on a running commentary. I turned around: "Hey, take it easy, huh?"
"What, I should be quiet? Is he shushing me? Shhh! Shhh!"
She ran to the front of the stage and started pounding on it with her palm, then jumped onstage, ran behind the two men, and started dancing. She had dyed red hair, two lip piercings, and what is colloquially called a muffin top. The owner jumped up and tried to drag her off. She swatted at Olney's guitar, whooped and heckled.
"This song," said Olney, "answers the question: If you were a vegetable, which vegetable would you be?"
"Who gives a shit?…I'd be a banana. Hahaha!"
"I bet you would be…This song's called 'My Little Sweet Potato.'"
I went to get a drink and overheard someone at the bar say, "Oh hell, drunken Abby showed up!"
Then there she was at my elbow, whiskey breath in my face. "Are you gay?"
"Why do you ask?"
"You want to meet me?"
"I think we just met."
"You want to meet my friend?"
"…"
"The hell with you anyway." She spun around and huffed off.
I'd mentioned from the stage that I was looking for a place to stay, and a clean-cut, tattooed guy offered his couch. "It's in Bill Clinton's high school," he said. Sure enough, it was an institutional brick behemoth instantly recognizable as a high school, from its high ceilings to its linoleum floors, converted into loft spaces. His was in what had been the gym: swinging doors, wide windows, and the ghost of a young Bill Clinton no doubt experiencing, for the first time, some of the urges that came to define his reputation…
I thanked the guy in the morning. "No problem," he said. "Just one thing. Can you give this" - he handed me a small stuffed lion - "to a girl named Roxy, who'll come to the Seattle show?"
"No problem."
I got cut off and flipped off twice by dudes in muscle cars on the way out of Hot Springs. The drive to St. Louis was a solid nine hours through the Ozarks and true to form, it was deep into some "Winter's Bone" shit. I've rarely been given such a stink-eye as when I walked into a gas station in a hamlet called Cave City in northern Arkansas ("Home Of The World's Sweetest Watermelon - Go Cavemen!"), by a 300+ pound lady at the counter, three middle-aged men leaning on a pickup truck hauling a muddy four-wheeler, and a bone-thin creep in a wife-beater who looked like, and I say this not to crassly stereotype but simply as description, a cross between The Simpsons' Cletus and Breaking Bad's Skinny Pete.
There is nothing like driving through the deep South to make an urban hipster rediscover their otherness. I remember passing through the I-10 eastbound corridor on a tour ten years ago, that stretch along the Gulf Coast where you leave Louisiana, pass through bites of Mississippi and Alabama en route to the weird world of the Florida panhandle. We'd spent the night before in the amoral New Orleans miasma snorting speed and smoking weed in a gazebo outbuilding with a couple who ran a bed and breakfast where we were staying. Their friend had just died of cancer and, parallel with mourning, had managed to pocket the terminal pain medication, Fentanyl patches and the like, and we were trying it on for size. After the husband went to bed, the wife made a play for Jack; after her boyfriend went to bed, another girl came out on the balcony where I sat watching the sun come up and kissed me. In the morning, we stumbled the couple blocks to the Sugar Park Tavern, the pizza kitchen/bar run by an ex-WIFS sax player, and I vomited on the stoop. We had a fifteen-hour drive to play in Miami that night - we were hoping we could arrive right at set-time. Everyone was pale with multiple-front hangover. We stopped at an off-brand gas station somewhere in Mississippi, incongruously situated next to a crumbling graveyard. Ten of us, black-clad, Jack in an ankle-length black leather coat, filed quietly in to buy ginger ale and Advil, while two African-American ladies and a young boy watched in amazement. As we passed, the boy stage-whispered to his mother: "Momma! I see dead people!"
It was all nauseous, roller-coaster hills through autumn-thinned forest, all the way to the St. Louis suburbs.
I can never come to St. Louis without thinking of the first time I played there, with World/Inferno Friendship Society on a package with Against Me!, Sage Francis, and Cobra Skulls. We played at a two-story dive called Pop's in East St. Louis, across the river in Illinois. The address was Monsanto Drive; prosaically, since it was built in the shadow of a demonic Monsanto plant (an East St. Louis pillar since the 1860s), which lit the area with its exhaust flares. Pop's sat in the middle of a several-acre parking lot, empty but for a 24-hour strip club a few hundred yards away. Pop's, itself open all day and night, was ringed by concrete blast barriers: to prevent, the manager explained, drunks from driving through the building.
A couple of guys checked out the strip club, most of Inferno napped in the second-floor balcony, and Sage Francis read a book behind his mercy. Sage, incidentally, was the first guy I'd seen who drove his own small rental car, sold his merch, and carried his beats in an iPod, traveling light and solo. "That guy's on to something," I thought, and filed the idea away for later.
The city of East St. Louis is the most devastated place I've ever seen - worse that Detroit, worse than post-Katrina New Orleans; just empty, half-collapsed buildings, a handful of people slumped on stoops, looking like a world in which a neutron bomb had hit in the '60s and the habitations were stalked by malevolent tribes. I couldn't believe it. I googled "what happened to east st. louis," and the article that came up actually explained it: a perfect confluence of poor Reconstruction-era black migrants from the deep South, a welfare system overwhelmed, white flight, political corruption, crushing and illogical taxation in the name of corruption, and predatory bankers. Read it here if you're interested: http://www.eslarp.uiuc.edu/ibex/archive/yelvington/what_happened.htm
After the show, a skinny guy with a white beard asked me if I wanted to buy any mushrooms. "Sure," I said; he led me out to his pickup truck and we got in the cab. For a hundred bucks, he handed me a half-gallon clear glass Mason jar with a snap lid, with an inch of dried mushrooms on the bottom.
"The hell am I supposed to do with this?" I thought, and smuggled it to the van shoved like a tumor under my coat.
The 500 miles across Kansas to Denver has got to be the dullest drive in North America (possible runner-up points to Winnipeg-Calgary, but I've only done that once). The only upside is I finally got to the end of the 75-hour "History Of Rome" podcast, so go ahead, ask me anything about Roman currency debasement and the military reorganizations of Marius and Diocletian. Or, not that it's relevant, what happens to international powers with drastic income inequality and mercenary armies who can't or won't integrate their immigrant populations and have such broken political systems that their most talented citizens decline to participate, and only the most craven end up in charge. The best lack all conviction, and the worst are filled with a passionate intensity. As they say.
Still, I passed an Obama get-out-the-vote canvasser this morning and applauded as I jogged by.
The bar was a proper dive and when I walked in the bartender and her customer were comparing notes on their experiences as Planned Parenthood volunteers and watching CNN. The opening act was a theatrical all-girl act trying to rouse a distracted crowd. "Take your tops off!" heckled the lesbian bartender. "I can't hear you with your shirts on!"
During the set change, I thought, "This is funny, the sound guy is playing some kind of live record." It took me a few minutes to realize it was a live recording of me. I ran over to the sound booth: "What the hell are you doing?"
"I thought it might be cool to play some of your music, so I Google it and came up with this YouTube clip."
"You're playing a YouTube clip of the shit that I'm just about to do?"
"…I thought you'd be into it."
"Buddy. Nobody wants their own shit playing over the PA before they go on." Good lord.
My set was well after the election was called, even after Romney's concession, and I got a big cheer by opening with "Let's not talk politics, what do you say?" A couple drunk black fellows stuck their heads in halfway through on of my pre-song bits, yelled, "Whoo! Obama!" and left. I agreed, but they'd blown my punch line.
The dog at my hosts' house, a ratty footstool of a hound, bit me on the calf with reassuring regularity every time I entered or exited the house. "Oh, don't worry," said its owner. "He's just trying to herd you." I watched Obama's victory speech on my laptop and thought, savor it - this is a true statesman, and we won't see his like again for a generation.
There are two routes from Denver to Salt Lake City, one scenic and southbound through the Rockies; one north to the Wyoming high plain, then cutting down to Utah. I'd done the first in April on the Kevin Seconds/Kepi Ghoulie tour, so I figured I'd try the other this time. This is also the week of terrible drives - 9 hours to Denver, 9 to SLC, 15 to Portland - so I was in no mood to make it any harder, even for the sake of scenic mountain passes.
You can't see the elevation increasing as you enter Wyoming, there are no massive peaks, just a popping of the ears every half-hour, a thinning of the sky into whey-spatter clouds, and a subtle shift in the color of ground from the tan Kansan prairie to the lavender of the high plain. I passed the I-80 high point, some 8500 feet above sea level, and saw snow for the first time this year. The rest stop, on Happy Jack Road ("This highway is sponsored by: The Gman") has a fifty-foot stone pedestal topped by a massive bust of Lincoln, and the flag whips so violently it sounds like a bonfire. In a way, the most white-knuckle driving in the country is not snowy switchbacks descending the Cascade Mountains, but straight-line east/west driving in the Great Plains, with the broad side of your van catching southbound 40-mph winds that have been gathering speed for a thousand miles from Canada. You can judge your speed by the blood-blots of long-gone deer on the pavement.
There is something otherworldly about coming upon Salt Lake City after plains driving. You can see why the Mormons would have seen it - and Utah in general - as God's country. It is, in addition to being, as Marc Maron says, America's only functioning theocracy (I can think of some Southern towns that would beg to differ), a city unlike any other in the country, to enter it at sunset is like walking down a glowing carpet, hazy with dust, in the shadow of hulking and cinematic mountains. And then to have a hell of a time finding a drink after a nine-hour drive, like a man deserves.
I played Kilby Court once before, in 2002, on a World/Inferno Friendship Society tour. We'd played Seattle the night before, on a Saturday, with their local affiliate of the Tom Waits franchise, called Midnight Choir, fronted by a half-Japanese accordion player who played seated, next to a trash can with an open fire. At intervals, he'd throw some kind of powder into the trash can and the fire would flare up. Afterwards, I asked him what the powder was. "Non-dairy creamer," he said. "It's incredibly flammable."
We'd packed up that night, loaded out, and driven overnight the fifteen or so hours, got a $300 speeding ticket in southern Idaho, and arrived in Salt Lake for a Sunday show at Kilby. There is nothing quite so desolate as a Sunday night punk show in Salt Lake. The city can feel inhuman at the best of times, with its hundred-yards-wide street. I remember the club as literally a shack with a dirt floor, down a dark alley, with the eight or ten underage punks of Salt Lake who could get out of the house on a Sunday night doing their damnedest to make it a scene: a lone fire-twirler in the parking lot, and a kid in a head-to-toe cow costume. The owners made woodblock posters for each show, and made two or three refrigerator magnets of the design too. Peter Hess still has the one from this show in his kitchen. It has a buffalo head, for some reason.
It's been ten years, and they've got a real floor, stage, and PA; but the basic structure is still a concrete-block bunker with corrugated aluminum siding. Definitely the same handful of giggling, underage hipsters. This sound guy played the radio call of the Jazz/Lakers game over the PA between sets. A creepy drunk offered me his couch to sleep on, and I was sorely tempted, but my instincts are better than they used to be.
Must be some kind of post-election Mormon grieving period.
(God, some places, though. Thinking about that tour makes me remember another show, about a week before we got to Salt Lake, at another classic stop on the American punk-toilet circuit, the Che Cafe in San Diego. We'd played Austin and then had a two-day drive through the desert westbound. We'd ridden our show suits hard and put them away wet; literally, soaked with sweat in our suit bags, which then sat baking in the southwestern desert sun shining through the back windows of the van, until we opened them in southern California and found off-white explosions of mold all over every one. We found a same-day dry cleaner, an old Korean woman, but when we pulled out the now-probiotic suits, she balked. "No, no, absolutely not. I cannot clean."
"Listen - they don't have to be good. We won't sue. Just do your best."
We pulled up to the Che Cafe, another bunker, this one on a college campus, and found a couple kids hanging out doing god-knows-what. "Hi, we're World/Inferno, we're here for the show?"
"Oh…oh yeah, man…Listen, here's the thing. There's a big party tonight at the Locust house, and we don't think anyone's gonna come to the show. And actually, we want to go to that show too…"
"…"
"So we took a collection for you guys, for your gas money and stuff." He handed us a rolled-up paper bag with about $23 in nickels, dimes, and pennies; and half a stale baguette.
"You think you can call them and see if we can get on the show?"
But that was a non-starter, so we said the hell with these fucking slackers and drove down to the house in question. Sure enough, the Locust was playing and it was packed, spilled out on the lawn. We shot fireworks at the crowd from the van window and sped off.)
| | |
| --- | --- |
| Miles driven to and from Salt Lake | 1,300 in 25 hours |
| Amount spent on gas to and from Salt Lake | $161.66 |
| Amount spent on two shitty motels to and from Salt Lake | $108.15 |
| Amount made in Salt Lake | $0 |
American tours are for the birds.
Apropos of nothing, here's a question I like to ask music enthusiasts: Is there a band as universally beloved and acclaimed, but less influential, than the Minutemen? Or, to put it another way: Everyone talks about the Minutemen, but can you think of any bands that sound like them? Was their sound just too idiosyncratic to be copied or built upon, and their true influence is just the "jam econo" idea? I can only think of two examples. One, The Big Boys, are too contemporaneous to really be considered influenced. Which leaves the somewhat terrifying thought that the only true musical heirs to the Minutemen - busy, sloppy basslines; clean, funk-influenced guitars, sung-spoken vocals - are…the Red Hot Chili Peppers.