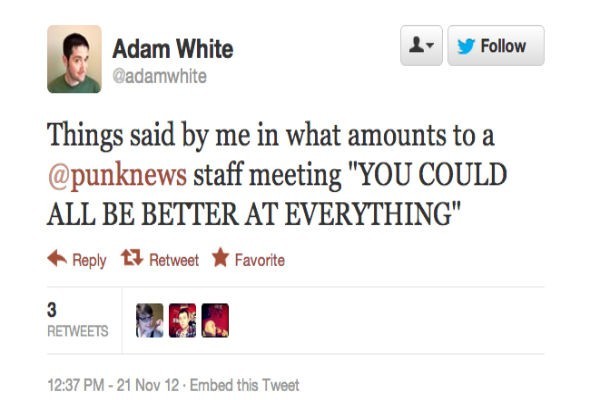 Punknews content is syndicated to a handful of your favorite social networks, including Twitter, Facebook, and Tumblr. Join our Last.fm group and contribute your listening habits to our weekly charts. All of our high definition video footage can be found at Vimeo.
Here's your question and answer of the week from the Punknews Formspring:

Q: Please describe your best FEST-perience. Please describe your worst FEST-perience.

A I wasn't at this year's (or last year's) but I'll tell you what I know:

BEST: Absolutely has to be Comadre performing a Refused cover set at a house show. This was before all the reunions and what not, so it was as close as I thought I'd ever get. Not only does the band know the songs, they know how they were recorded and produced (Jack Shirley of Comadre runs a studio and is a HUGE production nerd). So it wasn't just "Play it like we remember it" but a really well done cover set. Not only that, Comadre are a fucking insane live band. So having them in a tiny house, going apeshit, was absolutely incredible.

WORST: The Menzingers at The Atlantic (might have been the same year). The Menzingers were great but everyone in the venue kept trying to climb on stage to the point where equipment was getting unplugged (and possibly damaged). The band had a couple of people help watch the front of the stage and keep people off. Towards the end a guy climbed on stage and one of their friends was trying to get him off, I patted the guy's leg, trying to get his attention that the band wanted him off the stage. The guy looked down at me, and swung his heel back and nailed my right in the eye. That sucked shit.

Later I came to find out a couple of people I knew, knew the individual in question and all apologized for his actions. Not like I was really too mad, but I did have a pretty good bruise for the remainder of Fest.

-Rich
Of course your day wouldn't be complete without knowing every inane detail of your humble editors' lives. Follow @aubinpaul, @adamwhite, @justinaugust, @brian_shultz, @dante3000, @ameliaaacline, @kiraface, @mcflynnthm, @kidecono, @wackymondo, and @BrittStrummer's every move at Twitter.
Where else are you online? Share your links below and keep connected with the Punknews community.