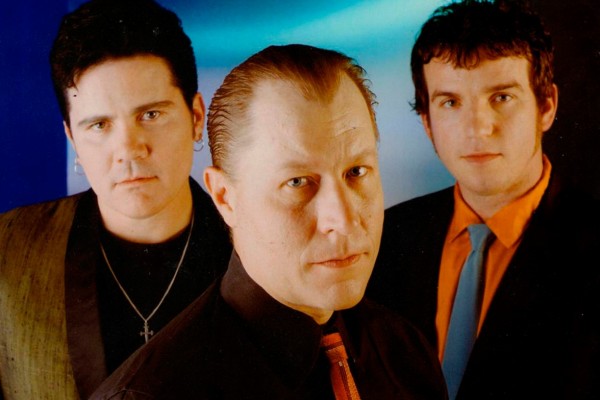 Victory Records has announced that they have signed long-running psychobilly trio The Reverend Horton Heat. The Reverend himself comments:

We are very excited to be a Victory band now. Since we are going to get back to doing some edgier stuff, it makes perfect sense to be on Victory. Plus, they are as passionate as we are. Stay tuned for some crazy ideas about our new album. Tony said I'm graduating to Pope. Hallelujah!!!
An announcement video has been posted.
Additionally, the band will be touring extensively starting at the end of this month, all across the US.
| Date | City | Venue |
| --- | --- | --- |
| 11/30 | New York, NY | Irving Plaza |
| 12/01 | New York, NY | Irving Plaza |
| 12/02 | Boston, MA | Paradise |
| 12/04 | Washington, DC | 930 Niteclub |
| 12/05 | Baltimore, MD | Soundstage |
| 12/06 | Philadelphia, PA | Theatre Of The Living |
| 12/07 | Philadelphia, PA | North Star |
| 12/08 | Poughkeepsie, NY | Chance |
| 12/09 | Harrisburg, PA | Fed Live |
| 12/11 | Collinsville, CT | Bridge Street Live |
| 12/12 | Ithaca, NY | The Haunt |
| 12/13 | Providence, RI | Fete Ballroom |
| 12/14 | Portland, MD | Port City Music Hall |
| 12/15 | Hampton, NH | Wally's Pub |
| 12/16 | Syracuse, NY | The Westcott |
| 12/18 | Marietta, GA | Adelphia Music Hall |
| 12/19 | Knoxville, TN | The Square Room |
| 12/20 | Nashville, TN | Exit In |
| 12/27 | Hollywood, CA | Fonda Theatre |
| 12/28 | Las Vegas, NV | Vinyl |
| 12/29 | Anaheim, CA | House Of Blues |
| 12/30 | Ventura, CA | Ventura Theatre |
| 12/31 | Solana Beach, CA | Belly Up |
| 01/18 | Colorado Springs, CO | Black Sheep |
| 1/20 | Winter Park, CO | Ullr's |
| 1/22 | Durango, CO | Abbey Theatre |
| 1/23 | Telluride, CO | Sheridan Opera |
| 1/24 | Salt Lake City, UT | In The Venue |
| 1/25 | Grand, CO | Mesa Theatre |
| 1/26 | Denver, CO | Ogden Theatre |
| 1/28 | Crested Butte, CO | The Eldo |
| 1/29 | Vail, CO | Sandbar |
| 1/30 | Breckenridge, CO | Three 20 South |
| 1/31 | Aspen, CO | Belly Up |
| 2/01 | Ft. Collins, CO | Aggie Theatre |
| 2/02 | Boulder, CO | Fox Theatre |
| 2/08 | San Marcos, TX | Texas Music Theater |
| 2/09 | McKinney, TX | Hank's |
| 2/21 | Lubbock, TX | Jake's Ballroom |
| 2/22 | Denver, CO | Larimer Lounge |
| 2/23 | Sheridan, WY | Scotty's Skate Castle |
| 2/24 | Victor, ID | Knotty Pine |
| 2/26 | Ketchum, ID | Whiskey Jacques |
| 2/27 | Boise, ID | Knitting Factory |
| 2/28 | Spokane, WA | Knitting Factory |
| 3/01 | Seattle, WA | El Corazon |
| 3/02 | Portland, OR | Wonder Ballroom |
| 3/03 | Eugene, OR | John Henry's |
| 3/05 | Sacramento, CA | Ace Of Spades |
| 3/06 | Sparks, NV | The Alley |
| 3/07 | Modesto, CA | Fat Cat's Music |
| 3/08 | Indio, CA | Date Shed |
| 3/09 | Bakersfield, CA | B Ryders |
| 3/10 | Costa Mesa, CA | OC Fair & Expo |
| 3/12 | Yuma, AZ | Strummer's Village |
| 3/13 | Tucson, AZ | Club Congress |
| 3/14 | Phoenix, AZ | Crescent Ballroom |