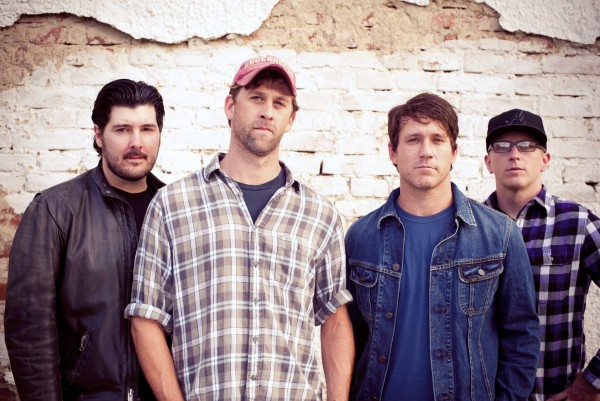 No Idea Records has set a release for the long-awaited triple LP/double CD and DVD release of Hot Water Music's Live in Chiago. Due out January 15, 2013, No Idea said this:

"I am still in love with the music of HWM as much now as ever. The spirit, the lifting, is still present in everything they do. When they were not a band, there was a void and when they decided to play a couple more shows in 2008 we simply had to find a way to document the events. That effort eventually netted a 6-record series of very limited EPs. And then the band recorded a stellar new album, which came out earlier this year. The plan to release the live recordings as a full album took a backseat, but has percolated… and is finally ready to go. Call it a labor of love, crank it up, and sing along
The 3xLP includes a download code, specific colored vinyl, and features 30 songs in 90 minutes, pulled from both nights. The label is promising six versions of the 3xLP, all in runs of 550. They will be Blue, Red, Yellow, Green, Purple, and White. The ink color on the covers will match the vinyl color inside.
Along with the 30 song audio portion, an 80-minute, 24-song live DVD of night two will be included. All three discs are housed in a sturdy, plastic-free, three-pocket jacket.
LP / CD
A Flight and a Crash
Remedy
Wayfarer
Trusty Chords
Jack of All Trades
Rooftops
End of a Gun
Better Sense
Kill The Night
Instrumental
Free Radio Gainesville
Giver
All Heads Down
Moonpies for Misfits
God Deciding
I Was on a Mountain
No Division
Just Don't Say You Lost It
Old Rules
Swinger
Our Own Way
Choked and Separated
Manual
Paper Thin
Turnstile
Years
The Sense
Alachua
Position
Hard To Know
DVD:
Alachua
Remedy
Wayfarer
Trusty Chords
Better Sense
Rooftops
End of a Gun
Giver
Free Radio Gainesville
All Heads Down
Moonpies for Misfits
A Flight and a Crash
God Deciding
Poison
Swinger
Our Own Way
Kill the Night
Choked and Separated
Turnstile
Manual
Years
Paper Thin
Position
Hard to Know