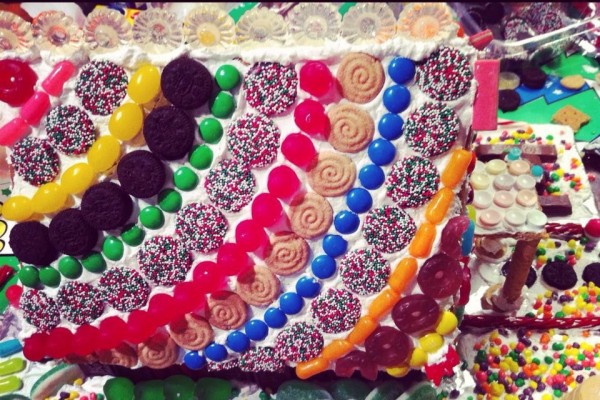 Hi, how's it going? Did you make a gingerbread house this holiday season? Today we have Best of 2012 lists from Ian Graham (Cheap Girls), Alex Wilhelm (Hold Tight), and Karl Keuhn (Museum Mouth), who offers the most pop friendly list we've seen yet.
Ian Graham (Cheap Girls)
Top Ten Albums of 2012

Sundials - "When I Couldn't Breathe"
Ryan Adams - "Live After Deaf"
…And You Will Know Us By the Trail of Dead - "Lost Songs"
Ceremony - "Zoo"
Luther - "Let's Get You Somewhere Else"
Pujol - "United States of Being"
The Sidekicks - "Awkward Breeds"
Bob Mould - "Silver Age"
Father John Misty - "Fear Fun"
Grabass Charlestons - "Dale and the Careeners"
Alex Wilhelm (Hold Tight!)
Best Albums of 2012
Note: I made an attempt to exclude Richmond bands due to bias, but SUNDIALS, PEDALS ON OUR PIRATE SHIPS, THIS IS YOUR LIFE and FAMILY CAT all released great albums this year and you should check them out.

There's also a billion other albums that came out this year that I dig on, but just didn't get a chance to listen to enough. Too many good albums in one year isn't a bad problem to have!

JOYCE MANOR – OF ALL THINGS I WILL SOON GROW TIRED: I was sort of apprehensive to include this one (no matter what anyone says, this shit ain't a full-length), but hey, this band rules and the songs that are on this rule too. I think they tried to weird people out on this. I like that.
JOIE DE VIVRE – WE'RE ALL BETTER THAN THIS: Last year, as a complete stranger, I asked this band to play STAY SWEET FEST expecting a good 'ol "go fuck yourself" but to my surprise, they made the long trek from Illinois and played a set that completely blew me away. Aside from being incredibly kind people, they recently released this guy and it's easily one of the best albums from this recent emo/noodle/whatever trend that's happening right now.
THE DOPAMINES – VICES: For some reason, I kind of feel like this record has flown under the radar for most of my friends. Fuck anyone who says this record isn't catchy; this shit's as catchy as ever. Self-deprecating pop-punk at its finest.
THE SIDEKICKS – AWKWARD BREEDS: This band gets better and better with each release. The vocal harmonies on this thing are mind blowing. Sometimes when I listen to this record, I imagine it being the soundtrack to the characters on "That 70's Show" growing up. Is that weird? Whatever, these guys deserve to be millionaires, maaaan.
THE FAKE BOYS – PIG FACTORY: I have no idea how a pop band manages to be so heavy. Remember when this got reviewed on Punknews? That review sucked. Dig the riffage, yall.
MASKED INTRUDER – MASKED INTRUDER: One time I asked one of the members, "Which color intruder are you?" and he said "I don't know what you're talking about." Perfectly executed pop-punk about being a criminal in love, which sort of sums up my life minus the "perfect execution" part. Really stoked to see what this band does next!
THE MENZINGERS – ON THE IMPOSSIBLE PAST: This band's evolution has been the most fun to watch. They are the textbook definition of a group of good, hard-working dudes getting the success they deserve, and "On The Impossible Past" is easily their best album to date. The song-writing, story-telling, and harmonies are on point. I have no feelings. This album makes me feel things.
HOSTAGE CALM – PLEASE REMAIN CALM: What's their next album going to sound like? I hope it sounds like this. These guys have changed so much since they first started, but "Please Remain Calm" is my jam. It combines so many different elements of so many different eras of music, and I have no idea how to pinpoint the sound, but I love it.
CODE ORANGE KIDS – LOVE IS LOVE // RETURN TO DUST: Such a refreshing hardcore record. I often listen to this on repeat while delivering pizza to keep me from landing haymakers on various customers. It doesn't work all the time.
TITLE FIGHT – FLORAL GREEN: Hype band of the century, but you can't deny how good these songs are. I'll never quite figure out why kids step on my head when they play "Head In The Ceiling Fan," but whatever. Perfect record.
Karl Keuhn (Museum Mouth)
Best Albums of 2012
I was going to try to explain what it is I love about each of these records so much and attempt to justify why exactly they belong on my list (and on a website like Punknews) but then I was all like, "nah."

Ke$ha - Warrior
Taylor Swift - Red
You Blew It! - Grow Up, Dude
Beach House - Bloom
Lana Del Rey - Born To Die
Maroon 5 - Overexposed
Hunx - Hairdresser Blues
One Direction - Take Me Home
Metric - Synthetica
Frank Ocean - Channel ORANGE