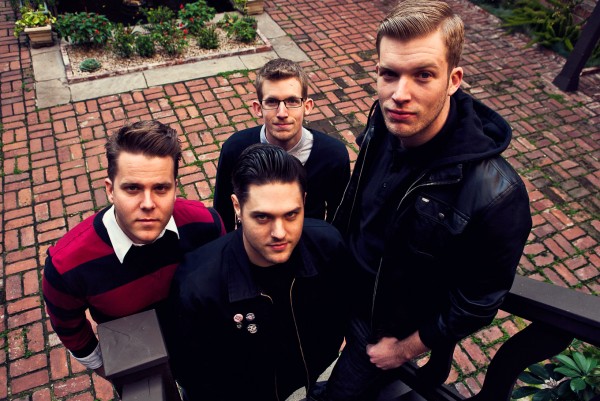 The Swellers are in a bit of a transitional period. While they aren't shedding any members or going through any life and band-altering decision-making, they have been putting out small releases in lieu of full-lengths lately and taking some time off from the grueling life on the road. Punknews interviewer Jason Epstein caught up with Swellers vocalist and guitarist Nick Diener via email to chat about the band's recent releases and plans for the future.
So in 2012 the band came out with a 2-song 7-inch and a 5-song EP. Can you tell me about the difference between the way those songs were utilized for the two formats and how you decide to put out smaller releases like that rather than a full, major release?
When we left our label, we wanted to make sure we let everyone know that we weren't dying out. The best way to do that was to put out the news of a new release. We decided to take two songs from the Good For Me sessions that didn't make the record for stylistic reasons and put them on a 7-inch. The songs were pissed and fast, which is typical of the Swellers, but they didn't quite fit the flow of the last full-length. The songs definitely had more of an impact being on a small release than lost to someone on a full length. Next, the EP…that happened when we felt we had five awesome songs that we wanted to put out ASAP and not wait until we wrote more songs. We put out a great release and it bought us some time to write even more songs.
To piggy back on that, are there plans for a full album?
Yes, I think that's next up, though there is no plan. Just writing and taking a break from touring for the first time in 6 1/2 years. We have never been home for more than 2 months in all of that time, so this is quite nice.
The last three releases have been released by two different record labels and one via self-release. How do you decide which avenue to go for each release?
After Fueled By Ramen, we put out our 7-inch with SideOneDummy. They're awesome people and showed interest in doing a release with us while we were still on FBR, so we figured this would be a good time to test the waters. They did an awesome job. For our EP, Running Out Of Places To Go, we decided to make our own label called Snowbird Songs and release the record that way. We wanted to feel what it was like to have full control of everything again. It was definitely therapeutic and a lot of work. I can see us signing to another label again, but using a lot of our DIY ethics and ideas that we learned from running our own label. It's good to save money and tour smart.
It's been 10 years since the Swellers were formed. What do the next 10 years hold for the band?
Probably more of the same, just better. We learned a lot in the last 10 years and I feel like this era of the band has given us a new lease on bandhood. Or band-dom.
Can you tell me a bit about the mini-doc Pretty Normal Activity?
A while ago, we decided that doing tour videos was lame, so we began making tour movies, mostly directed by our bassist Anto Boros. Still pretty lame, I guess, but way more fun for us. Pretty Normal Activity was a spoof on the Paranormal Activity movies, filmed in Newcastle, UK and starring members of The Swellers, Broadway Calls, and Evan of Into It. Over It. We've also made Political Punishment (feat. Fake Problems, Daytrader), Les Incorruptibles (feat. Anti Flag, Pulled Apart By Horses), and Total Behavior (feat. Every Time I Die, Fall Out Boy, Anthrax). YouTube all of these for a refreshing experience.
80s punk, 90s punk or 00s punk? And why?
Our band is influenced by all of these; Descendents in the 80s, No Use and Millencolin in the 90s, and even records made in the 00s by all of these bands were great.
What's your least favorite interview question of all time?
That last one, probably.
Deep burn. Thanks a lot to Nick for answering questions and here's to a new Swellers full-length in the new year.