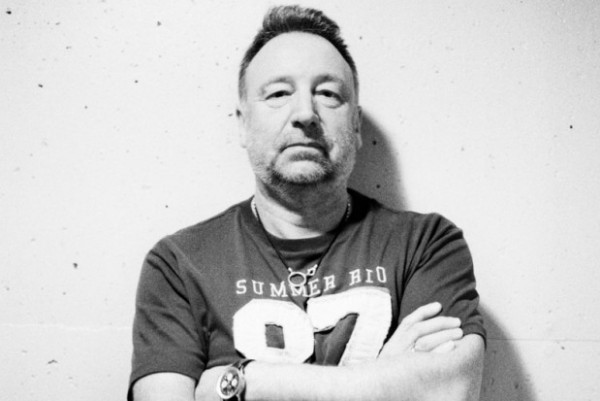 In the music of Joy Division there is an massive, ominous sound that is perpetually hanging in the air. It is at once aggressive, metered, terrifying and cold. That sound is Peter Hook.
Forming the band with Ian Curtis, Bernard Sumner and Stephen Morris after seeing the Sex Pistols, Hook introduced a radically new sound to music through his bass. With the ethos of punk rock firmly in hand, Hook strummed out thick notes that were wonderful and wonderfully dread-inducing. Following Curtis' suicide, the rest of the band would go on to form New Order which again used Hook's unique bass as a foundation for the group's sound.
But over the past decade, things between the members of New Order have become raw, and the group has fractured. Now on his own, Hook has toured with the band the Light playing Joy Division albums in their entirety. To further cap off the era, Hook has just released his recollection of his time in Joy Division in the form of the book Unknown Pleasures - Inside Joy Division (IT Books). Punknews Features Editor John Gentile spoke with Hook about his career, his bass and his first punk rock show. In your book
I saw you with your band the Light play Joy Division's Closer in San Francisco. I was surprised as to how fast, energetic and aggressive the songs were. People talk about Joy Division as this monolithic, infinitely sad band. Do you ever feel that the gloom associated with Joy Division is over emphasized compared to the band's other aspects?
Definitely. That was one of the reasons I decided to do the book. I felt that was all that people dwelled on. You don't see the people and the struggle behind the music. When I played Joy Division songs live with the Light, I didn't realize that most people had heard Joy Division on record, but had not heard Joy Division songs live. Live, we were much more intense. The Light, they are very young, and it balances out my old age so when we play, it's sort of between what the Light and Joy Division sounded like live.
Was the difference between Joy Division's studio recordings and the live show an intentional choice, or was it just how the band played live?
We were very awkward as a group. The differences in the sound from record and sound we actually played was massive. We played as a punk rock band. When [Joy Division / New Order guitarist] Bernard Sumner played guitar, there was no one to play the keys, so we didn't play the keys live on some parts. When he played keys, there was no one to play guitar, so we simply didn't have it. We didn't worry about it and we didn't care. Actually, we reveled in it. It was part of the whole punk ethos.
You say that Joy Division was very much in the punk ethos. Modern music critics don't really consider Joy Division a punk band, strictly speaking. Was Joy Division a punk band?
We definitely were a punk group. The whole ethos was punk rock DIY. We wanted to get rid of the old farts and create something new and enjoyable. That came straight from Johnny Rotten, the Damned and all the [other] punk groups. In a way we were frustrated, but we were very much punks. If you look at it, [owner of factory records, Joy Division's label] Tony Wilson, the way he handled things, he was very much DIY and had punk ideals.
In your book, you compliment the production job of producer Martin Hannett. However, in the booklet for the remastered version of Unknown Pleasures, you express displeasure and say that at the time, you and the band felt that he did not represent what you sounded like live. Have you had a change of heart over the years?
You are absolutely right. As a 21 year old punk, I wanted to rip the listener's head off in an aural fashion and in a physical fashion. At the time, Martin's mix was too mature for me. I didn't see the depth in our music and our lyrics, but Martin did. For me, it was all about screaming "Fuck off!" I never realized that we were making such wonderful music. I felt that that Martin took the energy off of it. In a way, when I listen to it, he did a perfect job and made it last 35 years.
For me, your monolithic bass forms the backbone of Joy Division and defines the band's sound.
In Joy Division, you had three very separate musicians. Each had their own melody. The guitar, the bass and the drums each were very separate. But together, they was very synergistic. Most punk music seems to fall in one line, with everyone behind the guitar. But with Joy Division, you have three very separate lines, and Ian Curtis with his wonderful lyrics and marvelous use of onomatopoeia, the way he built a chorus from a song that didn't have a chorus. It came down to the songs. Joy Division had great songs. "Digital" should have been on Unknown Pleasures. "Shadowplay," "She's Lost Control," those songs were well written. I suppose what most punk groups lacked: they had the energy, but not the songs behind them.
Do you ever feel that your contributions to Joy Division, New Order and music in general are understated?
I don't think so. You have to be happy in your life and with what happens, what just comes and goes. I love my life and my family, whether someone looks at you playing or not.
It means a great deal when someone says "You were an inspiration." It's nice to entertain and inspire. I'm a little bit too humble in that I'd never say those kinds of things about myself, but I am very proud of what I've done.
Bass is always considered the instrument that hobbles behind the guitar and doesn't get above its station. I'm delighted to say "Let's go to the fucking bollocks!" With playing music, it is all about ego. And not only did I have an ego, I was a self-taught musician who made some great riffs.
Vocalist Ian Curtis died at age 23. He's sort of painted as this divine, humorless, tragic figure. Do you feel as though that portrait is accurate or was he more rounded than that?
I think basically that he was both. I think that he was the Ian Curtis that I paint in my book and the Ian Curtis that everyone else painted. When we were together, we were very focused and serious and driven. Outside of that, we were very normal. The struggle was really to get the group to the success that it had. The whole thing was started by inspiration. It's all about inspiration and [people] saying "You can do that." I saw Led Zeppelin a week before I saw the Sex Pistols. I saw Johnny Rotten and said "I can do that." I couldn't do what John Bonham did. Punk gave you inspiration to do that. I found a way out completely like I ever had before.
The book opens with a sort of disclaimer that states the contents are history as you remember it. Do you feel as though the acknowledgement that memory isn't perfect gives your book more credibility?
Well, the thing is if you sit me and Bernard and Steve down in a room, each of us remembers things pretty differently. That's why in the book, I don't involve other people. Everyone has a different memory. So you certainly have to admit everyone is fallible and by God, that's believable. I was conscious that this was my memory, so that was my truth and my interpretation.
The last reports about New Order say that things between you and the rest of the band are pretty bad. Is that true?
Oh, "pretty bad" is sort of an understatement. My problem with New Order is they tried to write me out. Bernard thinks they don't need the bass. I recognize Bernard's skill. I respect his talent. I just felt that because of the arguments, my part, especially business wise, has been undervalued. I'm too old and stubborn to change now.
So, for the time being, there is still no foreseeable reconciliation?
No, we are still on trying to murder each other.
In a previous interview, you say that you do everything to the Nth degree. Why do you think you are so extreme?
I think the word extreme is probably extreme. You do try to do the best that you possibly can do, so you are on a parity with the best. My and Bernard's problem is that we are so alike, so competitive. When someone comes along and jockeys for position, we both try to get the spot. My character is to get at anything, whether it's walking the dog, playing music or gardening, to strive to do the best that you can. Ian Curtis showed me that life is very short, so I try to do my best.
Speaking of Ian Curtis, was he really this morbid guy that he is made out to be?
I think that there was a great frustration. People always wonder, but Ian really was a nice guy. He was very generous. His whole aim was to look after his friends and to make them happy. I think one of his problems was that he didn't want to hold you back, but he was such a genius of a man.
At a concert in December 2011, Jello Biafra, formerly of the Dead Kennedys, stated that he was disappointed that he never got to open for Joy Division, as was scheduled for the North American tour that was canceled after Ian Curtis' passing. Where you aware of the Dead Kennedys at the time? Do you have thoughts on them?
I am a fan. Later on, I was in Germany and this guy was comparing the new Dead Kennedys, who don't have Jello in the band, to the original band. He said [in German accent] "Many people will give them a chance. I went but I will not be going again." I hope that happens with New Order!
The whole point of the North American tour was if we could get Ian to America, I think that's what he needed. He needed to know that his dreams were being realized and his work made life worth living. If we could have made it, I think he could have survived. I've only ever wanted to come back. You do have a great appreciation for musicians in the States; it's a very different appreciation than the English.
On June 4, 1976, you attended a Sex Pistols show at Manchester Lesser Free Trade Hall that has become mythical for being the birthplace of many punk bands, including the Buzzcocks, the Fall, the Smiths and even Joy Division. What was the show like for you, personally?
It was a normal hall, seated and very northern in its architecture. I walked into it as a normal person and after seeing Johnny Rotten [perform], came out as a musician. I think [about] what if I hadn't gone to that gig and it scares me. My life changed immediately. I have a wonderful life and my son is a musician. I said to him, "If you have half the fun that we did, it will be amazing." I owe it all to punk rock- The fuck you attitude, fighting against the world.