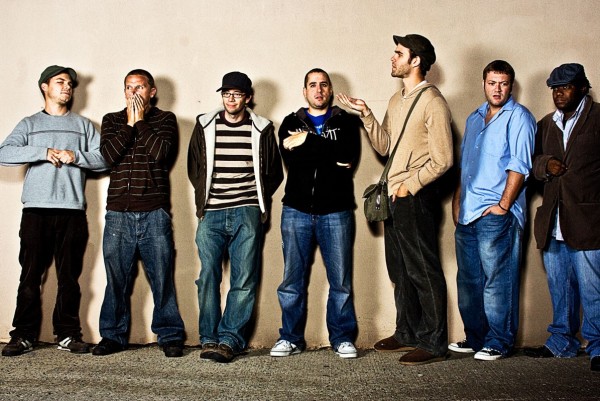 New Jersey's Streetlight Manifesto have announced what they are dubbing "The Beginning of the End" tour. Alongside the announcement of this tour also came news that the band would be headed in a new direction in regards to their touring schedule:
Today, it's time to announce to our fans and friends that we're turning the last page of this particular chapter of our lives. We've solidified plans to tour our well-traveled asses off for one last year, until the end of 2013, at which time we will be not necessarily be moving on from the band, but changing our approach to what we do with the majority of our time. More specifically, we will no longer be touring year round, nor will we be touring much at all anymore. We have decided to step away from the table before we get sick of our favorite meal; we've seen enough bands over the years grow old playing the same songs for decades, going through the motions, slowly fading, and more depressingly, continuing on for all the wrong reasons.
This news comes as a bit of a surprise as the band had finally set a date for the heavily delayed album The Hands That Thieve, which is now due out April 30, 2013.
Update: Empty Orchestra and Rodeo Ruby Love have been added to the tour
| Date | City | Venue |
| --- | --- | --- |
| Apr. 27 | Geel, Belgium | Groezrock 2013 |
| Apr. 28 | Berlin,Germany | Monster Bash |
| May. 18 | Freehold, NJ | The Plaza Green at iPlay Americana |
| May. 25 | Leeds | Leeds University |
| May. 26 | Hatfield | University of Herts |
| May. 27 | Wolverhampton | Wolverhampton Civic |
| Jun. 18 | New Haven, CT | Toads Place |
| Jun. 19 | Clifton Park, NY | Upstate Concert Hall |
| Jun. 20 | Rochester, NY | Water Street Music Hall |
| Jun. 21 | Cincinnati, OH | Bogarts |
| Jun. 22 | Grand Rapids, MI | The Intersection |
| Jun. 23 | Bloomington, IL | The Castle Theatre |
| Jun. 24 | Des Moines, IA | Wooly's |
| Jun. 25 | Lawrence, KS | The Granada Theatre |
| Jun. 26 | Boulder, CO | Fox Theatre |
| Jun. 28 | Reno, NV | Knitting Factory Concert House |
| Jun. 29 | Santa Cruz, CA | The Catalyst |
| Jun. 30 | Ventura, CA | Ventura Theare |
| Jul. 1 | Las Vegas, NV | Fremont Country Club |
| Jul. 3 | Tucson, AZ | Rialto Theatre |
| Jul. 6 | Little Rock, AR | The Rev Room |
| Jul. 7 | Nashville, Tennessee | The Exit / In |
| Jul. 9 | Raleigh, North Carolina | Lincoln Theater |
| Jul. 10 | in West Springfield, VA | Empire |
| Jul. 11 | Lancaster, PA | Chameleon Club |
| Jul. 12 | Huntington, NY | Paramount Theater |
| Jul. 13 | Providence, Rhode Island | Lupo's Heartbreak Hotel |
| Aug. 4 | Anapa | Kubana |