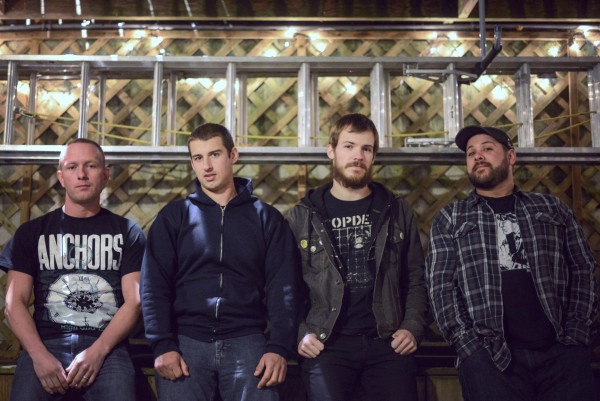 After three long years Albany, New York's After The Fall's new record is just around the bend. Having drawn influences from the sound of Propagandhi to Descendents, their new album Unkind is a medley of the same After The Fall sound with more depth and an aggressive edge. Unkind is set to come out March 19, 2013 on Paper and Plastick and will be followed by a tour. Punknews staff interviewers Christopher and Samantha Barrett sat with the whole band to discuss goals and plans for the new album.
The new album Unkind comes out March 19 on Paper and Plastick; tell us a little about what went into writing the record this time around. Mike Moak: We spent three years as a three-piece and Tyler (Paige), our original second guitar player came back in the band and we wrote Unkind a little after he joined again. We wrote Unkind as a four-piece which was cool, something we have not done in years. Will (Savage) just joined our band as well and he wrote a bunch of songs on the record which was cool. We just practiced and did our thing. We usually do it the same way we write all the music first and add rushed lyrics in the end. That's how it goes for us.
Did you guys record it with Stephen Egerton? Or did you record it yourselves and he just mixed and mastered the record?
Moak: Stephen just mixed and mastered. We recorded it with Tim Lynch at The Recording Company, it's a local place. Our other band had just gone there and we have gone there in the past. After The fall recorded the split 7-inch with Caleb Lionheart there a few months before. We are comfortable going to that place. It's a half hour from home and we sent it to Stephen for mixing and mastering.
How long did it take to record Unkind? Will Savage: Two full weeks.
Moak: Half days and some nights. It wasn't a solid block of time. We would go back up and come home. We would track everything piece by piece. Usually we could have done it a lot quicker, if we did it live and fixed mistakes. We wanted everything perfect for the label and Stephen, [so] we did it track by track.
Tyler and Will, how does it feel to be onboard with this album? Tyler Paige: Really good, I think it came out good. Its been a while since I had recorded with After The Fall. I've had a good experience with Tim Lynch, we had a good time.
Moak: His studio is out on a ranch, he really enjoys shooting guns. He let us shoot his guns and stuff it was pretty fun. I've never done that before.
What records does he listen to while he shoots his guns? [Laughs.]
Moak: Surprisingly, he's into the poppiest pop punk like All Time Low kind of stuff. All the bands he records are in that vain and he loves it.
So then you guys show up and its not exactly pop punk. It's slightly more aggressive.
Moak: Yeah, he really appreciates what we do through even through our recordings are not polished perfect, he does realize we travel and work really hard at getting our records out there and playing shows. He's a cool guy. As for Stephen, we got to meet Stephen at the Decendents show in Brooklyn, a week before we got to send it to him. We got to talk to him about it. He was super nice and that was really cool as well.
So I have to ask the obligatory, how much do you love how Unkind sounded when you got it back from Stephen?
Moak: It sounds awesome, its sounds like [it has] good production but it's still a little but raw, which we like.
It has an edge?
Moak: It has a little abrasive edge, yeah!
Where it's not too polished and it doesn't sound like something you're not trying to accomplish.
Moak: Right!
How do you feel this album differs from Eradication or Fort Orange?
Moak: Unkind differs from Eradication because there are two different guitar parts. Fort Orange had two guitars but Eradication was done as a three-piece. I feel like there's a lot more fills on this record and we try a lot of new stuff. We play a little faster and try to step it up a little bit with this record. The lyrics and the mood of the record is really angry for most of it, then it gets happy at the end.
I noticed that in the title track of Unkind, you were talking about losing a friend. Is there a story behind it or a meaning?
Moak: It wasn't that I lost a friend, it's about one of my best friends that have been going through a really hard time, divorce and taking care of his son and that's what "Unkind" was about.
How is it working with Paper and Plastick on this album? Chris Millington: It's fun to be working with Vinnie. We were fans of Less Than Jake growing up. Vinnie, Thomas and the rest of the guys just seem to be doing their part in helping us out in ways that are not convenient for us to do.
Moak: I do think that in the past that all the records that came out on different labels were friends of ours or people we met on tour. Vinnie, we met him in Gainesville a few years ago after Eradication came out. We met him at the Fest and we were talking about the new record. He was into it and we were just real excited because Vinnie has been touring in Less Than Jake and putting out records for so long that he knows the business. Throughout the '90s and up till now he has seen how it's changed and he does it in a cool way. It's just good to put out a record with someone who's done it a lot and knows what their doing. Itss also cool that Vinnie has a family and a full-time band, he understands with a label or with After The Fall sometimes other things come up or has priority over the band or Paper and Plastick so we are both are on the same page in terms with that, which is nice. He knows where we are and he doesn't pressure us to do anything we can't do.
Right, he understands your obligations as well. So you guys recorded the album before signing with Paper and Plastick?
Moak: We made the plans to record with Paper and Plastick. We booked the studio time after we made the arrangement to do it with his label.
Excellent, What are the band resolutions for 2013? Goals? Places you want to go?
Millington: Japan.
Paige: Japan, that's the goal
Moak: Yeah, Japan and Mexico, that's [our] goals right now. What we are doing are a few record release shows like Montreal, Albany and Manhattan. After Manhattan, we are flying to Australia and doing an Australian tour. We come home to do Pouzza Fest in Canada and plan to go back to Costa Rica in June and hopefully go to Europe this summer. Probably around the Fest time we will do Mexico to Florida.
Do you currently have any connections in Mexico?
Moak: Our friends in Costa Rica want to do a tour with us. They are called Overseas, and they're a newer band who just put out a record. We have always wanted to go to Mexico but the fact that we can go with a latino band makes it even better for us, a comfortable situation, they're friends of ours. We want to do that.
Anything you want to add or share going on for this new record?
Moak: Preorders are up now on Paper and Plastick it drops March 19th. We have a video for the song "Decade" that is posted, and a new song will be posted with this interview. New shirts and merch will be available on tour.
The fact that Paper and Plastick is doing [the record], it's like a weight has been lifted off us by an established label that isn't going anywhere, with records and bands that we really like. We have a really good feeling. We have been a band for so long that we have been waiting to find something like this and we finally did so this is pretty rewarding.