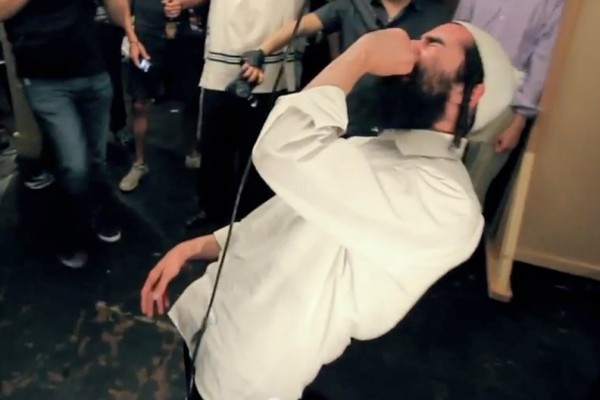 The New York Times has a detailed and interesting article about Moshiach Oi!, a Brooklyn-based punk band made entirely of very observant Orthodox Jews. The band is the main draw for a new documentary called Punk Jews (the original name for our site, am I right?)
The band's lead singer said this about the unusual pairing:

It's very amusing to me to see the looks on people's faces. Most religious Jews have never seen anything like this, so they have no idea what's going on. To me, Judaism is like punk rock. Real Judaism is very in your face. The world is chasing after desires for money and sex and drugs and materialism, and Judaism is the opposite. Judaism is like, this world is nothing. This world is only to serve God and bring light and redemption. To me, that's very punk rock.

[Before] me and my friends were just nihilists. Anytime from 16 to 19, I thought within the next month or two I'd be dead. I just didn't really care. Life didn't mean much to me. One day I hadn't believed in God at all, and the next day it was like, boom, I had this intense spiritual awakening," he said. "So O.K., I got to change a few things. Like, duh." He ended his relationship of three years with a non-Jewish woman and came up with an idea for a band that combined his passions. "Punks scream oi, Jews scream oy. In Yiddish it's oy vey, oy this; in punk rock it's oi, oi, oi. I saw it as a common ground for punks and Jews.
Check out more about the film in the article here.