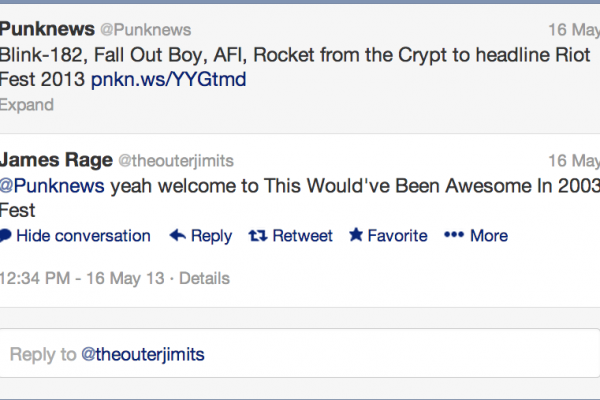 Punknews content is syndicated to a handful of your favorite social networks, including Twitter, Facebook and Tumblr. Join our Last.fm group and contribute your listening habits to our weekly charts. All of our high definition video footage can be found at Vimeo.
Here's your question and answer of the week from the Punknews Formspring:

Q: Do you think a movie or restaurant makes for a better first date?

A: Man, you gotta play this cool. You're already botching up this date and you haven't even asked her out yet.

First first of all, you do realize that you can do both, right? Like THE CLASSIC date is dinner AND a movie. What are you , some kind of cheapskate?

First second of all, unless you are in high school, movies do not make for good first dates. On first dates, you need to have a lot of positive interaction and a fair amount of talking. Movies are not conducive to that at all. You both just it there and watch something. You need to be impressing your girl. You don't want Patrick Stewart or Ryan Reynolds stealing your chances, bro! (In high school, this rule does not apply because chances are, you probably already know the person you are going on a date with fairly well and movies can be used as makeout spots.)

Second first of all, unless you are taking out a boring girl who has an expectation of what a date SHOULD be (usually dinner and a bar or something- boring) you need to come up with an original idea and fun thing to do that will make the girl have fun and show her that you like to have a good time. Some of the most fun dates I've ever had were at a low rent, rip-off Price is Right filming and at the Roller Disco. (Seriously, roller disco is awesome.) If you know a bunch about one area, a QUICK trip to museum can be pretty good, too. The colliery is that if you ARE really smooth, dinner and a trip to the bar can work. I am not smooth, so I need to rely on ancient dead egyptians, disco duck, and imitation bob barker to help me work my mojo.

Have fun mackin my home-dawg,

-John G
Of course your day wouldn't be complete without knowing every inane detail of your humble editors' lives. Follow @aubinpaul, @adamwhite, @howtobepunk, @johngentile, @dante3000, @ameliaaacline, @kiraface, @mcflynnthm, @kidecono, @wackymondo and @BrittStrummer's every move at Twitter. A few of the new fathers on staff have even started a punk dad blog.
Where else are you online? Share your links below and keep connected with the Punknews community.