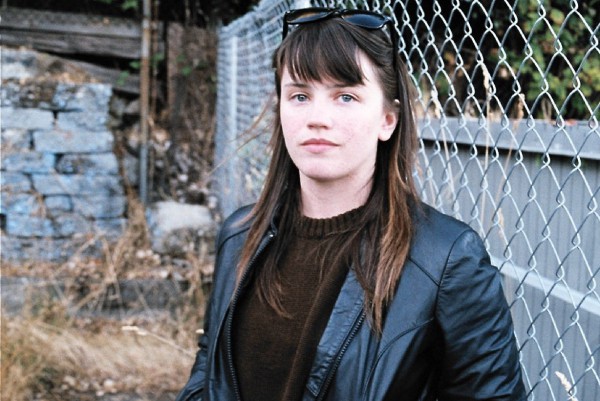 This month Seattle's Big Eyes are celebrating the release of their second full-length LP, Almost Famous on Grave Mistake. Since 2009, four years and one US coast ago, they've been a hard-working band. Now based in Seattle after moving from Brooklyn, with a couple splits, 7-inches, and full-lengths under their belt, there's no end in sight - they've got a tour starting this month and a European tour in the works for fall. Punknews interviewer Stephanie Thornton had some questions for lead singer/guitarist Kate Eldridge about the new album, growing as a musician and bandmate, upcoming tour plans, and how to deal with being treated differently as a woman in the punk scene.
Your new album Almost Famous is out this month – How are you feeling?
Very excited and slightly anxious for it to come out! We recorded it back in October (at Red Lantern Studios in Portland, OR with Adam Becker) and I wish we could've gotten it out a little sooner, but we really took our time with every little detail on the album so we would be completely happy with it.
How do you think it turned out?
I think it turned out awesome. I really like all the photos, the whole layout. It comes with a double sided poster, which I've never had in any release I've been involved with. We really put lots of thought and effort into the whole layout.
What was the inspiration for the album title?
The movie! We all love that movie and thought it was a funny title. Our first LP title Hard Life was also a joke. We're definitely not a joke band but we don't take ourselves too seriously.
I've listened to the new album and to me it's a little heavier and rock 'n' roll than Hard Life. In fact it's been said that the darkness of the northwest has left its mark on you. Would you agree? Were you trying to take the sound in a particular direction?
I've definitely been listening to a lot of 70s and 80s hard rock lately. The weather out here also affects your mood, so I could see it affecting our sound a bit. People in Seattle like a lot of super heavy music, so we have probably also been affected by the other bands we play with and get to see while living out here. I wasn't planning on taking the new album in any specific direction, but I'm really happy with how it turned out. I also play an SG now instead of a Mustang, and a Marshall cab instead of a Fender cab. Definitely adds a thicker tone to my guitar sound.
I saw pictures from your recent video shoot. Can you tell us about that experience and which song it's for? Didn't you shoot some scenes from Kate's recent birthday party?
The video is for our song "Back from the Moon" that came out as a 7-inch single on Grave Mistake last year. It was so fun filming! Most of it was super relaxed. The first day was us running around Portland (literally and figuratively, [Laughs]), nothing too wild and crazy, but still super fun. The second day we filmed us actually playing the song in this giant warehouse that Chris works in. That was pretty trying on my patience because we had to play the same song like 30 times, but I know it was worth it! The third day of filming was at my birthday show. Mean Jeans came up for it and we sold out the Comet Tavern - what a great night!
How was the recent west coast tour with Criminal Code, Audacity, and Mean Jeans?
Last August we hit the road with Mean Jeans for ten days down to San Diego for Awesome Fest. The shows ruled and we all had a good time, even decided to put out a split afterwards on Dirtnap Records! In November/December we toured to the east coast with Audacity for about five weeks. It's harder to tour in the winter because people get lazy and depressed when the weather sucks so turnouts aren't always as good, but it was still a good tour nonetheless. We got to have Thanksgiving at my mom's house on Long Island…mmmmm! Last month we did a ten day tour with Criminal Code and it ruled! The shows were really good and the weather was amazing the whole time. Taiga got peed on one night. That was ridiculous.
You guys really tour relentlessly – what summer tours do you have planned?
We just announced our May/June tour, which starts in [a couple] weeks. [Editor's Note: The dates and links are at the bottom of the interview] We are headed east again and have some killer shows lined up! In D.C. and Richmond we are playing with our good buddies (and labelmates!) Night Birds. In Springfield, IL we are playing a fest with Tenement and The Copyrights. We just got added to Sled Island in Calgary. Hitting some cities I've never been to as well.
When are you coming to Europe this year? What are most looking forward to seeing and doing when you get here?
We are headed out to Europe in October. We are going to be there for four or five weeks. I've never been there so I'm looking forward to just about everywhere! We are going to be in Warsaw on Halloween so I'm curious to see what that will bring. Very excited to go to Italy, Dillan and I both took Italian in school. I'm hoping we have time to hit Scandinavia too, it looks wild up there. Also, England! I watch a lot of movies and TV shows based there. And Spain, to meet you! [Laughs] Amongst the touring do you all have time for jobs or is Big Eyes pretty much your full-time job?
Big Eyes takes up more of our time than anything else but it doesn't pay very well. [Laughs] I babysit, Chris works as a cook at Linda's Tavern and as a construction worker at this badass warehouse. We filmed that music video at that warehouse. Dillan is "unemployed" right now but he goes to school sometimes.
I read that you just turned 25. You've pretty much been in bands for the entirety of your adulthood. Has this always been a goal of yours or do you have other career goals that you imagine you'll aim for at some point?
I've been playing in bands since I was 13. My high school bands played a few cool shows but we never toured or anything. I've been touring since I was 19 and I have no plans on stopping. [Laughs] Besides playing in bands, I've worked with children since I was 13 (babysitting, being a camp counselor, subbed at a preschool a few times). I'm sure whenever I get burnt out on this shit I'll just go back to school to be a preschool teacher or something.
I read that you've always been drawn to Seattle and finally made the move in early 2011. What was it that drew you there and has it lived up to your expectations?
Seattle's a beautiful city. I've been almost everywhere in the United States and it was the only place I could see myself actually living for an extended period of time. The weather isn't as extreme as New York, but it still has changing seasons which I appreciate. I couldn't ever live in California where the weather is pretty much the same year-round; I need change in my life. The folks I babysat for in NY moved out here in 2009 and I would come out and visit them and always be super bummed when I had to leave. I finally decided to move out here in 2011. But I'm kind of slow with making new friends here, I still feel like a bit of an outsider. I don't think everybody gets my sense of humor or something.
As you've grown up playing in different bands, how do you think you have you changed as a musician and bandmate?
I think once I realized I needed to be in a band where I wrote all the songs, I was a lot easier going and easier to work with. I used to have power struggles being in bands where everybody contributed material. I can be bossy and I like to have my way. What can I say? I'm an Aries. [Laughs]
How has your lyrical inspiration progressed over time as a songwriter?
I used to try to keep things vague so nobody could tell when songs were written about them. I don't really care anymore about hiding things. I've been trying to get more specific with my lyrics to draw a better picture, and if somebody thinks a song is about them, they may be right.
Kate, I read that you are sometimes treated differently or as a novelty because you're a woman. What is a message you'd like to get out to those with these narrow-minded attitudes?
Ha, this question always comes up. I never understand when people see me as "different" for being female and playing the guitar, but I don't understand a lot of things people think. I never viewed myself as any different from the dudes I grew up hanging out with and playing music with, I was just always one of the group of music nerd kids. It's just something I started doing when I was 12 and I practiced my ass off. I guess that's mostly a dude's thing to do. Whatever. I'd rather be compared to ALL GUITARISTS and not just female guitarists. Free your mind.
Did anything make you second guess performing in a traditionally male-dominated genre? Has the response been what you expected?
I never thought about it, I just always loved music growing up and decided I wanted to play. I wasn't looking for a response from anybody.
I think you guys are a great inspiration for any young girl who might be feeling a little unwelcome or self-conscious about their involvement with punk. What hopes do you have for young girls discovering punk these days?
I hope that they don't think they are any different from any young boys discovering punk because they aren't. It's 2013 and the internet makes everything accessible to anybody. If somebody blows you off then screw them, find other people to talk to and hang with. Don't smoke weed at shows if you get awkward, because I used to do that and then I wouldn't talk to anybody and had a hard time meeting new people. It was mostly because I was young and stoned and awkward, not because I was a young girl. Good luck! Don't take people too seriously. There's a lot of morons out there.
While you're celebrating your recent release, what other goals do you have for Big Eyes? Short or long-term.
It'd be nice to have the band pay for our rent. It'd be a lot easier to stay focused if we all didn't have to worry about paying rent. Regardless, we will keep playing, writing and recording. It'd be cool to go on tour in a big-ass tour bus one day. Like in the movie "Almost Famous!" We are hoping to go to Japan sometime in 2014 too.
May
| Date | City | Venue |
| --- | --- | --- |
| 29 Weds | Portland, OR | The Know |
| 30 Thurs | Boise, ID | The Crux |
| 31 Fri | Salt Lake City, UT | Blue Star Cafe |
June
| Date | City | Venue |
| --- | --- | --- |
| 1 Sat | Denver, CO | Rhinoceropolis |
| 2 Sun | Omaha, NE | Middle House |
| 3 Mon | Iowa City, IA | Public Space One |
| 4 Tues | Chicago, IL | 86 Mets |
| 5 Weds | Pittsburgh, PA | Roboto Project |
| 6 Thurs | Philly, PA | The Great Indoors |
| 7 Fri | Washington, DC | Casa Fiesta (*w/ Night Birds) |
| 8 Sat | Richmond, VA | Gallery 5 (*w/ Night Birds) |
| 9 Sun | Brooklyn, NY | Death By Audio |
| 10 Mon | Boston, MA | Charlie's Kitchen |
| 11 Tues | Montreal, QC | TRH Bar |
| 12 Weds | Ottawa, ON | Pressed |
| 13 Thurs | Toronto, ON | Skramden Yards |
| 14 Fri | Detroit, MI | Trumbullplex |
| 15 Sat | Springfield, IL | Black Sheep (Dumb Fest) |
| 16 Sun | Milwaukee, WI | Linneman's (RRRC Episode 5 Premiere) |
| 17 Mon | Minneapolis, MN | Triple Rock |
| 18 Tues | Fargo, ND | The Aquarium |
| 19 Weds | Winnipeg, MB, Canada | The Windsor Hotel |
| 20 Thurs | Regina, SK, Canada | The Mercury Cafe |
| 21 Fri | Calgary, AB, Canada | Bamboo (Sled Island) |
| 22 Sat | Calgary, AB, Canada | The Palomino (Sled Island) |