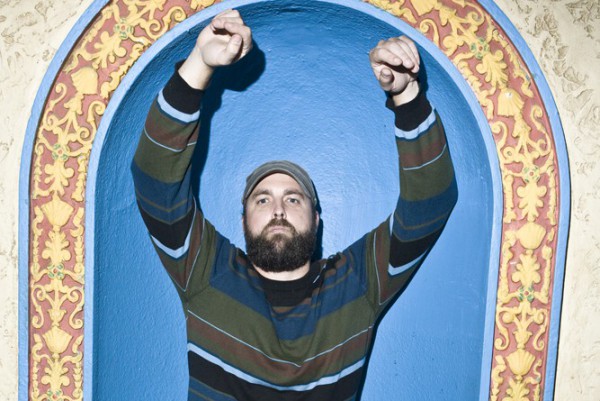 Marshall, Michigan's Small Brown Bike recently released Recollected, a new revised edition of their 1998 compilation Collection. The album reflects on a personal collection of music and memorabilia that traces the entire 15 year span of the band's discography. Interviewers Christopher and Samantha Barrett spoke to guitarist Travis J. Dopp about the album and more.
What made you decide to put out Recollected?
After we finished recording The River Bed we had an extra song and then we just started looking at everything we did or that we put out in the very beginning of Small Brown Bike. Well, then we stopped playing for a couple of years and when we got back together, the talk of a Collection 2 began. A handful of these songs on Recollected were only released on tape and maybe 40 were made. We would demo demos for albums. We had a lot of recordings. We still didn't get everything on Recollected - we picked the best or the early versions of songs and unreleased songs.
Sounds like this was quite a task! What exactly was everyone involved looking for in terms of song selection?
We had some demos that were really rough; the songs were fun to hear, but the quality of the copies we had were rough. So question one was: "Can we find the original tapes to these songs?" Question two: "Can Dan (Jaquint) bring these songs back to life with his mixing ability?" And then what songs do we want to share? We found the tapes, Dan brought them back to life and I feel we picked a great batch of songs to share. Songs that majority of our fan base has probably never heard before and some rare versions of songs that have been released. But the cherry on top was the remastering of all 30 songs.
Are there any particular standouts or special songs in particular you wanted to talk about?
I think the whole project is a standout, I'm biased, so between remastering and breathing life into these old songs – as a member of Small Brown Bike, we finally documented everything that is Small Brown Bike and where we came from and where we ended in 2003. Our journey is fully documented musically, the poster that comes with the project illustrates our 15 years and having it all in one package, for me it's special.
Who worked on the remastering of the songs for this collection? Throughout this process was everyone aiming to polish some rough recordings or was everyone looking to keep raw elements?
We didn't want to overdo it with the polish, but we wanted it to be heavier and bring out some of the sounds you couldn't hear or feel from the originals. Dan did some fine tuning on the 17 songs (Side C & D / Bonus material) and then we had Kim Rosen at Knack Mastering put the finishing touches on the whole record.
How did you feel overall with the result?
I'm very happy with the results. It's noticeably louder and crispier, but the integrity of the songs are still there.
One thing that we noticed and were curious about is that Old Point Light Productions is releasing this. For those who don't know, could you share what Old Point Light is about?
Old Point Light is a multifaceted production company that I started awhile back. We produce music, videos, webisodes and full feature films. Right now I put out my friends' music projects and mine. I started putting out my own music in 2005 and now getting the chance to put out Recollected has been something I've wanted to do for the band. In the upcoming months Old Point Light will be launching a ton of new projects - music and film.
Sounds awesome. How did self-releasing this with your production company differ from working with a traditional label like No Idea and others in the past?
It's a lot of work, I've learned that. It's a lot different from putting out my small runs of my music projects. But what I like about the whole process is the connection with the fans and industry. It's been great knowing who's getting the record and where it's going. Also, I've never worked side by side with our publicist on one of our projects. Things have changed so much since 2003. I'm enjoying the connection with whole process.
Is that also why there are other multimedia elements involved in this release? It seems, for this project, that it was more than just about the music?
I always felt that Small Brown Bike was not just about the music. We didn't just hand in a CD and our jobs were done. We had our hands in the whole design and layout of a record; from taking the photos, to doing the layouts, designing the t-shirts, the stickers and the posters. We also loved the community that came with being involved with music. Putting on shows, creating a space for bands to play live and that connection you make at every show. The poster that comes with all of the records, I feel, documents those moments well.
Any insight we should know about with the extras that will be included with the orders beside the physical music?
For the hard sales, there are two packages to choose from. Package One is the heat and weight of Small Brown Bike, the 180 gram (LPs) is something I've always wanted to hear Small Brown Bike on and hold, the two CDs hold 30 songs, the 24x36 poster is a collection of our favorite posters, pictures, moments and the six 5x7 cards – it's a time capsule. Package Two is on standard black vinyl, it has everything but the six 5x7 cards. We didn't take any shortcuts on producing a quality product – we wanted to make something special for our friends, families, fans and ourselves.
What's the best part of the extras that make this package stand out?
I think the whole thing really speaks - especially Package One. When you pull the record out of the bag and open up that gatefold, Ben did such a great job of reviving and reusing the photo from Collection and making it something new. And then the guts of the record: the poster is something really special – I forgot about some of the shows we've played, so it's a nice stroll down memory lane and Dan did a great job of laying it out. Two CDs with 30 songs – songs/versions we've always talked about sharing, a sticker which we did a small run of a couple years back and then 180 gram vinyl, it's heavy.
For nerds who went all in with the first package what do the 5x7 cards represent?
The 5x7 cards are classic moments of the Small Brown Bike history and it documents moments for all six members, Not just one era, but all of Small Brown Bike chapters.
Are there any plans to tour in support of Recollected?
Unfortunately, we have zero plans to support this release. We talked about it, but we're so spread out these days physically and our time is focused on other music projects and new adventures.
So one could dream about another Small Brown Bike album? In other words are you guys working on new music?
That was talked about a couple of months ago. I think once everyone is settled in and other projects are completed we'll be able to talk about what's next for Small Brown Bike.