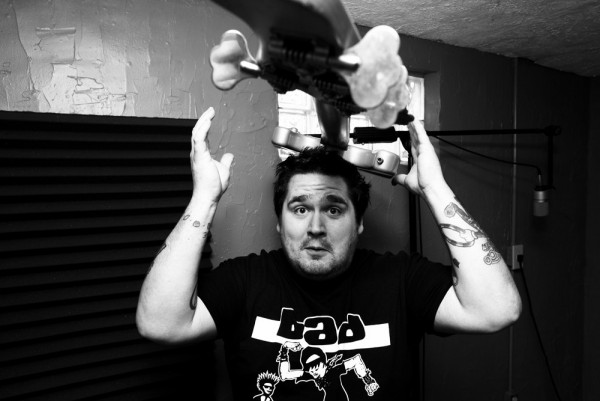 Cincinnati-based Mixtapes are preparing for the release of the band's second release for No Sleep Records, titled Ordinary Silence, set to hit stores on June 25th. The four-piece will embark on a headlining tour in support of the album with You Blew It! and Light Years, as well as a slew of dates on this summer's Vans Warped Tour. Punknews staff interviewer Gregg Harrington recently spoke with guitarist/vocalist Ryan Rockwell about the band's approach to recording, their upcoming tour itinerary and the Yost Theater in California.
Your second album for No Sleep Records, Ordinary Silence, is set to hit stores on June 25th. How does this album differ from your other recorded output so far?
I think it's a little noticeably different. I don't think we've really changed that much more so than our other releases. I think it's different as in how we learned how to use more of the influence we always wanted to be there. The bands we always love to talk about shine through, more like Archers of Loaf, Superchunk, The Replacements, bands like that. I don't think we sound like those bands, but there's more guitar work, it's kind of louder and less polished. It's got more of a 90s influence throughout it that I like a lot more like The Hold Steady and things like that.
The band has also released albums through Death To False Hope and Animal Style. What caused the jump to No Sleep for Even on the Worst Nights?
Well, actually it started at The Fest in Gainesville. We spoke to Chris before when we were talking to some labels, and then he actually talked to me at The Fest. We sat down at some restaurant and he said he'd like to sign us. Matt from Animal Style is one of my best friends on the planet and he's actually also good friends with Chris. We just wanted to make everything good with Matt since he's helped us out a ton as has Scotty from Death To False Hope. We liked No Sleep more than anyone else we talked to at the time. I like Chris because I feel like No Sleep, although I might not listen to all the bands he has, is pretty much it. He doesn't really have anything too embarrassing.
I've always heard a lot of stories like that, where The Fest leads to a band getting signed or being the starting point of a relationship between bands or a band and a label.
Yeah, The Fest is a magical place.
Mixtapes has a pretty extensive release history already. How does the band approach songwriting for specific releases?
This album was a lot different, and I liked it a lot better. I'll put it this way: my two favorite things we've ever recorded are Maps, the first one, and this new one. They were kind of similar because we wrote some fast stuff. We're always writing. For this album, we went into the studio and we weren't completely prepared and I think that was kind of fun and it turned out better that way. And Maps was the same way, and this one reminded me of that. We originally wanted to record an EP and we kept writing songs to try and thought "these are cool; let's try to pull it all together." We went into the studio and we weren't sure if we would come out with a full album which was cool. It just happens.
You mentioned you guys went in a little unprepared and unsure of the final product. Do you think that led to a more organic final product than if you blueprinted the studio experience?
I do, actually. I love the record a lot. I liked our last album, but my main complaints weren't so much the songs but we made it sound so polished and made sure everything was perfect, which was fine. This time, we went more for the rock aspect than the pop-punk aspect. This time we just wanted the songs to breathe.
By the looks of your tour itinerary, the band will be pretty busy all summer, including dates on Warped Tour. How do you think the club shows will differ from the Warped Tour dates you're doing?
We are preparing for Warped Tour in the worst possible way. We decided that not only are we not going to get a bus or a trailer or anything, but we're just taking a van. We're preparing by knowing that it's going to be the most miserable thing on the entire planet. But we don't really care because I can be uncomfortable and we'll save a lot of money that way. We haven't played Warped Tour, but I can say just from the last year or two and playing bigger outdoor festivals – we actually played Skate and Surf a few weeks ago and it was in a Six Flags parking lot – and I used to hate shows like that because I felt really awkward. We'd get on stage, and I'd realize I didn't know what to say or how to move, but I think we've gotten better. I don't really care anymore; I just want to put on a really good show. It'll be really hot. There will be a bunch of people walking past while we play that don't give a fuck about our band. And I assume at a club tour there won't be many people paying to heckle us.
What is the most interesting thing that's happened to you while on tour?
Man, that's a good question. We've seen a lot of weird stuff but when we were on tour with Set Your Goals, Fireworks and Cartel, we played a place called the Yost Theater in California. We were backstage and I remember Fireworks rolling a paper towel roll across the floor and said "bombs away" or something. I've never seen a more ridiculous thing: two minutes later these four security guards came back that look like they could be in WWE. They said, "What's going on back here?" We thought something had happened that we didn't know about, so we said we didn't know. The guard says, "We heard someone was throwing papers towels and that's disrespectful to our venue. Get the fuck out of the backstage now." And then he started putting his hands on people and it got really out of hand to the point that Set Your Goals said they weren't going to play. I wish it was on tape or something. It's not the craziest thing that's happened to us but it was the worst overreaction I've ever seen.
What's in store for Mixtapes following this album release and tour?
Well, the album comes out in a few weeks and we're doing our first actual full U.S. headliner tour with You Blew It and Light Years, which we're really excited about. Then we're doing Warped Tour. Then we're working on a fall tour right now, and we're confirmed for The Fest. We're not sure where our fall tour will go right now.
Awesome, thanks for your time.
Thank you!
Photo by Ryan Russell