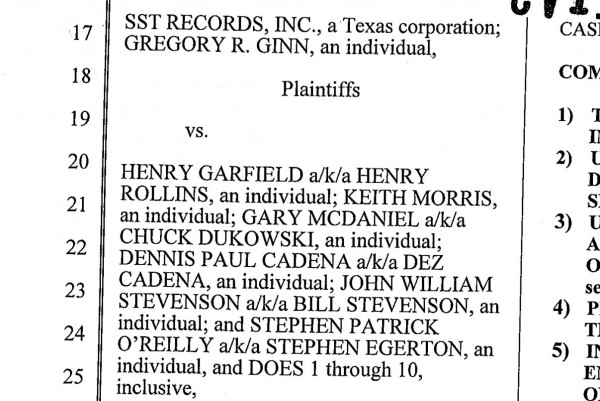 On August 2, 2013 Greg Ginn, founding member of Black Flag and SST Records, filed a lawsuit suit in Federal District Court against members of FLAG and former Black Flag vocalist Henry Rollins. Current members of FLAG Keith Morriss, Chuck Dukowski, Dez Cadena, Bill Stevenson, and Stephen Egerton along with Rollins are all named as defendants in the suit.
The crux of the suit alleges that the FLAG name and related imagery infringe upon the Black Flag trademark, of which Ginn claims ownership. The case becomes more complicated however, as Ginn did not actually file for trademark registration for Black Flag-related marks until June 2013. Further complicating maters, Keith Morris and Henry Rollins claimed ownership of the Black Flag marks when they registered the marks in the United States Patent and Trademark Office in 2012. In addition, the suit alleges that when Dukowski sued Ginn in 2007, the parties settled and as part of the settlement, Dukowski disclaimed any ownership of Black Flag-related marks.
Ginn has asked for money damages as well as an injunction preventing FLAG's current touring activities.
Sst Records v Rollins by Punknews
As is the complicated nature of intellectual property, several publications are reporting incorrect facts because they don't understand the actual filing.

First, some pubs are claiming that this lawsuit is a copyright infringement lawsuit. This is NOT a copyright infringement lawsuit. Very roughly speaking, a copyright is the bundle of rights associated with a work of authorship (i.e. a book, movie, song, sound recording) that is controlled by the work's current owner. Ginn has not claimed copyright infringement, although because the Black Flag logo is a graphic, he hypothetically could, assuming he owns the image.

However, Ginn has filed numerous trademark infringement related claims. Very roughly speaking, a trademark is a word, phrase, symbol or design that identifies and distinguishes the source of a good of one part from all others. (i.e. the name Coca-Cola, the Nike Swoop, or the Green on a John Deere tractor). Ginn's suit basically alleges that by touring as FLAG and by releasing Black Flag related t-shirts, FLAG are causing confusion among consumers as to who is producing these goods and services. That is, Ginn alleges that when fans go see FLAG, many might be confused as to what product they are actually getting from what source. Further, Ginn alleges that when Henry Rollins and Keith Morris filed for ownership of the Black Flag-related marks in 2012, they were not the owners of the marks, and is therefore asking the USPTO to cancel those trademark registrations.

Further, some might assume that a trademark is not enforceable until it is registered. That is incorrect. Although filing a trademark with the USPTO does grant an owner additional rights, a trademark is enforceable, assuming that it meets the federally defined criteria as a valid mark, as soon as it is used in commerce and consumers identify a particular source of origin with the mark.

Ginn's suit could cause trouble for the FLAG tour. He has requested an temporary restraining order, preliminary injunction, and permanent injunction against FLAG from using any Black Flag-related imagery. A TRO and preliminary injunction are granted before a case goes to trial. In fact, TROs can be granted as soon as a case is filed, if the judge approves it. Therefore, hypothetically FLAG could be ordered by the court to not use any Black Flag-related imagery as early as Monday, thus throwing a wrench in their upcoming late summer tour.

Of course, there is some gruesome irony here as following the release of Damaged in 1981, Black Flag themselves were prevented from touring and releasing any music as Black Flag due to a dispute with former record label, Unicorn Records. In fact, several members of Black Flag were briefly imprisoned when the band released the Everything Went Black compilation in 1982 in violation of the court's order.

John Gentile is a features editor at Punknews. He also is an attorney that specializes in intellectual property and mortgage servicing issues. Nothing contained in this post is intended as legal advice. At the time of this article's publication, Gentile was last seen meandering down the street and blubbering, "Why can't we all just get along?!"