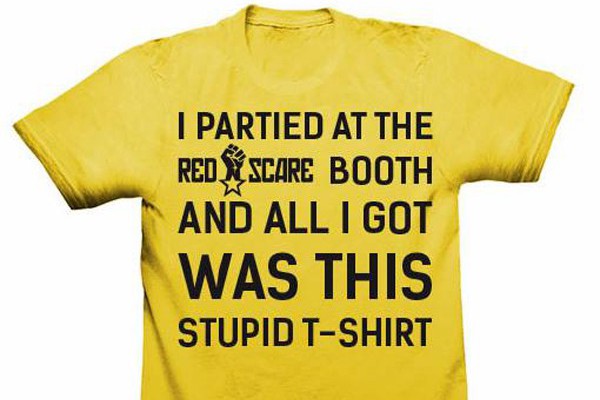 Our friends at Red Scare and Fat Wreck Chords have made plans for a #partybooth this weekend at Riot Fest in Chicago. Their booth will have appearances from The Lawrence Arms, The Flatliners, Direct Hit!, Sundowner, The Lillingtons, Against Me!, The Sidekicks, and Masked Intruder.
Mr. Tobias Jeg of Red Scare told Punknews:

Fat Wreck and Red Scare decided (at the very last minute) that we should have a booth at this pigfuck because both labels have lotsa bands playing: Direct Hit!, Flatliners, Masked Intruder, Sidekicks, The Lawrence Arms, the list goes on! And since big festivals are a little impersonal, we're gonna bring the people and the bands together at our PARTY BOOTH, yo. We'll have koozies, shirts, records, etc for sale; but Fat will be giving away some of their coveted rare vinyl and Masked Intruder will be giving away some of their not-so-coveted relationship advice.
Rumor has it that in addition to having a bunch of LPs and CDs from both labels available for purchase, there will also be a full bar hidden under the table. You can RSVP on the Facebook event page here.