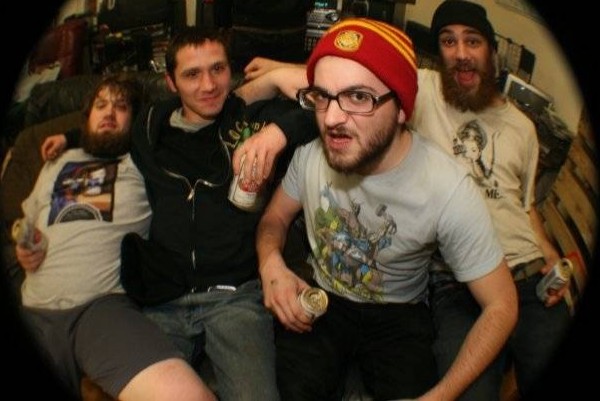 The year 2013 has been a whirlwind year for Captain, We're Sinking. Between releasing a new full-length The Future Is Cancelled and heading out on a highly successful US tour, the band has much to be proud of. Punknews Interviewer Christopher Barrett spoke will drummer Bill Orender about awesome people, crazy shows, touring in a car, and hopes for what's next.
This year you guys put out The Future is Cancelled with Run For Cover Records. Looking back at the recording process, how has it been in terms of putting it together?
Recording it was really fast and I guess kind of rushed, but we really didn't have much money at the time. We recorded it in a span of four days in the summer of 2012. Me and Zack did our tracks in about a day and a half, and Bob and Leo came in and finished up the guitar and vocals over the next few. We recorded with Vince Ratti at Skylight Studios, and he had previously recorded our last few 7-inches before we put out the full-length. Vince is an awesome guy and always hooks us up. I personally think the record came out awesome as far as the sound goes, but next time around I would like to spend a little more time on it.
Would you say it was a real easy process overall?
Yeah pretty much. We've been practicing those songs for a while. Some of the songs are really old and we pretty much had never gotten around to putting them on anything. Then there were songs like "A Bitter Divorce" and "Here's To Forever" which were written three weeks before heading into the studio. We were able to nail it down pretty easily.
How would you say you guys evolved overall as a band from your first few EPs until now?
I'm not on the first EP Its A Trap as the band had Roberto playing drums at the time. He is an awesome drummer and that first EP is amazing. From the other two EPs we kind of just said fuck it….let's do whatever. If it comes out good, that's cool. Bob wrote a lot more on the full-length, and he kept us in the loop by consistently sending us acoustic demos. We all kind of cherry picked songs from there and wrote songs from there. We weren't aiming for a specific sound, and just wanted to get a good flow overall. It's not the same Captain We're Sinking you've heard, but it's still us, so that what we felt mattered. We're definitely happy with it.
How has it been working with the label Run For Cover?
They're great people. Very patient because they deal with us. Can't say enough about how supportive they've been. Our friend Ben Walsh from Tigers Jaw hooked us up and got our record out to Jeff from Run For Cover. We love the label and we love Tigers Jaw, and after a little waiting got the awesome news that they loved the record wanted to put it out. We thought that was rad.
You went out on tour earlier this year with the Menzingers, Fake Problems, and Restorations. How did it go?
The whole tour was excellent. Great turnout every night in every city we went to and that was no accident because The Menzingers are killing it right now. The tour was full of great dudes. The dudes from Fake Problems are great, and the dudes in The Menzingers are like family to us. Safe to say Restorations was definitely a highlight of that tour. They're doing such great things right now, and they've been playing good music for some time now.
Between the record and the tour, how has been the reception so far?
Reception has been incredible, more than anything we've ever expected. Feels awesome to get a little bit of attention and to feel like "a real band." Opening night in Philly was an incredible sold out show. Chicago was a sold out insane show, and I really don't remember much else of that night. One of the best shows on the tour was in Orlando, and that's because people went insane. Some people got kicked out for it and got back in so that was interesting. We also had great time in Milwaukee because we got to hang out at a great dive bar and also played a pickup game of whiffle ball at a park for a few hours before the show.
I heard that you guys toured in a car. That sounds like fun.
Yeah we toured in Bobby Barnett's Acura. It was the four of us, my entire drum set, two guitar heads, one bass head, and most of our personal stuff. The rest of our merch and guitars toured with The Menzingers. For the most part it was actually really comfortable and saved a lot of money on gas. It did start to get a little cramped and a little crazy with some of the drives, considering that a lot of time I had a small section of the back seat. I was kind of blocked out back there considering that we had the guitar head, floor tom, and some personal stuff that created a wall in the middle. Didn't get a chance to drive too much since I can't blame Bob for wanting to drive his own car.
Any future plans in terms of upcoming projects or tours?
It's a little uncertain on that front right now. The summer was kind of a break for everybody after the tour, and we wanted to relax a little bit. We are definitely playing the Fest, but we're probably not going to tour either down to it or back from it. We are also playing the Run For Cover CMJ Showcase in Brooklyn on October 19th. Also for me I would love to tour the West Coast, Canada, and Europe. I'm really anxious to see the West Coast. I've also heard great things about Canada, so I hope we could make this happen. As for any projects we have a few new songs in the works. We may end up doing a split with one our friend's bands soon, so that's something we hope to work out.