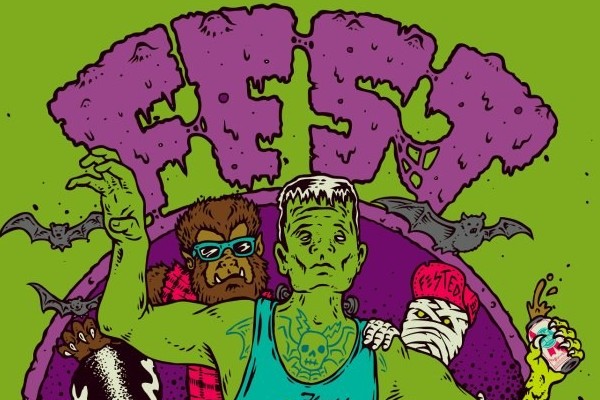 It's hoodie and shorts weather in much of the country right now, and you know what that means: The Fest is imminent.
In just over a month, around 400 bands and 6,000 or so smelly punks from all over the world will converge on the tiny college town of Gainesville, FL to celebrate, well, Fest; it's such a beloved event that the very word seamlessly entered the punk lexicon without anyone really noticing. Punknews.org is of course proud to be working with the Fest once again this year and to help get you stoked, we've compiled another list of smaller, under the radar bands to watch at this year's event. The thrill of discovery is perhaps the best thing about the Fest; the ability to check out a band live you've been meaning to see, or simply stumbling into a band's set and being blown away. Instead of waiting in line at one of the larger venues, why not check out something new?
The Fest 12 happens in Gainesville, FL Oct. 31-Nov. 3, with the pre-Fest taking place in Ybor City (just outside Tampa) on Oct. 29-30. Tickets are still available.
Be sure to tell us your own under the radar picks in the comments.
Lipstick Homicide
HQ: Iowa City, IA
Check out: Out Utero (self-released)
Fest set time: Saturday 8:20pm - 8:50pm at 1982
A little over a year ago, Lipstick Homicide got a call about a show they never would expect to play. The next day they set off from Coralville, Iowa to New York City to open for Green Day at Irving Plaza, a venue that holds a scant 1000+ people. Impressing Billie Joe Armstrong with their great song "We'll Be Okay" on The Thing That Ate Larry Livermore (a must have compilation for all pop-punk lovers), they got a chance to open for the biggest punk band on the planet. Their sound is very reminiscent of the band they drove overnight just to open for: Fast, snotty and short songs about break-ups, crushes, and saying shit to people's faces (and not online). Their set at 1982 is primed to be one of the best this year. –Nick Derella
Have Mercy
HQ: Baltimore, MD
Check out: The Earth Pushed Back (Topshelf)
Fest set time: Sunday 9:40pm - 10:10pm at 8 Seconds
With Uncle Jesse's catchphrase as their band name, Have Mercy are the band you want to sing along with at Fest with your arms wrapped around your lover and/or makeout buddy. Hailing from Baltimore, MD, Have Mercy's sound transitions between dreamy, emotive vocals and catchy melodic buildups. Their highly praised debut LP, The Earth Pushed Back, is like your fantasy Jimmy Eat World, No Knife, and Make Do and Mend mashup. Go ahead and cry mosh during Have Mercy's Fest set – I won't judge you. (But the guy in the Earth Crisis shirt might.) –Jenny Tsay
NONA
HQ: West Chester, PA
Check out: Through The Head (Mandible)
Fest set time: Thursday 7:10pm -7:40pm at Palomino
Three friends from just outside Philadelphia – one formerly of now-defunct Spraynard – make up the delightful pop outfit NONA. Vocalist Mimi Gallagher delivers sugary vocals of painfully realistic and personal lyrics ("Am I worth your time, or better yet are you worth mine? I don't know why, I just thought that I needed something new") over musical arrangements that perfectly capture both upbeat and somber, slower moods as displayed on their recent release, Through The Head. The group keep themselves busy by playing a great deal of local shows and delivering enticing performances that captivate the crowd and leave them wanting more. –Brittany Strummer
Donovan Wolfington
HQ: New Orleans, LA
Check Out: Stop Breathing (Community / Broken World Media)
Fest set time: Sunday 3:30pm - 4:00pm at Palomino
Coming straight from the underrated, underreported New Orleans scene partly cultivated by local label Community Records, Donovan Wolfington are a ferocious five-piece infusing fuzzed-out basement punk with vigorous hooks and supremely contagious energy, anchored by a subtly sardonic bent akin to favorites like Joyce Manor and Spraynard. Their noisy new full-length Stop Breathing is an excellent representation of where the DIY scene is and where it's going, with underrated nuance, texture and intelligence amidst the chaos. The band's raucous live show, tailor-made for packed houses and small stages, will have plenty of Fest attendees talking by the time the weekend is through. –Bryne Yancey
Old Flings
HQ: Asheville, NC
Check out: Spite (Bitter Melody / Self Aware)
Fest set time: Saturday 8:50pm - 9:20pm at Loosey's
For us older Fest-goers, Old Flings will be our teleportation device back to a time when the music on the radio wasn't all that bad. They're very reminiscent the '90s alternative rock that found its way on soundtracks to movies like Singles, Empire Records and Angus, but with more Samiam than Soul Asylum. Hailing from the wonderful city of Asheville, NC, their sound is solid, full of great musicianship and catchy melodies, plus harmonies and hooks that will get stuck in your head for days. You may even find yourself humming one of their songs while standing in line for a slice of pizza at Leo's. They just released a pair of new tracks on a split 7-inch with buds the Break-Ups. I highly recommend checking it out. They are playing two shows at the Fest, one at Loosey's and the other a part of the CMC acoustic showcase. –John Massel
War on Women
HQ: Baltimore, MD
Check out: Improvised Weapons EP (Exotic Fever)
Fest set time: Saturday 6:10pm - 6:40pm at The Atlantic
At Fest 11, Propagandhi's Chris Hannah fell so deeply in love with War on Women that he tried to take the band back to Canada with him. When that didn't work, he settled for bringing the Baltimore five-piece on a European tour where across-the-pond punks got a firsthand taste of the menacing riffs and biting feminist commentary that drew Hannah's attention in the first place. If you like your music brutal and appreciate lyrics that plant a boot firmly in the groin of macho culture, pick up War on Women's Improvised Weapons EP on Exotic Fever, then catch them live at Fest 12. –Adam Eisenberg
Placeholder
Hometown: Lancaster, PA
Check out: I Don't Need Forgiveness (Black Numbers)
Fest set time: Friday 5:30pm - 6:00pm at Mars Pub
There's a pretty good chance you'll head into Fest 12 with no clue who Placeholder are and leave with a copy of their second full-length I Don't Need Forgiveness clutched tightly to your chest. Available now via Black Numbers, the sophomore effort from the Harrisburg, PA three-piece is the musical equivalent of youthful exasperation, perfectly captured by engineer Justin Pizzoferrato (Dinosaur Jr., Sonic Youth). Formed out of the ashes of pop-punk bands and with influences like Texas Is The Reason, Nirvana and Jimmy Eat World, Placeholder have created their own hazy take on today's trendy aggressive-emo sound and totally nail it, especially on the angsty album closer "Similarity." Catch these guys if you're trying to hear a band unlike any other playing the entire weekend. –Jamie Coletta
Human Parts
HQ: Gainesville, FL
Check out: Human Parts (Thick Air)
Fest set time: Sunday 6:50pm - 6:20pm at Palomino
Anything Against Me!-related is sure to garner some attention at the Fest and Human Parts are no different. Billed as the live debut for the band from former AM! bassist Andrew Seward, Human Parts are unlike any group you'll see on the stage all weekend. A mixed bag of genres, styles and tempos, they focus more on '70s punk explosion (think Buzzcocks) than the classic No Idea sound. It's raw, low-fi and grungy–a sparse collection of music about nothing and everything all at once (first single "The Rumble" is about a dog's fear of lighting after all). It's safe to say that Human Parts won't be for everyone but it will definitely be a memorable sight to see. Plus, you go to Boca Fiesta because it's owned by a former AM! member (ex-drummer Warren Oakes) – why not make it a theme for The Fest? –Bobby Gorman
Pale Angels
HQ: Brooklyn, NY / New Brunswick, NJ / Swansea, Wales
Check out: Primal Play (Kiss of Death)
Fest set time: Sunday 8:20 - 8:50pm at Durty Nelly's
Pale Angels are another new group from well-known musician Mikey Erg, as well as Mike Santostefano from Static Radio NJ and Jamie Morrison from The Arteries. Their debut release Primal Play is a grungy record with vocals eerily similar to the late Kurt Cobain. Their rough yet intriguing sound is something to witness because the energy on their recordings should perfectly translate to a live performance. The Fest will be the band's first show after being inactive for a period of time due to Morrison experiencing a hand injury, so there's little doubt they're just itching to melt the faces off of any Fest-goers who are lucky enough and/or smart enough to catch their set. –Brittany Strummer
Cayetana
HQ: Philadelphia, PA
Check out: Demo (self-released)
Fest set time: Friday 10:10pm - 10:40pm at 1982
Cayetana's Augusta Koch balances an emotive unsteadiness against a lackadaisical attitude that captures an earnest sentiment–the sort that's reminiscent of eavesdropping internal thoughts. Often rife with noisy guitar, Cayetana sports Allegra Anka's dreamy and creative bass rhythms that are tethered to the strong and secure percussion of Kelly Olsen. While the musical aspects may be in the vein of Japandroids or the Thermals, the vocals tend to come across like a punx Alanis Morissette–or perhaps something else, closer to peer Katie Crutchfield of Waxahatchee. With only three basement songs released thus far and a full-length coming soon on Tiny Engines, the fact that they're being discussed demonstrates the capability and potential within Cayetana. –Derek Perry
Save Ends
HQ: Boston, MA
Check out: Strength vs. Will EP (self-released)
Fest set time: Sunday 2:30pm - 3:00pm at 8 Seconds
It's no secret that Tiny Engines has been on fire as of late, with quality releases from bands like Signals Midwest, Dikembe and Run Forever, among others. That hot streak is likely to continue with the new full-length from Boston's Save Ends, Warm Hearts, Cold Hands, out Nov. 12. The band use expertly executed vocal harmonies and soaring choruses–along with crunchy guitars and driving piano–to help create their heartfelt brand of rock, which should have fans of the Anniversary and the Get Up Kids pining for more. "Playing The Fest was something we all really wanted to do – that and putting out an LP on vinyl," guitarist Tom Ciesluk says. "So now, within a three-week period in November, we're going to cross both of those off the Save Ends bucket list. Fuck yeah." –Bryne Yancey
The Smith Street Band
HQ: Melbourne, Australia
Check out: Don't Fuck with our Dreams EP (Poison City)
Fest set time: Sunday 8:00pm - 8:40pm at Florida Theater of Gainesville
Want to wrap Fest up right? See The Smith Street Band Sunday evening. With Fest being four days this year, we are all likely to be lagging come Sunday at 8 p.m. Don't fret though, the energy this four-piece from Melbourne, AUS will exude will surely have the entirety of the Florida Theatre of Gainesville dancing. TSSB play the type of music everyone will love and can relate to. The band's powerful rock and roll will course through your veins for the 40 minute set, encourage you to sing along, sway with the best friends you just met next to you and register the Smith Street Band as your new favorite group. –Britt Reiser