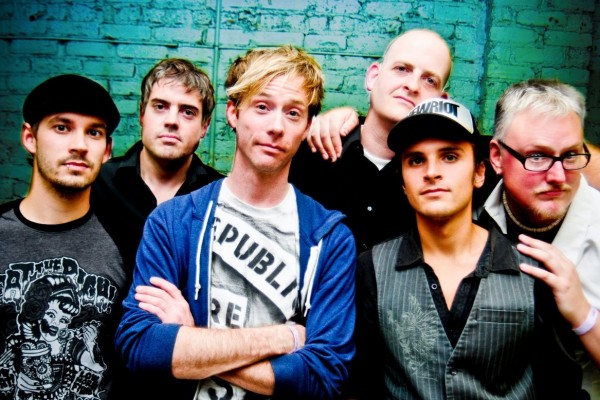 Eyewitness reports are claiming that Big D and the Kids Table frontman David McWane was choked by a security guard during the band's set at the Loft in Poughkeepsie, NY last night. Thus far, just one slightly confusing video from the show had made its way onto YouTube in which uploader Steven Duffield claims, "A short break in the music while the vocalist attempts to stop a disturbance by attacking a security dude's bicep with his neck. (OK, that's not that the real story)." You can see the video below, with the (very dark) incident taking place at around the 1:30 mark.
Neither McWane nor Big D have made a public statement about the incident as of yet; we've reached out to them and will update this story with any updates. Red City Radio, who are on tour with Big D, tweeted this last night at 11:40 p.m. ET:

Well, Poughkeepsie…that was real…something. Never seen so many fights during a ska set. Not sure whether to applaud or cry.
We've gathered some eyewitness reports from the show to try and gain a better idea of what happened.
UPDATE: Our pals at Dying Scene have obtained an exclusive statement from McWane regarding the incident. You can read that here.
"The crowd was already kinda rowdy because someone got thrown out during Red City Radio," Ryan Nichols of Albany, NY told Punknews. "Big D starts playing and during their third song, someone who was crowd surfing grabbed the pipe running along the ceiling of the venue. Security surrounds the kid and starts bringing him towards the exit. David [McWane] starts telling them to leave the kid alone and gets off the stage and heads towards them. All of a sudden, the bouncer turns on David and puts him into a headlock. Music stops and the band join in. Things get heated and the venue threatens to shut down the show unless the crowd calms down. The show continued, but with David going into rants about overaggressive security. It was just a weird night."
Trumpeter Ricky Coates, whose band Survay Says opened the show, shared a similar story. "A kid was crowd surfing/going up in the crowd and started to hang on a water pipe," Coates told us. "Security overreacted and started getting physical with the kid. Big D was in the midst of a breakdown during this. Dave tried telling [security] the kid was fine and to let him be in the mic but they weren't listening. So he went into the crowd to try and talk it out with security. Security then misunderstood more and it escalated into a security guard having Dave in a headlock, UFC-style. Eventually everything stopped and Dave was let go. Luckily Big D played the rest of their set."