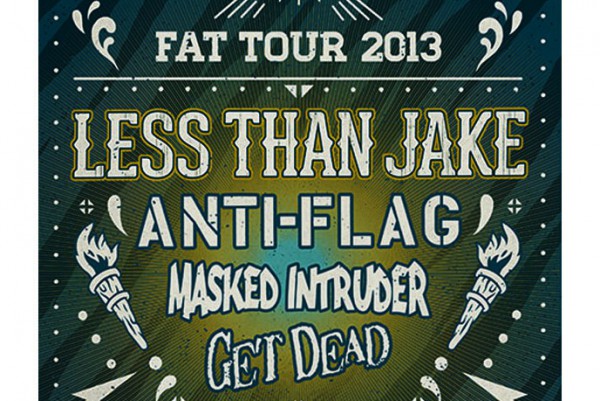 That's it! Be sure to check out these fine folks on the Fat Tour 2013 starting next week. Thanks to Chris 2, Roger, Green and Mike for hanging out with us. You can read the complete Q&A below. Fat Tour 2013 featuring Less Than Jake, Anti-Flag, Masked Intruder, and Get Dead kicks off next Monday, November 4 in Pensacola, FL. To celebrate, for a special edition of We'll Do It Live we have on hand for you Chris 2 (Anti-Flag), Roger Lima (Less Than Jake), and Intruder Green (Masked Intruder).
So if you have a burning question for Anti-Flag, Less Than Jake, or Masked Intruder, post it in the comments section and look for a response via usernames chris2 (Chris 2 from Anti-Flag), rehasher (Roger Lima from Less Than Jake), IntruderGreen (Intruder Green from Masked Intruder), or MikeGetDead (Mike McGuire of Get Dead).
Be sure to peep the tour dates here so you can catch these folks in action when they come to your neck of the woods.
FYI: Editors may delete comments that are harassing or unnecessarily rude or offensive. Please play nice and everyone can get something cool out of this.