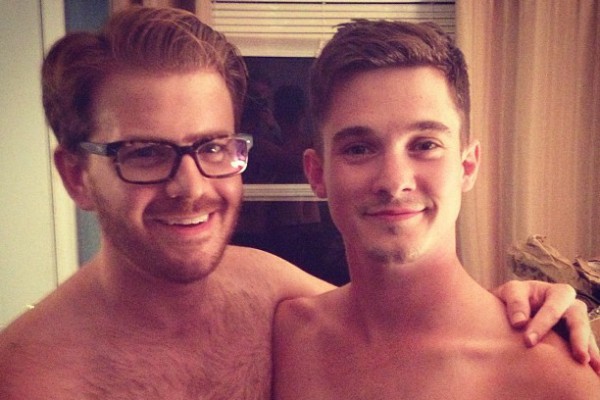 A (not really that) new thing we've tried to keep going here at the 'org is a series that features a band interviewing another band they either really like, respect and/or just enjoy. In this edition, we have Fake Problem's Chris Farren and Look Mexico's Matt Agrella interviewing each other. Both bands will be appearing at this year's Fest (Hey! We're sponsors!). Look Mexico will be performing on Saturday, November 2 at The Wooly at 10:30 p.m. and Fake Problems takes the stage at 8 Seconds on Sunday, Novermber 3 at 7:40 p.m. And with that, we'll hand it over two these fine two gentlemen.
Chris Farren Interviewing Matt Agrella
Chris: HELLO MATT. I wanted to ask you if you remember when we first met, because I remember (I just remembered today)
Matt: Haha. Was it when you guys set up the show at the seafood place in Naples?
Chris: Yes it was a show in 2005 in Naples, at The Ridgeport Pub, I'm pretty sure you guys drove from Tallahassee that morning and back that same night.
Matt: Man. Fake Problems and then some of you guys played solo too, right?
Chris: Yeah, I think so. From there blossomed our long and storied band friendship - tell me about your fondest and most exciting memories of being my friend PLEASE!
Matt: That was our very first "tour" ever as Look Mexico, and it was like four shows. The night before we played a wild house show in Melbourne, FL, then we hungoverly maneuvered my beautiful everglades-green Astro Van through Alligator Alley to you guys. I remember pulling up and meeting the four of you, waiting out front. We couldn't believe someone would invite us to play their town through Myspace (which later that night you told me our Myspace page was so ridiculous, you weren't completely sure we were actually a real band).
Chris: That's amazing
Matt: Cheesefest has to be one of my fondest memories of us.
Chris: Yeah - for those who don't know, in 2007 Look Mexico and Fake Problems went on a month long tour around the USA which we dubbed "CHEESEFEST." We all had matching tank tops that we all wore every single day. It was insane and ridiculous looking back on it but I don't even think we thought it was that weird at the time.
Matt: Everything we did was fun and amazing. Oh how we laughed. And drank. But It was also nice just having another band that was trying to force ourselves into the music scene. We could be honest with each other.
Chris: Yeah, it's pretty wild to think that we just basically begged anyone on the internet for shows and strung together month long tours based off of just that.
Matt: I really liked when we laid in a bed and watched Larry Sanders Show for hours, laughing and laughing. That was when I realized Derek is basically Hank Kingsley (Jeffrey Tambor). HEY NOW.
Chris: Tell me about your new record - Look Mexico records have had consistently amazing songwriting and musicianship throughout, and each release has a very distinct sound and mood. What's the mood on this one?
Matt: Well thanks, Chris. The record feels great to me. It is open, driving, unrestrained, and hopeful. Not hopeful in the "I just entered to win this sweepstakes, and I totally feel like I'm gonna win this zillion dollars" way, but more like how your dog might cock his head when you make a funny sound. The guitars are weaving in and out of each other, the drums are nuts, the bass is right where it needs to be, and I haven't been more stoked on vocals before. We really wanted to make a fun record. And I think we did.
Chris: It kind of feels like this is the perfect time for a Look Mexico record to come out. Emo is #trending on twitter right now. Will this record please the #emo #gods??? We can edit this out.
Matt: I think it'll please any Look Mexico fan. And if someone is just getting into emo, they also might like this record. It's cool to see the word "emo" with not such a negative connotation anymore. Now we won't have to cringe when describing our music to people, "You know, do you like Mid-Western… Emo?" We even called our music Math-Pop for a while, though I don't think it caught on.
Chris: Awesome - so that's basically all I have for you - I should ask logistics - what's the plan for the new record? Who's putting it out/when is it coming out?
Matt: The record is almost finished, with only a few more vocals tracks left to put to tape. "Put to tape" is a real cool way of saying "lay down." "Lay down" is a really cool way of saying "record with my laptop." But really, we did most of the record with Phil Martin (Gasp Asp, To Bed to Battle) and it looks like the remaining tracks will be with Jared Wynne (This Is Animal Music, The Crucial EP). The new LP will be out Spring 2014 on our very VERY good friends' label Tiny Engines. So incredibly excited about these songs and this release.
Matt Agrella Interviewing Chris Farren
Matt: Well hey Chris. Can you please confirm how good of friends we are so my friends WILL FINALLY BELIEVE ME?
Chris: I can detail our friendship, yes. We've been friends for eight-plus years, our bands have toured together many many times, put a split 7-inch out together, you wrote all of the horn arrangements for our record It's Great to Be Alive and came to Omaha with us to record it, I went to your wedding, and you're one of the last people on earth I can have an hour long phone conversation with.
Matt: That was beautiful. Earlier, we mentioned Myspace a little bit. Old Myspace. At the time, it seemed so exciting and new. Now, there are so many social media outlets. How do you think this has impacted the music scene and you as an artist?
Chris: Really it's just made everything crazy accessible. If I wonder what a band sounds like, it takes literally 20 seconds for me to find their music, bio, etc. and decide if I like them or not. From the artist end of things, it makes me hyper aware of presentation. I like to think we put our best foot forward on all of that stuff. Except Myspace…I don't even remember the password. Poor JT.
Matt: I must say, big fan of your latest short- You in the red outfit, in different surroundings. Does it have a name? Any talks of a series?
Chris: Thank you so much, and to be totally honest with you, I'm always thinking of spoofs and goofs.
Matt: Haha. Okay. SO. Your fourth full-length! How is it being back with Ted Hutt?
Chris: It's great - we knew a long time ago we wanted to work with him again. He can really push us out of our comfort zone and press each of us to do the absolute best we can, all while not being too meticulous or tedious about it. He has a really good ear, strong opinions and a confidence I really admire. He's not afraid to shatter egos either, which can be mentally crushing but it's worth it to push out the absolute best results.
Matt: Fake Problems has a knack for finding a nice mix of high-energy hooks, rock anthems, and home-hitting ballads. What can we expect on this record?
Chris: The songs on this record were all born out of a pretty dark place, so it's an angrier record. It kind of surprised me when we were putting the songs together how serious they all are. In the past my lyrics have been a little tongue-in-cheek and sarcastic, sometimes goofy I think. But these songs are all very direct and specific. The same goes for the music. Dark, and kind of on the more aggressive, faster side of things.
Matt: That sounds awesome. I think it's important for artists to reinvent themselves. Are you using any new gear you are excited about?
Chris: I've actually found myself downsizing lately. I've bought a bunch of different effects pedals over the years, but the charm wears off pretty quick and I find myself gravitating back to the basics (reverb, overdrive). I did spend a shameful amount of money on a pedal that makes my guitar sound like an organ. I've used it twice. I'm bad with money.
Matt: I think that pedal sounds like a perfectly good investment. So when does this record DROOOOOPPPPPP? Any other fun info about it?
Chris: We're still in the midst of recording. I'm going back out there soon to finish up the vocals and then we'll start trying to figure out the business end of things. We've had some really cool labels hit us up about working together so I'm looking forward to following that a little and see where that leads us. I'd love to get it out early next year and get back to touring an insane amount.
Matt: Sweet! Man, interviewing people is hard.
Chris: I think that's good.
Matt: That took us soooo looonnnngggg.
Chris: It took us literally three months.
Matt: Wait should I ask you something or thank you at the end? Thank you Chris for hangin' interview-style with me. I now know that it is hard to ask interesting questions.
Chris: Same! See you at the Festival.
Matt: FEST! We didn't talk about Fest!! How pumped are you for Fest? I know it's our favorite music festival ever. EVER.
Chris: Yeah, it's super super fun every time. It's kind of an overload seeing so many friends I've made over the years from various different cities and countries all at the same time. I love it.