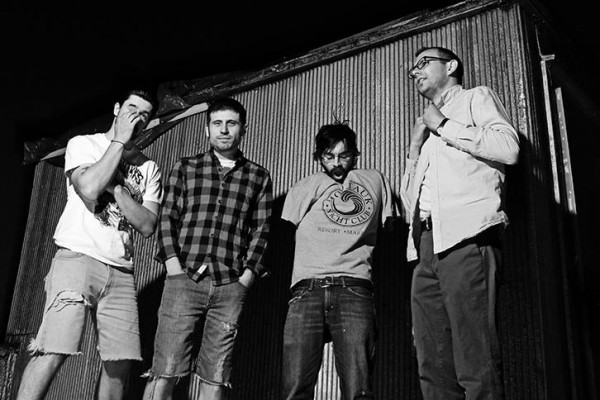 Meet Deep Pockets. This four-piece alt-rock band from Long Island, NY released You Feel Shame via Iron Pier this past September. Punknews Interviewer Christopher Barrett sat and spoke with the band at their record release show in the basement of Saint Vitus. The band was able to touch on an array of subjects from Ramones covers, self-recording a music video and dream concerts to Dyson vacuums and love for water parks.
Hey guys. So seeing as that many people may not be familiar with you yet, introduce yourselves!
Matt Brennan: I'm Matt and I sing.
Conor Hickey: I'm Conor and I play guitar.
Darren Nanos: I'm Darren and I play drums.
Justin Williams: I'm Justin and I play bass.
So first things first… How did you guys get together?
Brennan: I met this fellow (points to Justin) at a job we had a while back, and he knew me from a few bands I used to be in with Darren. Darren and I have been friends forever, and Justin was talking about that how I was in this band and so on, and we were all in other bands that knew of each other. Darren had also done some photography work for Justin's old band so that was also a way we knew each other. Justin then introduced me to this fellow (points at Conor) and we started talking about bands and tunes and all that. We hung out at various spots by my house in Hicksville. I then called Darren and said "we have these two young studs that are ready to get rolling with some tunes" (laughter).
Nanos: Could I also say that before we started all of this the three of us, and I don't know why Justin wasn't involved, had also played a Halloween show together. He was there but didn't play bass.
Brennan: We played a Ramones Halloween cover set.
Hickey: Yeah we had played this Halloween show at a practice space in Long Island. They (Matt and Darren) needed someone to play bass and Chris from Everything Sucks couldn't do it so they called me up and asked me to play bass, so it was a really good time. Nick from Weed Hounds played guitar and it was really strange because the four of us didn't practice in the same room together at all before the show. It was only different combinations of us. So the four of us we're never in the same room before we played…ever.
Brennan: The Ramones didn't do that either (laughter).
Hickey: I remember, Justin finally being there that night we were together and then I said lets stop finally talking about it and let's jam. Justin and I had written some tunes without a drummer or vocals, so we all went to a practice.
Brennan: I asked Darren if he was sure that everything was good with the cool guys (laughter). Darren is my guy because we have been playing together in bands for a very long time.
Hickey: Justin and I are still big fans of Everything Sucks which is the other band Darren and Matt play in. I told Justin we gotta get something together with these guys.
In terms of writing your music what are some of your influences?
Brennan: I can't speak to the music because I don't make it. I know we all like Rolling Stones (laughter). As far as what I do, it's definitely influenced about family things that are both good and bad. I have spent some time with elderly members of my family and I gained some perspective that other people don't see. A bunch of the songs on the LP reflect on me realizing my grandmother is a funny and sassy lady with opinions on things, as opposed to someone who is easy to dismiss because they are older. Also there's the other side that's like looking into the abyss -- where you see someone you respect and love get to the point where they have bathroom issues (to say the least). As far as tunes wise, I know that our bonding was based upon sharing certain bands when we got together. You know when you ask someone have they heard this? Going back and forth and such…
Williams: Matt likes stuff like Mclusky, and I thought it was sick and I had never heard of them. There's also bands like Silkworm that Matt showed us. Everyone has different influences that they bring to the band which is cool.
Brennan: Conor even played me a Shellac record I haven't heard. It was the one he was shouting about the radio (laughter) and I remember calling Darren about that. I can't say we are or aren't influenced by Shellac but that's how that came about.
Hickey: It's definitely a broad range of things, and after Iron Pier's PR guru wrote a press release for You Feel Shame I told myself "I could get behind that." That Midwestern Touch And Go type abrasive sound, or something like Jesus Lizard, or an Albini-influenced sound… I love that sound. I love the drive behind it.
So you guys put out You Feel Shame via Iron Pier Records this year. Just wanted to know how you guys saw that album vs. first few EPs?
Hickey: Well, we recorded the demo before we ever played a show. It was a four song tape recorded on New Year's Eve one year. I think we had an idea of what we wanted to sound like before we played a show, so we locked ourselves in Matt's basement and worked out a couple tunes. We later started playing them live and felt that we should do it differently. The songwriting from that point sort of reflected how we were playing live, so You Feel Shame is a culmination of an evolving sound.
Nanos: You sort of expand from that. We had a sound, and then it got a little rougher and louder. You know, then it just grew and it was natural. It's been a long process though. We recorded the record a while ago…
Williams: And Matt almost took off all of his clothes during recording (laughter).
Brennan: We set up vocals in the bathroom, and I was getting more and more into it. You know you're singing and expressing something, and its only natural you get half naked during that process.
Nanos: I think it worked, you know, because if you get half naked maybe it'll happen on stage too. I don't know.
Brennan: The future is right ahead of us.
There's a song on your split 7-inch with Make It Plain entitled "I Like To Have Dinner Every Night." You have a bit of the spoken word thing going on in that song and just wanted some insight as to what was behind it.
Brennan: Well the song title is from Wayne's World 2, you know Garth talking to Ms. Honey Hornée with her red rope licorice and everything. I think its ridiculous with the whole "dating game" and the little back and forth people have. They dance around what they want or don't want, and how people aren't always truthful with what they say. It's was my little way of improvising some random shit that would be funny to say to a significant other… with a little bit of truth to it. I don't remember the exact lyrics because anytime we play it live I ad-lib it, but I have some touchstone elements that are always involved. Like, I know I always talk about Dyson vacuums (everyone laughs). Wait do you have a Dyson?
Yes, Yes I do.
Brennan: Really?! You know what I mean then.
Well my wife was like "WE NEED TO GET A DYSON!"
Brennan: I know! I know! I got a Dyson last year I don't know how I lived before. I finally feel like I am a human being. A lot of it is about keeping things clean (laughter).
On the household note, you guys recently shot a music video for "Grimke." Seeing as there are some tricky camera angles in the video I was just curious as what went into the production of it.
Hickey: That was all Darren, and he executed it from front to back perfectly. I'm really pleased with it.
Nanos: Basically I thought, "What could we do on a low budget?" I was thinking, "What kind of video camera do we have? Could we pull it off?" The camera was from 1999 so that was a thing. "What's inexpensive?" We wondered if we could execute it, and we did. We had to play the song 39 times though (collective groan). Thankfully the song is only 1:20. It was fun but we had to tie the camera around people's heads and arms and stuff. It was fun though even if we had to play it over and over, but I think we hated the song for a week afterwards. We have plans to do a few more though. We have some ideas.
Do you guys have a band in particular you'd like to play with?
Hickey and Brennan: Fellow Project.
That's cool, but I should clarify a band that has had a huge influence or a dream show.
Hickey: In that case I'd love to play with Bottomless Pit
Brennan: Bottomless Pit would be awesome.
Williams: Dinosaur Jr.
. Hickey: I mean there's also the bands we mentioned earlier, at least one of the contemporary bands that are still around. I saw Shellac a couple years ago and it was one of the better shows I saw. I also John Spencer Blues Explosion last year and that was an awesome show too. So that'd be cool.
Brennan: Any shows where the band you're playing with are bands that you want to see is a good show. So we were all excited to see Self Defense Family tonight so they were one of them too. Also I'd love to play with The Beacons from the UK, even though I've never seen them.
Are there any particular plans in the near future for tour or other recordings?
Hickey: Thinking about trying to play the Northeast or Southeast in January. We also are going to Philadelphia in the near future to record a batch of songs. I want to record these because we've been writing a bunch of songs since we recorded You Feel Shame a while back and I like to play new songs.
Nanos: As for tours we really want to bring our friends from So Adult from the West Coast to the East Coast. We played some shows out there with them last summer.
Hickey: One of the best experiences I could think of. For sure.
Nanos: We went with them from Bellingham, WA down to Long Beach, California. And we spent a long time parked outside Amoeba in Hollywood.
Brennan: Forget about bands and venues. Somewhere we'd love to play…water parks.