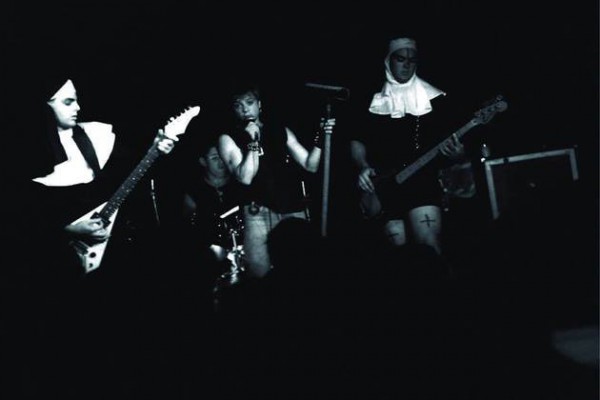 While mid-80's hardcore is usually thought of as a time when hardcore grew, spreading into the straight-edge movement or morphing into the first wave of emo, the fact is, Boston had a small pocket of hardcore bands that, while sounding traditionally hardcore with fierce instrumentation, fell outside the stereotypical hardcore box. In lieu of rules, the bands were humorously self-destructive, echoing the early LA punk bands.
Recently, Glen Stilphen, who was in a number of hardcore punk bands in Boston, including Gang Green, discovered several different demos, outtakes and b-sides by several notable Boston bands that were linked together and has just released the set as Drop the Needle: Boston Punk Anthology. Perhaps most interestingly, the set includes the first ever release of Smegma and the Nunz, a wild, chaotic, nihilistic band (that had a sense of humor) that after breaking up, would reform as the second incarnation of Gang Green.
To learn about the history of these intertwined bands, Punknews Features Editor John Genitle recently spoke to Stilphen about Smegma (the band), his time in Gang Green and how awesome Elton John is.
NAPALM STICKS TO KIDS
A charging guitar line storms downward and a wet, shredded voice screams out, "We are nuns of Guatemala! We are nuns of Guatemala! We will save your immortal soul! We won't quit 'til your money's cold!" The singer sounds self-destructive and unhinged, acting more out of nihilism than for the purpose of spreading a particular message. The strange part is that the music backing the words isn't the Stooges influencing pounding chords of Dangerhouse or other first wave LA punk bands, but high velocity hardcore. The year is 1982 and just as Minor Threat is taking major part in creating hardcore, and just as Minor Treat followers are interpreting the concept of hardcore as a series of rules, a band forms in Boston that is just the opposite.
The questionably (wonderfully?) named Smegma and the Nunz played rapid, 100 miles a minute hardcore. But, just as their contemporaries were formulating codes which would go on to burden and even destroy hardcore in the 80s and 90s, Smegma and the Nunz were dressing in habits on stage and spouting destructive lyrics that were far more Darby Crash and Black Randy than Ian Mackaye and SS Decontrol.
Vocalist Alec Steere, who was in the first Boston hardcore band, Leper, was a maniac on stage. While his contemporaries would present themselves a disciplined, rational youth, Steere was growling at the audience, rolling around the stage and flashing wild-eyed looks like he might jump out and go for someone's eyes at any minute. Meanwhile, the band would all wear nuns' habits as their front man sang about kids getting lit on fire by napalm and insanity. For Catholic Boston, it was blasphemy in the worst sense.
But despite the band's manic live show and fierce as hell tracks (or maybe because of) they broke up without releasing any material and members would eventually regroup as Gang Green in its second incarnation. Smegma and the Nunz seemed to be forgotten entirely.
But, last year, Glen Stilphen, who played bass in later-day Gang Green, and whose brother Chuck was in Smegma, came across some demos of the radical band. Now, that incredibly rare demo has been documented on Drop the Needle: Boston Punk Anthology along with the groups that Smegma would birth.
JOKE'S ON YOU
"Alec was like one of the original, late 70s punk rockers and he just had it," says Glen Stilphen. "He had something just about him and truly was a late 70s punk dude."
Soon after forming, Smegma actually formed a local following. Shows were raucous and unplanned. Alcohol was usually a factor. After playing some shows, and crafting driving hardcore that had the speed of their DC counterparts and the raw explosiveness of the Detroit hard rockers, the band recorded at least five demos.
In those demos was the unhinged "Bourgeois Lad," where Steere spits in a sharp cadence and snaps "you'll end up just like me!" On "Joke's On You," the band smashes forward with hardcore's energy, but they manage to maintain the swing of classic punk. Steere shouts out a perplexing, seemingly contradictory statement "Joke's on you, I wanna be dead!" It's perfect in its gleeful embrace of self-harm. Everyone else was stating rules and positivity, but if anything, Steele seemed to be one of the few genuine lyricists -- or maybe he was just trying to be shocking.
Although the band had gained some momentum, it was not to last. After a few years, Steere decided to quit the band. "They really wanted to continue on," Stilphen says. "They had something against them regarding marketing because of their name. They really didn't last very long. I'm not sure if it's because of their name or because Alec had lost his interest. With Alec, we wanted him to continue, but he was just doing his own thing. We didn't know what was going on."
Soon, Smegma fell apart. In an attempt to keep going, Glen, Chuck, and Walter Gustafson formed a new band called D.A.M.M. (Drunks Against Mad Mothers) with Alec as vocalist. "I was about 14 at the time," Stilphen says. "We played one show ever. Chris Doherty from Gang Green was there and really wanted to join. But then, Alec lost interest again and quit. So, we decided to call the band Gang Green."
LET'S DRINK SOME BEER
After reforming as Gang Green, the band almost immediately went on tour. Despite crossing the country and playing any number of dive bars, at the time Stilphen was only 15. He says, "I was following my brother around who was five years older than I was. I was lucky that my older brother was in a band, so it was 'okay' with my mom. On school vacations, I was on tour all the time back then. I didn't really get to hang out with my high school friends."
That period was especially fruitful for the band. The band did have a few popular 7-inch releases prior to the original Gang Green's break up, but in this formation, they released the landmark Another Wasted Night LP. The album found the band more technically proficient, flirting with speed metal alongside their hardcore punk origins. But, they also had a sense of humor which many bands lack as well as a hint of the gleeful self-destruction of Smegma.
During the recording of the album, the band saluted themselves with the anti-straight-edge classic, "Let's Drink Some Beer". The tune, which was written with Dicky Barrett of the Bosstones, has the immortal lines "There's fighting all over the world! You're killing each other without any caring! Let's drink some beer! Fuck It! Let's drink some beer! Beer rules! They'll have you follow! This is bullshit! Time to swallow!" However, during those sessions, the song was recorded multiple times. Stilphen was able to locate the original studio recording of the song, which is also on Drop the Needle.
One of the most perplexing things about Gang Green was their inclusion of Elton John's "Crocodile Rock" on Another Wasted Night. It's never been clear if the band were genuine fans or if the tune was a piss-take.
"Elton John is awesome," Stilphen explains. "He does have some bad songs, but albums like Goodbye Yellow Brick Road are fantastic. Chris Doherty was actually a big Elton John fan. Honestly, we didn't really play songs that we didn't like."
Eventually, Gang Green mark II would collapse as well. Following that, Stilphen would go on to be a part of bands including Celebrity Death Certificate, Mallet Head and Scratch, each of which are included on Drop the Needle.
"Touring at such a young age, I saw things that most kids don't see when they are 15," Stilphen sums up his tenure in his bands. "I experienced things that I probably shouldn't have. But, it was a different time back then. Parents weren't on top of their kids like they are now. Most of the bands I was in or saw, the parents were divorced and the kids had more freedom. The funny thing was that for all the stuff that I did see, Alec, who was crazy on stage, was just a nice guy. He was just a good guy to be around. We fell out of touch and never really reconnected, which was a shame. I regret that."
Alec Steere died in 1999 after being hit by a vehicle.