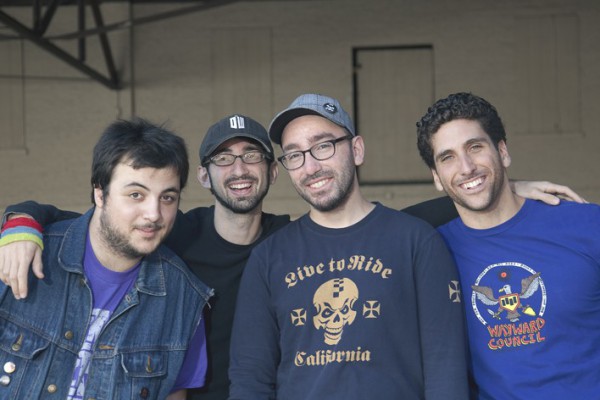 Meet Up For Nothing. This Brooklyn based pop-punk band has been playing anywhere and everywhere for over a decade. The band has shared the stage with some notable acts such as The Bouncing Souls, Grey Area, and None More Black, and collaborated with likes of The Pete and Ernie Parada. While success has been elusive, it has always been a labor of love for this band. Punknews interviewer Christopher Barrett sat down with the band recently to talk about the fruits of persistence, good friends, and staying positive.
So why don't we get comfortable and you guys introduce yourselves.
Tommy Sobolow: I'm Tommy, I'm the second to newest member in Up For Nothing and I play drums.
Justin Conigliaro: I'm Justin. I play guitar and sing. I've been doing this for 11 years.
Steven Calco: I play bass and sing backup.
Josh Gaon: I'm Josh. I'm new. I play guitar and do backup singing too.
So you guys have been around playing shows for some time now. How did you guys get together?
Conigliaro: Up For Nothing started back in 2002. I had a friend of mine that wanted to play some music and I had the same idea so we did everything we could at the time to make it a reality. I had no idea I'd still be playing with this band today, being 11 years later. I just kind of fell in love with the idea of having a creative outlet to share with everyone, everything I feel and I'm going through. For me its been my life since that day and it changed me in ways that's hard to explain. Everything that has happened since the band has started has been unbelievable, especially as of late.
So for a long time you played as a trio, and recently have decided to switch things up and become a quartet. How has that changed things for you guys?
Calco: Yeah for a long time we were a three piece, and even though we enjoyed it there's always been a missing element, or a fullness as some say, that could help us live. Dueling guitars kind of stuff. We've only been a four piece for a short time but we're really excited about writing new things, not that we're trying to put too much on Josh over here. It definitely makes the band fuller.
Conigliaro: Like Steve said, it definitely adds a new element. We've played six or seven shows so far and everyone who has come out says that our sound is more complete. It's definitely the main compliment we keep getting. On our records we always doubled the guitars, and I haven't been able to translate it live. Its nice to finally be able to hear the things live that we've recorded and haven't been able to do before.
You guys released a 7-inch this year entitled In Trance. How did that come about?
Conigliaro: Its actually a pretty cool story. We we're touring through Orlando some years ago, and I was talking to a friend of mine who came out to the show. HIs name is Andrew and he runs a small label called Swamp Cabbage Records. We hadn't contacted him about putting anything out and just met up with us at the show and I told him about the record we were doing. He let me know that I should contact Adam at It's Alive Records because he let us know that Adam was really into us. Andrew had previously put out a few splits and compilations on his label that featured us, and he had apparently done some record trades with Adam, so thats how he initially heard our music. Adam contacted Andrew about us and said he was definitely into our music, and Adam had also reached out to Andrew on more than one occasion about us. So after Andrew told us to contact Adam, we kind of didn't and hesitated. So a few weeks later we got a random friend request on Facebook and low and behold it's Adam. I then initiated the conversation from there and I told him that I love the label and we then started talking back and forth. It was generally centered around getting to know each other and I told him that we were planning to release a 7-inch and we had just recorded with The Pete from The Bouncing Souls. Adam was really excited about it and he told me to send some of the tracks over, so I sent them and he really liked them. When it came down to putting the 7-inch out I really wanted to include Andrew from Swamp Cabbage since he made that connection for us. From there it turned into a co-release between Swamp Cabbage and It's Alive. It just felt right that we included Andrew as well since he was the bridge.
You guys were also recently featured on new compilation Keeping Adam Alive. What the story behind that?
Conigliaro: So once again we we're on tour through Orlando…
The same tour that only goes through Orlando?
Conigliaro: Different tour man. [laughs] We did once again connect with Andrew from Swamp Cabbage, primarily since this time he actually put the show together for us. We had already put out the 7-inch with It's Alive at this point, and Andrew let me know that he was putting together a compilation to help pay Adam's medical bills. He was still working on getting some bands for the comp, and wanted about six bands in total, and wanted us to be on it as well.
We were all about since we appreciated greatly what Adam had done for us. I didn't know if we were going to do a song as a full band or whether I just throw something acoustic on there. At that point I figured it'd be easier to do an acoustic track, especially in terms of recording since we didn't have a lot of time to put it together and he needed to soon. We came back from that tour and I made plans to record, but I still didn't even have the song written yet. I hit up a friend and told him I needed to record a song, and we immediately set up a date. I wrote the song the next day, and then banged it out real quick. Got it done in a few hours, mixed it right on the spot, and had it sent out not too long afterwards. I know when Andrew put up that small run of 10-inch lathes via the label it sold out in about 30 minutes which was awesome. I know shortly thereafter he will put some more out on a 7-inch.
Awesome! So speaking of vinyl, you guys have your last full-length Twelve Stories Down coming out on vinyl soon. Who stepped up to help make that finally happen?
Calco: Our good friend Ian, who has been one of our closest friends for that past nine or ten years, recently started a record label called Pilot Light Records. We were one the first band he contacted, and he had always been supportive of us. So this is going to be the first release on his label and we're excited about it. We have a record release show set up already for January with Mikey Erg, Timeshares, The Scandals, and some other cool bands.
Conigliaro: Ian has been great. When he contacted us about putting LP out on vinyl we said sure. We rarely turn things down.
Just one of those take a chance moments?
Conigliaro: Exactly. He loved the enthusiasm we had from the beginning. He said he wanted to put it out on some nice looking turquoise vinyl, so we'll see.
Calco: We also listened to the test presses and they sound awesome. Can't wait for the pressing to come in.
2013 marked was a big year overall for you guys. For those who missed it could you recap what happened? Conigliaro: We had this guy over here join the band. [Points at Gaon]
Gaon: Yeah man. Justin and Steve brought me in at a really cool time. For that I'm really grateful. We played Fest this year, which is fucking unreal. The whole experience was awesome from people I met down there, to playing the show, and all the cool bands I met up with. It was really cool to actually play Fest as opposed to just being there. I probably wouldn't have went this year if this opportunity hadn't come up, with being broke and all. Highlight of the year for us for sure and one of the highlights of my life.
Sobolow: Fest was definitely an experience for me too, I never experienced anything like Fest ever before. What I loved most about it was that you just meet random and cool people everywhere. You think at first people don't know you but you go down to Fest and cool people stop you left and right. Obviously it was people who thought we looked familiar because they saw us play and even remembered that we were from Brooklyn even though they may have thought our name was "Up For Showing." It was still cool overall. Great people who are passionate about music amongst other things down there. I definitely appreciated that.
Conigliaro: We did so many awesome things this year. We toured a lot. At the beginning of the year we toured with a band from Staten Island, NY called Wester. That was a great tour. We also did four tours this year, I think? We did a few other weekends as well, and put out the 7-inch. We also did an awesome Canadian tour during the summer. This goes back to what Tom said that when we went to Fest, people stopped us like crazy because we either met them on tour or played with someone else they knew. It was awesome they just wanted to stop us a have a quick conversation seeing whats up and all. When it came down to our actual set and Fest it was unbelievable. There so many people we knew from different places throughout the years. So many people there I associated with a certain place or a certain city. To look in the crowd and see all the people from all these different places in the same place was out of this world to me. It made me so happy and was really indescribable.
You guys have played with Bouncing Souls, H2O, Grey Area, Sum 41, None More Black, and (oddly) the Cherry Poppin' Daddies amongst others. Any bands you still are looking forward to playing with?
Gaon: Hazen Street. No doubt about it.
Justin: There are so many for me. At Fest we didn't play with them but we played the same day as Dillinger Four. They're a band I love to death and would to get on the same show as them one day. Personally that would be my choice.
What are some things in the works to have 2014 top 2013?
Conigliaro: The LP should be in sometime in December, and should be ready for the release show and mail order by January. As for other things in 2014, we really look forward to writing as a four piece from now on. It's not only awesome to have Josh playing with us to play some leads with us, but also now to write some of our new material. It will be nice to have some creative output from someone new.
Gaon: I've been involved in a couple different projects for a while, but never really played in a pop-punk band. It's nice to have the opportunity. Every time I tried to start one myself it never really pans out. It should be fun since we all have similar influences.You know stuff like Dillinger Four and other Fat Wreck bands. I love that were working with It's Alive since I love Chinese Telephones and a few other bands on that label.
Conigliaro: Also for this year at some point we might do something like an acoustic five song EP. Most likely that would be a digital only release. Something we never really done but would be cool to try. I write all my songs first on acoustic guitar anyway, and some of the songs never really translated so I figured it would cool to do. We're definitely plan on doing another LP this year as well. When I talked to Adam about that he said it would be cool to do an LP split with another band on the label. The band has yet to be determined but we're excited to see what could happen with that. Adam likes the model of the BYO splits. It works well since were thinking of only putting together six or seven songs anyway. Pouzza Fest is a definite this year as well, and Awesome Fest in August is likely to happen for us too. We definitely want to hit up Europe if we can. I've always wanted to do Europe so that's a big goal. If anyone is willing to help, we're all ears.