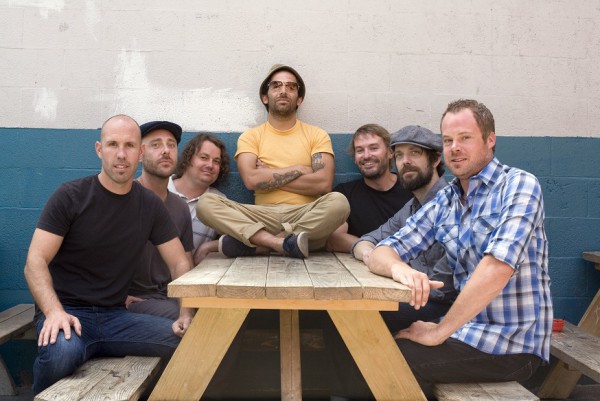 It's been seven years since The Mad Caddies released a record. During that time the band played an occasional show and several members went on to form Ellwood. Now the band is back and ready to take on the world with a renewed vigor as well as a brand new album in the works.
As the band gears up for a west coast tour set to begin early next month contributing editor and interviewer Armando Olivas was able to share a few words with lead singer Chuck Robertson. The duo talked about what to expect from the band's next release, the state of ska music today, and plans for the band's upcoming 20-year anniversary.
It's been seven years since The Mad Caddies put out a full-length of new material, what have you guys been up to in that really huge gap?
Well, 2007 was the last studio full-length and after touring for a couple years on that we decided to take a little breather. We've been touring ever since the band started and everyone wanted to take a break from the constant touring schedule. Work on other projects in life. Everybody did that. Side projects, producing, going back to school, stuff like that. A few years ago we decided it was time to get back out there after putting out a greatest hits compilation. We started working on this new album about 14 months ago and we are a couple of days away from finishing the record.
So in that gap before you came back together to work on the album, was there ever a possibility of you guys calling it a day or was that never a thought in your minds as you took this necessary break?
There were never really any thoughts of disbanding. We just wanted to scale it back. Even in our slowest years we would still play 20 or 30 shows. We would play on the West Coast and over in Europe. Everybody just needed to figure out themselves. We're all in our mid-30s now and just needed a reflective period to see where we're at. It's great to come back together after all that time and still have fun as a band writing new music.
Cool. So in 2007 Keep It Going came out and that record was a bit of a departure from your typical sound. It was less of the third wave ska sound and had more of a reggae vibe going on. For this new record is that going to be the same vibe or are you going to try and change the sound a little bit?
Yeah. I would say it's more in the vein of our last record Keep It Going; some reggae and world music vibes while definitely venturing into some aggressive stuff on there as well venturing into some new territory. Almost like a throwback, a lot of fun horn orchestration and piano but with an aggressive rock sound. It's interesting and it's definitely different. That's something we try to do, keep pushing ourselves to do something new for the fans.
That's rad. From what you're telling me it kind of reminds me of some of the later tracks by The Slackers, a big rock and roll vibe coming from it while still holding true to what they've always been.
I would say that's a fair assessment.
Speaking of The Slackers as well as other ska bands it seems like 2014 is the year ska decides to be a bit more productive than usual. You have a new record coming out, Mustard Plug just had a new record come out, the Bruce Lee Band has an EP coming soon, and even The Aquabats are working on something. It seems like the scene is trying to reinvigorate itself. Do you have anything you want to say about that?
It got quiet for a while but it never went away completely. There are always places and people who enjoy it. From what I've understood, we haven't done a lot of US touring in the past few years, but bands are having really good turn-outs. There's a new resurgence of younger kids getting into this music. Whether it be the teenage kids of parents who are into it or younger siblings getting into their older siblings' stuff. I think it's great. It's a positive form of music, non-violent and generally pretty happy. I think it's a good thing for people to enjoy music like that.
Speaking of shows, you have some shows coming up soon.
Yes we do, February 4th at the El Rey in Los Angeles we are doing a tour kickoff for a two week West Coast run.
Cool. Are you hoping to venture out across the rest of the US or globally later on in the year or is that still up in the air?
Yeah, for sure. Originally this was supposed to be our album release tour. The record was originally slated for February 4th but due to circumstance beyond our control we got behind a couple of months here. The tentative release is some time in the middle of April but we already booked the tour and didn't want to cancel so we decided to just go ahead and do it. We'll still be performing songs off the new record. After that we will be doing two or three more legs in the US We're doing the southwest in April, The northeast in May, and the south probably in June.
For these runs do you have any bands in mind to take out on the road with you or are you heading out solo with local support at each stop?
Yeah, we have this band called illScarlet supporting us on the West Coast run. It's not quite cemented yet but there will be direct support for us on these upcoming runs.
It's nice to see you guys really getting back into it. I remember the last time I saw you may have been at one of the NOFX New Year's Heave shows three or four years ago.
That's very likely.
The lineup was you guys, NOFx and Dead to Me which was a rad lineup to see. I haven't seen y'all since then so maybe I will head out to one of those dates. Another thing I wanted to talk about is about the band Ellwood. A few of you started that band during your break and put out a record back in 2011. Are there any plans for Ellwood to do anything in the immediate future? What's going on with that?
Yeah, Ellwood was a project I started to keep putting out music that I was writing that was a bit softer than what we did in the Mad Caddies. I've actually got a batch of songs ready to record but I can't do anything with until the new Caddies record is done. So we will probably head back into the studio in March and record some more Ellwood songs. We did a bit of touring, it's nothing serious but it's still pretty fun. Playing in the same band and coming up on 20 years in 2015 and right now about to hit 19 years it's just fun to play something totally different. I think people can expect to see another release from Ellwood sometime later in the year. Either on Fat or releasing it ourselves. We will see.
You mentioned that the Mad Caddies have been around for 19 years and next year is the 20th anniversary, but do you have any plans to celebrate next year? I know it's a bit early asking as this year has just started.
You know, we started talking about it over the past few months. Because it's a running joke for ska bands due to the amount of members they have but we thought it would be really fun to do a show in southern California and have all of the living past members of the Mad Caddies on stage for at least a song or two. I think we've had 10 or 11 people from the early days. So we thought it would be cool to have all those past members back to rock out on stage.
That would be pretty cool to see, not gonna lie. Hopefully something close to that pans out next year, it sounds rad.
Yeah, just do something fun and potentially play some of the older albums all the way through, some stuff like that.
That's it for me as far as questions go, do you have any final statements?
Yeah, we are really excited to release this new record. We've worked harder on this than anything else in the past and we recorded it ourselves in our home studio. It's taken 12 months but we think it's going to be worth the wait.