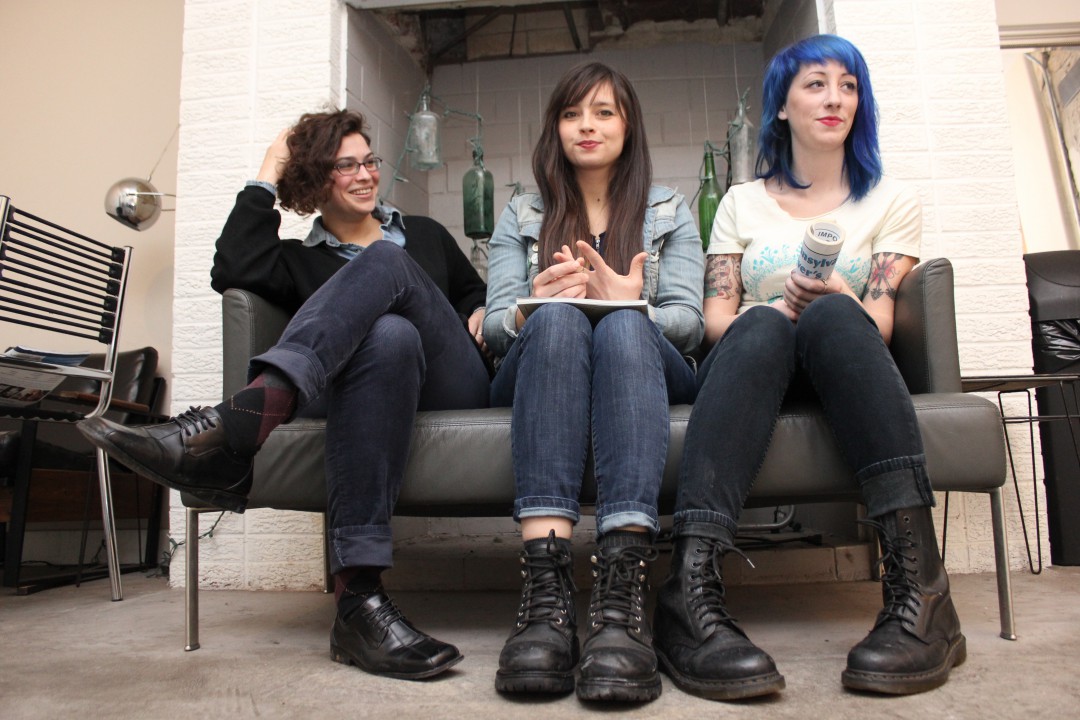 Philly-based Cayetana have started off 2014 strong. They are currently in the studio working on a full length record and last Tuesday they released a brand new 7-inch titled Hot Dad Calendar via Tiny Engines. The previous month they embarked on a short run of dates along the East Coast with Waxahatchee.
Interviewer and Contributing Editor Armando Olivas was able to chat over the phone with guitarist/lead singer Augusta Koch right before the release of their single. The two talked about the lack of hot dad calendars on the calendar market as well as the band's plans for the rest of the year.
I didn't want to ask this generic question but after doing some Googling I couldn't find anything concrete about this but what exactly is the story behind your name? When I looked it up the only things I could find were a Duchess of Alba.
That's a scary Google search. Our name originally was Cayetano. It's actually the name of a good friend of ours. He's just an awesome guy and we figured there should just be a band named after him. Then we got a creepy Facebook message from this DJ whose name is Cayetano. He told us to change the name so we changed it to the feminine version because we already liked the name and had used it for a while.
Makes sense. The word "cayetana" also is a Spanish grape used for wine so I thought maybe you were all just big wine connoisseurs.
I mean we love wine but we had no idea about that. That would be a better story.
That could be the new story. No one has to know. So Hot Dad Calendar comes out next Tuesday, is there anything you want to tell us about the 7-inch before it comes out?
We didn't know it was initially going to come out as a 7-inch, we just recorded it because we really wanted to make a music video. Then Tiny Engines liked it so they put it out and we were really excited. The first song, Hot Dad Calendar was recorded at Myer Street Studios where we are recording the full length in a week. The B-side, Ella, is a remastered version we had on the demo. It was recorded by the same engineer in his basement. So it's kind of cool because on one side it's a real studio and on the other it's a basement. So it's kind of like a transition to what we're trying to do right now.
Cool. I do want to talk about the full length but before we do I want to ask another question about Hot Dad Calendar. When you originally came up with the name of the song and were getting ready for its release was there ever any possibility of releasing an actual calendar with hot dads?
[Laughs] No, we wrote that after and thought it was really funny. The name started off as a joke when we were trying to come up with a new band name after we got that cease and desist. It was just a joke we had that we thought was really funny so we decided to name a song after it. No calendar but maybe something.
Just put it out with the full length, make it part of a pre-order package deal. People really love those.
People would buy that.
I would buy that. I would buy two.
Awesome.
One to have at work and one to have in the garage.
Yeah, I don't there are that many hot dad calendars out there.
There are a lot of firemen calendars and miscellaneous dudes doing stuff but I feel like the hot dad calendar market is severely lacking. I feel like you could bolster this number and usher us into a new era of calendars.
That would be terrific; guys in parks with strollers and dogs.
Yeah, a lot of salt and pepper hair types. Pretty much the Ben Nichols of Lucero look but with a Baby Bjorn instead of an acoustic guitar.
Yeah, people would love it.
So you said you're working on the full length in a week.
Yeah, we're actually recording one song this weekend in the studio. Then we have a bunch of days booked at the end of this month.
Awesome, do you have any kind of idea as to when that might come out this year or is it too early in the process to even say?
Yeah, I'm not really too sure. I mean we have all the songs done; it's just going to be a new process since we haven't done this yet. We are hoping to have it out by summer but we are not exactly sure how that will pan out with the actual making of the record.
Yeah, especially with mixing and master, promo and all that junk. Roughly how many demos do you have to go into the studio, if I may ask?
We did a bunch over the summer and recorded stuff in our basement where we practice. So I would say roughly we have 12 songs.
That's about album length. So you just wrapped up your tour with Waxahatchee earlier this week, correct?
We just got back on Sunday.
How was that run?
Oh my god, it was so great. It was crazy. We had such a good time. It was such a different tour experience than we ever had because we have mostly just played clubs in Philly and basements. We played sold out shows in cities we've never been to. It was definitely crazy, we had so much fun. They're really nice people.
They've gotten really big. I saw them on the West Coast run in December and I remember see them playing a super DIY show two years prior to this to maybe 100 people if that. Then on this run they played a way bigger venue and it was probably sold out. So I can only imagine how it would feel playing those shows.
It was totally a different experience than we thought would happen to us. It was great because they made us feel really comfortable and they're very down to Earth. It was super nice of Katie to ask us to go with her.
Yeah, they're all pretty chill people. How did you link up with Katie and the rest of Waxahatchee?
We played a show with her last year around this time when she was living in Philly and she was really nice. She and Allison came up to us and said they liked the demo which at the time was crazy to me because I had been listening to all of their projects for years. Then she asked us to play their record release show and we kind of became friends. I guess she liked our band which is so crazy to me that she asked us to do those dates with her. It was kind of a dream come true.
Well I am glad the tour happened and I hope it's just the beginning of much bigger tours to come for you.
I hope so.
Speaking of touring, once you're done recording do you have any set tour plans or are you waiting for the release of the record to promote it then?
Yeah, I mean right now all we are thinking about is the record and we plan on touring during the summer, but we aren't really sure of what we are going to do at this point but we are doing something. It'll be nice to have a record.
Hopefully y'all come out to California. I don't think you've been out here unless I was really asleep.
No, we've never left the East Coast.
Well hopefully this is the year you come out to the West Coast.
I really hope so too, I really like the West Coast.
Me too, the West Coast is pretty rad, I'm not going to lie. I mean I am biased about this because this is where I live.
I've been to California before and it's awesome.