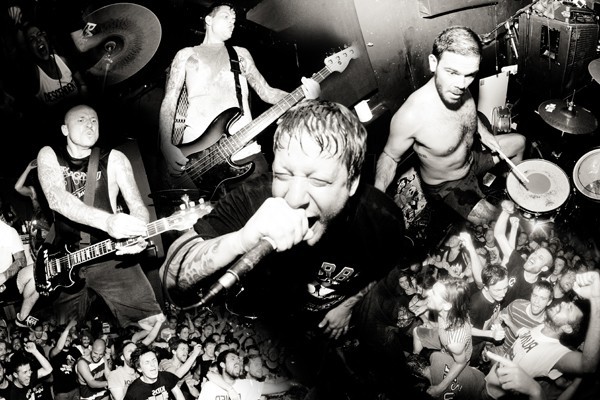 Comeback Kid singer Andrew Neufeld knows the band inside and out, not only from a vocalist's standpoint but also a guitarist's point of view as well. Neufeld switched from guitar to vocals after the 2006 departure of original CBK vocalist Scott Wade. After the switch, the band has seen a few other members come and go, but its current incarnation has birthed the band's newest album Die Knowing, set for release through Distort and Victory Records on March 4th. Staff interviewer Gregg Harrington caught up with Neufeld to discuss the new album, the band's recent trip to South Africa and touring with a wide array of bands.
The band is about to release its newest album, Die Knowing, on March 4th. It sounds to me like you've incorporated more of a thrash element to this record. What influenced you as a band while writing this material?
Generally we were trying to write faster, heavier songs and they just happened to turn out thrashier just because of our background. We wanted to try to make songs shorter and simplify the songwriting a bit. When we started collecting the songs we realized "wow, there's a lot of really heavy songs" and we decided to go with that vibe right off the bat and put those songs towards the front of the record.
It's funny that you mention the songs being shorter and more to the point because I picked up on that as well.
Yeah, we were just trying to capture the kind of vibe we get live. So that was the goal. I wasn't really sure how it was going to turn out but I'm pretty stoked on it. It'll be interesting to see how that plays out live.
How did the band settle on the titleDie Knowing?
I had actually come up with a different title almost every day that the rest of the guys didn't like but that was one that we could finally agree on. Naming albums in a band is not a fun job.
Did previous experiences you've touched upon in your lyrics, like in "G.M. Vincent and I," have some influence on the name as well?
It was kind of a reflection on the paths we choose in life and a reminder to just carve my own path. It always leads to a brighter and better place. It's just about being confident in your decisions.
I saw that your old singer Scott did guest vocals on this record, and you guys did some anniversary shows with him last year. What was the atmosphere like during those shows?
The crowd was pretty awesome, everyone was really stoked on it. I think it was the perfect time for us to do it. We had talked about it for a while, especially between Scott and myself since we hang out all the time. He'll come up with us for shows in Toronto for a song here and there, we're still really tight friends. It was good context for the anniversary of Turn It Around. The tour was awesome. I loved having that extra dynamic playing guitar was a good change-up. The crowd was really into it. It was a good transition for us going into writing this record.
Die Knowing was the band's first album with Stu Ross of Misery Signals and Living With Lions on guitar. Given his technical prowess in Misery Signals, did he add another element to the new material that wasn't present before?
As far as the band goes, definitely. He adds a good dynamic to the band. Sometimes we're a little weary about bringing in new people into the band and writing because we've done it the same way the whole time. Me, Jeremy and Kyle write the music. Bringing a new person in worked. Stu contributed one main song to the record and collaborated with us on it.
I'm sure it also helped that you guys had toured together so much prior to his joining the band that it wasn't like bringing in a total stranger.
Oh, totally. Even when I was touring with Figure Four we would hang out on tour and stuff like that.
You just came back from a tour of South Africa, how was that?
It was great. I don't hear of too many bands coming through there and I guess there's only been a handful of bands that have played there. There's definitely a strong local hardcore scene, but they don't have too many touring bands come through. I think there's a lot of building going on there and it'll take a lot of work but it was great to tour there.
Is it refreshing to tour through an area where they're making their own scene in contrast to major cities in North America?
I definitely like the organizational side of major cities here, so that we don't run into any surprises. But it was inspiring for us just to see how excited the crowd was to have a band there. Sometimes we'll go through a certain territory that hasn't been able to book a lot of bands there.
The band is about to hit the road with Xibalba and Backtrack for a lengthy US tour. Are you guys excited to incorporate the new material into your set?
Yeah, it's taken so long to get here, but it's cool now that everything's out. It'll be nice to see that pay off. We've toured with Backtrack a little bit. Xibalba we've been friends with them for a little bit, and hung out a lot in the last couple of years. This tour will be a lot different but it'll be good.
For the most part, it seems that Comeback Kid usually tours with some heavy-hitting hardcore bands like this upcoming tour, and previous tours with bands like Madball, Terror and Bitter End. What kind of reception have you received on bills like those?
It's a little bit of a different vibe when we go out on a tour like that than when we tour with a pop-punk band. With Madball and Terror, they've both become classic hardcore bands rather than just a hard band. It makes sense for us to tour with them, it allows us to align ourselves on some cool tours. It breaks out of more than just being hard.
Yeah, you guys all seem to share the same positive outlook in the lyrics, so I guess it does make sense.
Yeah, I come from a hardcore background, so I bring that with me. That and skate punk like Propagandhi. I definitely listened to a whole other side of it. When we started Comeback Kid I liked Madball and Merauder and Hatebreed, but I also liked Lifetime and Propagandhi.
Comeback Kid does have that good balance of catchy and heavy that incorporates all of those influences. You guys did tour with Propagandhi last year, which I'm sure was pretty awesome. What are some of your favorite memories of being in Comeback Kid so far?
There's been a lot of highlights. We toured with Bane when we started out, which is a band we all love. We'd drive eight hours to go see them play so that was great. In 2006, we just started doing more international touring, and after that we really started playing other cool places like South America. We'd play in Chile and there's riot tanks and everything. Nothing happened but they had a riot when Madball played there. That was crazy. Anytime a record comes out it's really exciting, but for me it's more about being able to play all over the place.
What else are you hoping to accomplish with Comeback Kid before hanging it up for good?
We never set out to pursue a specific goal. We just want to keep playing music. Everybody's really excited about this new record, I am too. I don't really have any goals, I'm just hoping to keep doing what we're doing. I'm really lucky to be doing this.
Taking it step by step is pretty admirable when you see so many bands beat a dead horse until no one cares about them.
Yeah, that's why we took so long for this new record. I think it gives us some more longevity.
After this tour, what else do you have planned to support the new album?
We're going to Europe with Xibalba and The Greenery following that. After that we'll be in Canada with Counterparts and Backtrack. We go back to Europe for festivals and hopefully after that we'll go to Australia. Right now we have a little bit of time before we go back on the road so I'm really anxious to get back out there.
Yeah, I'm sure a little downtime doesn't hurt though.
I have five days at home right now and I'm loving it.