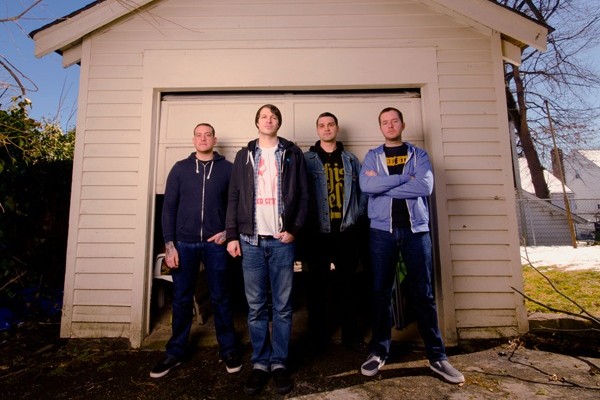 Banquets had a whirlwind of a year in 2013, from putting out their sophomore LP entitled Banquets to touring in support of it. The band may have some tricks up their sleeves for 2014, including more releases. Interviewer Samantha Barrett spoke to guitarist Dave Frenson about their new split and the label he helps run.
2013 seemed to be a big year for Banquets. You put out your Banquets sophomore LP and toured in support of it. Want to tell us about the record, the response, and touring?
We wrote the record in our practice space and recorded it with Will Putney at The Machine Shop. It was the first time writing a record with Brian Maguire, who is our new drummer. That definitely changed the dynamic a little bit. Brian is a very different drummer than Pete was. Recording was a fun experience and it came out awesome. When it comes to recording, Will really knows his stuff, especially with the guitar sounds, and he has been a friend of ours for a very long time. This record seems to be getting the best feedback of any record we have ever done. I think we reached a lot more people with it just because of the groundwork we laid for ourselves with the first full release. All in all it's been pretty good.
I saw a posting of a test press of your next release. Can you tell me more about this release?
We will be releasing a split with Nightmares For A Week, they have been good friends with us for a while. We actually met them when the label they were on asked us to do a split with them, the label was called Mightier than Sword. There was some weird stuff with the label on that end, so it never came out. We have played a ton of shows since then. We knew we wanted to do a split with them to try to get a release out of that friendship. The concept of the split goes back about two and a half years in the making but really we have been working on this release for the last three or four months. All of our songs are from the same writing and recording sessions from the full-length. When it came down to picking the track list for the Self-Titled record we picked the ten that felt most complete to create a full album. These songs are the ones that fell outside of that. You could say they're all b-sides, just stuff that did not fit the record once they were all recorded and in their final state. So finally after all these years, it will be coming out March 18th, 2014 on Black Numbers. We will be putting out the vinyl and digital copies. Coffeebreath and Heartache will do a couple hundred on vinyl for a German pressing.
Are there any other projects planned for Banquets?
We will have another split coming out that will be a 7-inch but I don't have any more information on that. It will not be on Black Numbers and I cannot go any further with that. It will be cool. We do still need to write those songs.
What are the band's plans for tour in 2014?
I think you'll probably see weekends, that is our main plan of attack. Friday, Saturday and Sundays kind of shows. We're talking about possibly going to Europe during the summer but that is going to be timing and a money thing for us. We don't always have the money to fly overseas for shows but if something cool comes our way we would like to do it. As far as the US, it will be a lot of weekends, and we are going to try to go to Canada as well.
You also run a record label called Black Numbers. How did this come about?
Phil Battiato and his brother started the label in 2007. They released the first Static Radio NJ EP on CD, The Purpose discography, a band from Jersey that we were all really into at the time and a band called Rock,star their LP called Inamorato. From there I approached them about working with them. In early 2008, I began working with them. I have been running the label with Phil hand-in-hand pretty much since then.
How is it balancing the tasks of running a label and being in a band?
The band isn't super active. I do have some free time to work on some label stuff, most of the label stuff is emails and keeping track of records at the plant and stuff. It's not incredibly hands on, I work on it on my lunch break and evenings, and it does not demand all of my time. This is especially true now as we launched our first pre-sale in our new web store. We have No Sleep Records running our fulfillment so they are taking care of all of our shipping now. This is nice because that was the really time consuming part. When we put out releases that are selling, it would take us weekends to catch up on orders, which was kind of getting out of hand for us. With that in place as well as our new physical distro with Revelation Records a lot of the manual work and time consuming aspect is now not in the picture. Our new focus in 2014, is to sign a bunch of new bands and put out some awesome records.
How did the relationship materialize with No Sleep?
I am pretty sure it goes back to one of the first releases I put out with Black Numbers, which was the Kid Dynamite tribute. We put out the vinyl and I know that Chris Hansen from No Sleep was involved with either the CD or the vinyl at one point. This was a project that we came into that was a multi label thought and we became the only label that followed through. It was so time consuming, coordinating 40 bands or so. It took us two years to get it ready from start to finish. I remember Phil talking to him a lot at that point. I think they just stayed in touch ever since. So when we were looking for fulfillment services, Chris was the first person to come to mind. He runs a great label.
What does the label have in store for us in 2014? releases?
Well we just got the Northcote record that was put up for pre-order. Even though the street date is March 18, we actually have them on hand right now so these will be shipping immediately. Northcote actually has them on hand for tour. He has been on tour with Dave Hause for what seems like forever, and they have another month at least to tour. We have that and the Banquets/Nightmares For A Week split and I actually just signed a band today. I can't tell you their name yet but they are an awesome band from North Carolina. There will be another release from another familiar character(s) you can take that for what it means. Other than that there isn't anything that is 100 percent locked down yet but there are stuff that are 75 percent locked down. Lots of cool stuff but a lot I can share with you, yet.
So it appears to me that you guys really love Polar Seltzer. Have you guys ever thought about getting them to sponsor a tour?
We did! We got them to sponsor our tour in August. I told them we were going on tour and asked if they were willing to sponsor it. They were really receptive to it and I pitched the idea of posting a bunch of things on Instagram. They gave us 18 cases of free seltzer for a three week tour, we were fully stocked for pretty much the entire time. When we first started the tour, the entire back bench of the van was full of seltzer. It was really an unexpected and incredible opportunity. At first we didn't think much of it besides this is crazy, it's free drinks. Throughout the course of the three weeks and we didn't have to buy any beverages it really came in handy.