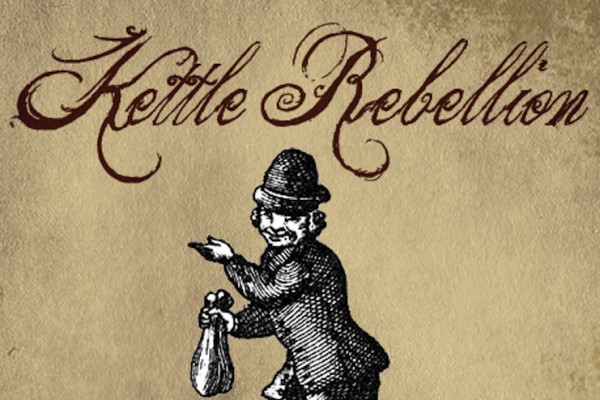 Philadelphia's Mischief Brew has announced the release of Kettle Rebellion, a collection of proto-Mischief Brew recordings from January 2002. The release is notable because the recordings were stolen from the band shortly after being recorded and were thought to be lost forever.
The album will be released April 1, 2014 on vinyl via Fistolo Records in a pressing of 250 records, on CD via the UK's Different Circle Records, and digitally.
Punknews will be hosting the exclusive stream of this release later today.
You can click Read More for a brief piece telling the story of this mysterious release and the track listing.
The story of the stolen Kettle Rebellion:
Kettle Rebellion formed in late 2001 near the end of the Orphans, Erik Petersen's punk rock band that played in Philadelphia and the surrounding suburbs. In January 2002, Kettle Rebellion recorded an eight song album and in the meantime, played five shows. After the recording sessions, Petersen was having musicians stay at his house and he showed them the release. Weeks later, he went back to the recording's case only to find it empty. Soon, he realized that the demos had been stolen. Believing that the recordings were lost forever, Petersen moved onto other projects. Shortly thereafter, Kettle Rebellion re-formed as Mischief Brew.

Later, while at shows, fans would ask Petersen about Mischief Brew songs called "Flesh and Bone," "Song of the Free," and other tunes that he could not identify. Usually, he would brush off the requests saying that Mischief Brew had never recorded anything under that name. Still, the requests for these strange songs continued. Eventually, he was clued in to the fact that these mysterious tracks were on Soulseek, an early file sharing network. After searching them out, Petersen realized that these unknown tracks which fans had asked him about were the Kettle Rebellion recordings! But, in many cases, the tracks on Soulseek were incomplete or were later-generation copies of poor sound quality. When Soulseek died, it seemed that these coveted tunes had been buried in the digital ether. Alas, the album was lost not once, but twice!

Years later, the band stumbled upon tapes containing parts of the recordings. Excited by the discovery, they amassed the bits and pieces of the album strewn across various pieces of media. After realizing that they had all the recordings, just in in disassembled form, the band pieced it back together, and once again, in 2014, some twelve years after its death, the Kettle Rebellion album lives once again.
Track listing:
Seeking The Brave
Victory Dance Of The Outlanders
A Liquor Never Brewed
Away With Purity (erroneously titled as "Flesh and Bone" on file sharing networks)
Barratry Call (erroneously titled as "Free Trade" on file sharing networks)
The Master Is A Drunkard
Doomsday Evening (erroneously titled as "Song of the Free" on file sharing networks)
Storming The Sandcastles (erroneously titled as "We are the Brave" on file sharing networks)