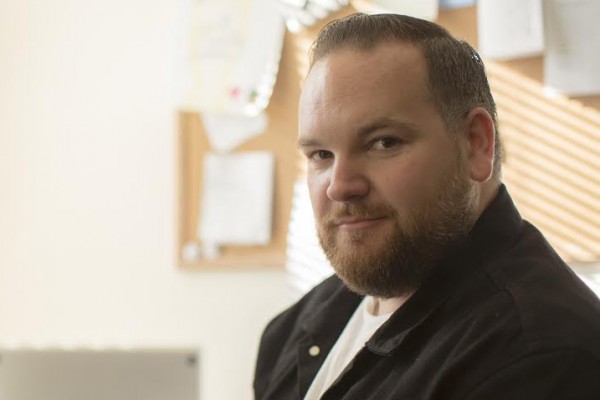 Jake Round is obsessed. According to the founder of Pure Noise Records, you have to be in order to run your own record label. You also have to be prepared to lose money and be willing to give up just about every other aspect of your life in order to make it work. And so far, it's working pretty well, as Pure Noise is marking its fifth anniversary in 2014. As part of the celebration, Punknews editor Adam Eisenberg caught up with Round to discuss the label's growth, take a look toward the future and find out why Round couldn't have done it without his mom.
What inspired you to start a record label?
My first music job was in 2006, I was an intern at Fat Wreck Chords. Before that, or actually, during that, I was finishing my teaching credentials. I had actually been a high school teacher, but I was still playing in bands. When I started interning at Fat I started to see that I really wanted to work in music, regardless of what happened with playing music. I was never that great of a musician anyway, I was always sort of the business guy in the band.
From Fat, I ended up getting a job at AMP Magazine. I worked at AMP for a couple of years, and there I decided I really wanted to be my own boss. When Pure Noise originally started it was a booking agency, I would book tours for my own band, a couple of friends' bands and I was like "oh, this fucking sucks, I don't really like that." It was hard. I was still working at AMP and I had some friends in a band called No Bragging Rights, and they were really unhappy with their label, so I wanted to help them out, and I was shopping their demo around and no one was biting on them, so I thought maybe I'll just give it a shot. They were in kind of a bind, having recording time booked that they couldn't pay for, so I borrowed a little bit of money from my family and put out a record and here I am five years later.
When you put out that first record, did you intend to "start a label" or just to put out that one?
I was definitely very eager to start my own company, so that part of it was exciting. It was sort of a situation where I had high hopes but low expectations. I never expected it to make money overnight. I was just really excited by the idea, so it was so fun for me at the time that the prospect of losing a large sum of money, especially at the time, was outweighed by the fact that I wanted to do it so much.
I didn't put out another record after that – I put that record out in March of 2009 – my second record came out in December of 2009, and it was just a little 7-inch split for Transit and Man Overboard. So there's quite a big gap there. The following year in 2010 I put out three things, including one of them that was my own band. It was real slow in the first couple of years, then that third year started to get a little speedier, and sort of found an identity.
Now that Pure Noise has been around for five years, would you say things have exceeded your expectations?
My mom asked me that recently. My mother's the accountant, she's the one who loaned me money to start it, and been really behind me the whole time, and I really couldn't have done it without her. She asked me if I ever thought I would get here, and I was like, "Yeah, I think I thought I would get to the point where I hit that, but I didn't really have a clue where I'd go from here."
I thought maybe I'd get to the point where I had a couple of bands that were doing pretty well, have some punk rock bands doing well at Warped Tour again, because that didn't happen for a long time. That part's definitely exciting.
I feel like the whole five-year anniversary is a re-evaluation of goals. We've definitely reached the place we want to be in the first five years, now it's figuring out where I want to be in ten years, if that's a different place at all. I could be pretty happy at the level that I'm at, if I could maintain it.
So what are the big things you've learned in five years of running a record label? What advice would you give someone who wanted to start a label of their own?
For someone that wanted to start a label, my number one advice would be to find a band that you really love that's already touring, because as a little label its going to be really hard to help them out with that sort of thing. Also, it's very unlikely that it's going to be financially gaining for you, so you really need to enjoy it in order to put in the kind of time it's going to take for it to grow. If you want to start a label, you have to find some bands you want to work on that you really love. I feel like most of the guys and gals that have started labels that have been successful are people who couldn't do anything else. You have to be obsessed. At this point I have very little life outside of music, which is both great and sometimes demoralizing. It's got to be something that is who you are as a person.
Do you have anything in store to celebrate the label's five-year anniversary?
We've got a bunch of stuff. We've got a SXSW showcase, the first I've ever done, because they're expensive and a pain in the ass. We're having a party in Oakland, a party and show. The show is The Story So Far, Rotting Out, No Bragging Rights, Forever Came Calling and Elder Brother. So it's a good mix. Not only do we have the first band on the label, we have the most successful band on the label and some of the newer bands. Rotting Out's a very recent addition.
What releases are in the pipeline for 2014?
This is the busiest release schedule I've ever had in my life. We just released a compilation record for Gnarwolves on February 24th, that's doing really great. A punk band from the U.K., they have kind of a Dead To Me kind of feel. A little more of a street punky vibe than a lot of my other stuff. I have a record for Elder Brother coming out on March 11th. A new band I just signed called Brigades has an EP in May. Forever Came Calling will have an LP in late May/early June. They're going out with Man Overboard in May and June. In June I'll have a new record for Vanna, and they're on the Warped Tour. Also in June I'll have a new record from Heart To Heart. In July, it'll be a really busy month, I've got new records for Handguns and My Iron Lung. Gates and The American Scene both have new records we haven't set release dates for, but those will be out probably late summertime, just based on whatever touring stuff pops up. Rotting Out will probably have a 7-inch in there. Oh, I have a To The Wind record coming out in July, and they're on the second half of the Warped Tour.
Sounds like you're busy.
Yeah, I just hired my first full-time employee.
That was my next question. On a day-to-day basis, what kind of help do you have running the label?
My office situation has only gotten professional, literally, in the last 24 hours. I have a live/work office situation in Berkeley and me and one of the dudes from American Scene live there and I gave him really cheap rent in exchange for always helping me out. We lived at the office space forever and then we decided since he does so much work for me now, graphic design-wise, it would be better if we didn't live together, because we're such close friends, then we work together all day. He and I have finally worked things out. The office is just the office. To say I didn't have any help the last couple of years is totally untrue, I had this guy named Charles Vincent, who plays in The American Scene, and his brother both helping out. Mostly Charles but Matt also. They have their own company now, it's called Blood Orange Visual. So they do a lot of my graphic design stuff on freelance. It just works out better for our relationship that way. He's been helping out for a long time.
As far as a real employee who just sort of does whatever needs to be done, that just really happened this week. He's been helping out for a few weeks and I was like, "I can't lose this guy, it's getting too crazy." So I'm really excited about that. But I've had freelance people on forever. I have two different freelancers on for PR in the US, I have a full-time publicist on retainer for the UK, there's a guy in mainland Europe depending on the release. Lots of freelance help. I don't do my own webstore. My webstore is fulfilled through MerchNow, and that was a pretty pivotal decision for me. I wouldn't have been able to do it myself so long without that, and I'm really glad I went that route.
Now we have the office in Berkeley. In the office is also Brad Wiseman, who's a booking agent for The Soroka Agency, who books The Story So Far, Hit The Lights, a bunch of my other bands, Forever Came Calling. He books like, half my roster. He works out of the same office, and that's awesome. I have my whole catalog of storage there, right in the other room, so I can walk in and see what I've got. It's three blocks for 924 Gilman. You can't really beat it.