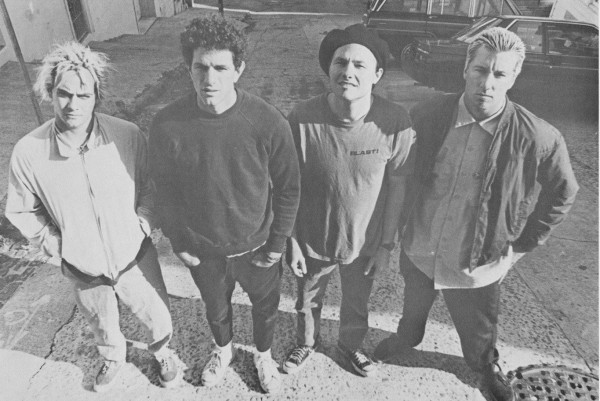 Recently reunited Santa Cruz punk rockers BL'AST are going on tour. THe lineup will include original vocalist Clifford Dinsmore, original guitarist Mike Neider, Nick Oliveri and Joey Castilo.
Neier said:

"We couldn't have asked for a more perfect fit. Joey and Nick have shown tons of respect to the music and have added their blood to make even more manic and heavy! BL'AST! Is in full sound assault mode! We are looking forward to the upcoming dates, honestly, it feels never better! And to come over for the first time at this point in time will be a great display of heavy!" Vocalist Cliff Dinsmore adds, "We have such an amazing band chemistry going on right now…it's beyond anything I've experienced in all my years of playing with BL'AST! Nick and Joey's contribution to the band has brought it to a level of tightness and intensity that is totally insane!"
You can click read more for the dates.
| Date | Venue | City |
| --- | --- | --- |
| 5/17/2014 | The Glass House | Pomona, CA @ Scion Rock Fest |
| 5/23/2014 | Star Theatre | Portland, OR |
| 5/24/2014 | Neumo`s | Seattle, WA @ Rain Fest |
| 5/25/2014 | Highline | Seattle, WA |
| 6/21/2014 | Hellfest | Clisson, France |
| 6/23/2014 | Stick Mikes | Brighton, UK |
| 6/24/2014 | The Fleece | Bristol, UK |
| 6/25/2014 | Star and Garter | Manchester, UK |
| 6/26/2014 | Audio | Glasgow, UK |
| 6/27/2014 | Underworld | London, UK |
| 6/28/2014 | Schlachthof | Wiesbaden, Germany |
| 6/29/2014 | PMK | Innsbruck, Austria |
| 6/30/2014 | Freakout Club | Bologna, Italy |
| 7/01/2014 | Lo Fi Club | Milano, Italy |
| 7/02/2014 | Vipor Room | Wien, Austria |
| 7/03/2014 | Magnet | Berlin, Germany |
| 7/04/2014 | Roskilde Festival 2014 | Roskilde, Denmark |
| 7/24/2014 | Electric Factory | Philadelphia, PA |