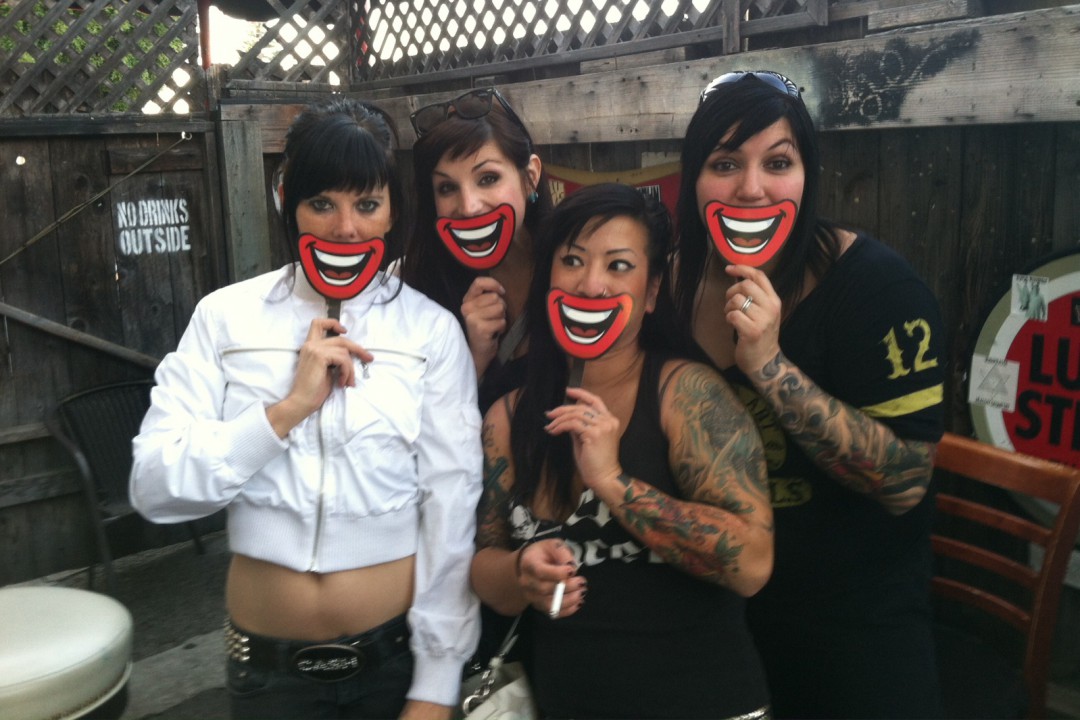 As one of the newer and more unknown bands on the Fat Wreck Chords roster, Bad Cop/Bad Cop is a band that is sure to gain some attention. The all-female four-piece punk band is looking to make a statement, have some fun and make you dance. Punknews staff interviewer Christopher Barrett spoke with Stacey Dee about coming together, smashing labels and flipping tables.
Since I see that there hasn't been too much previous coverage about you guys, I figured curious minds want to know how did Bad Cop/Bad Cop came to form?
Bad Cop/Bad Cop started off as a three piece. Then the next practice Jennie Cotterill was brought along as she'd been writing some cool songs and wanted a chance to jam them out. I thought we were just going to have this three-piece fast, crusty punk band that sang about horrible things. But when Jennie joined the band, everything changed. She and I started singing harmonies with each other right away and I thought, "This is great." I didn't have a lot people in a band with me before that could sing harmonies with me. So I was and am super stoked that is how things worked out. We started writing songs together with having the other person's part in our minds. We started to work on harmonizing together and also switching the harmonizing during the song, to keep people guessing. It's a little hard to tell between our voices when we harmonize, though I have more of a gravely voice than she does, and her voice is more clean. We played like that for about a year, and then we got our new bass player Linh Le ("Rinh Re"), who was just the perfect fit to the puzzle that is our band. When she joined it was the icing on the cake because she sings very well and is a harmonizing queen. That's where we really started to hone in our ability to pull our three part harmonies. It just came very naturally when something is supposed to happen. I just couldn't help but think, "Fuck, Yes… I never thought this would happened!"
So how long have you guys been playing and where? Do you all live in the same city?
We've been playing shows since 2011 with our first lineup. But we have been playing the past two to three years with our current lineup. I live in Inglewood, Jennie and Linh live in Huntington Beach and Myra lives in San Pedro and we practice in San Pedro as well. We've been practicing there for the past few years. We call Pedro home.
How did you guys come to sign with Fat Wreck Chords?
It's actually a funny story. We played a fabulous Lillith Bear festival in San Francisco. There were so many beautiful drag queens performing, there was a fire before we played and a sound system that was sketchy at best. The crowd was great and the SF Bears loved it and we LOVE them!
Beforehand I had asked [Fat] Mike and Goddess Soma if they were around to come check out the show. They said they'd be there. Mike had heard our band before but had never seen us play. After playing, he told me he thought that if we could sound good on a shitty sound system they gotta be good. We did end up sounding good. He was stoked and said that he liked all the songs and was gonna do something with us. Three days later I get a call from Mike saying that Fat wanted to sign us. I was speechless. I think my ears clogged up for a good month, and I mean literally swelled up. I couldn't hear shit for so long.
Your new 7-inch Boss Lady came out back in April. Where did you guys record and how was the process?
We recorded at Hurley's Studios and it was awesome. Greg Teal and Davey Warsop worked with us on it. Davey works there as the engineer and producer for bands that come into the studio. He also worked with us on our first 7-inch and everything came out great. We put it out ourselves and we did well with it, considering we did it on our own. So we went back and recorded four more songs and we didn't know what we were going to do with them. That's when Fat Wreck stepped in and we told them we had songs ready, so we dropped the first 7-inch on Fat ASAP. Now we're working on the full length. As for Davey he helped in various ways. Stuff in terms of developing our tight vocal sound, or holding notes and parts, and other stuff we wouldn't have thought of. He really helped overall with our sound in the studio. He also made sure, like any good producer, to get the best take of everything. It's nice and professionally done as opposed to just walking in and blasting through our songs live and going back to overdub. We were able to get it done in four days.
Boss Lady opens up with "My Life." I noticed that Fat posted a lyric from the bridge that reads as a mission statement. I was just curious about some details behind that?
It's a double entendre, you see! [Laughs]. I wrote that line because I felt that people shouldn't label any of us as some little girls who can't be as tough as anyone in a "boy band." "So, Shove your labels" means; you can't put a label on any of us and who gives a shit about wearing labeled clothes. "We'll flip your tables," is about changing people's minds about who they think we are and because we quite literally want to flip fucking tables! You know like real ones with a bunch of shit on them. It's about literally losing our minds regarding both awesome and shitty things and we're gonna flip this fucking TABLE! (Roars) [Laughs]! It's about not just being some pretty girl band. I mean we're cute, but that's not what we aim for! We are not prima donna, pin-up girls. We get as dirty as the boys, and have the bruises to prove it. We are, "Lady Dudes!"
As the songwriter what do you look for in writing?
For the most part Jennie and I have been writing the songs, and we either have a song in mind one of us will start and have the other help out or we will just write it together. We'll try to alternate lines while doing so, and for the most part Jennie and I are the main songwriters.
So do you write songs more for fun or more with a message?
For sure more fun needs to be happening in the world today since the world is a sad and scary place right now. However, I think that we do this because with a voice comes responsibility. I think our mission overall is to show and write that we aren't afraid to go for it. That we have a duty to be fearless ladies that other girls or young girls can look up to and think, "If they can do it, maybe I can too." After seeing the Go Go's at six years old, I have always said, "that's what I'm going to do for the rest of my life!" The fact nobody said that I couldn't do what I do had a huge impact on my life. Especially when your family believes in you. What I would love is for women to be just as strong as our counterparts. We don't have to be taken care of by men, and we don't have to be under some man's thumb. Don't get me wrong we love men, but we feel we should be just as boss! I think the new record will have songs about more stuff we're concerned about. In a funny light of course and we're not looking to brow beat anyone about how shitty things are. It will still be poppy, fun and something you wanna dance to, but with biting and truthful lyrics that are important to sing about.
One of my favorite songs on Boss Lady is the song "Asshole." Is it about a real person?
I'll just comment and say it was a true story, if it weren't hilarious it would be sad. Jennie made it hilarious instead of all pissed off. It's just funny, and people seem to like that. People want to be entertained with funny shit they can sing along to. And we are always the first to laugh at ourselves!
Any particular reactions to the 7-inch of note? How has the reception been overall?
I think overall people have been pretty stoked because there is not an all-girl band really doing what we are doing right now. There are not a lot of us out there right now. I found one in Malaysia that was cool but I know there's gotta be more than just us. It's something we need more of. Someone recently wrote a review and talked about how it reminded them of '90s punk that no one is doing anymore. The reviewer went on to talk about how their 13-year-old daughter said that it reminded her of Avril Lavigne. I kind of felt sorry for that guy for not showing his daughter other great female-fronted music. I mean it's kind of sad that she could only go to Avril Lavigne as a point of reference. With that said I didn't take it bad or personal, but if that's all she really knows that's on her dad, I think. He needs to dad up and teach his daughter good music.
So do you think a reaction like that is a testament to the dearth of women involved in punk rock bands today?
There's not a lot women doing it today. Every time we are around other women that are musically active, we try to include them as much as possible with our shows. We try things like setting up shows that are all female fronted, to having women at our shows come up to the front of the stage when were playing so they have a chance to rock out without getting hurt. Especially considering the pit sometimes with men trying to prove their masculinity. It's important to note I absolutely love the dancing in the pit, but I don't want people to get hurt and would love for everyone to be part of it.
So pits are welcome at Bad Cop/Bad Cop shows?
Hey look I could take one on the chin, and I have. Playing punk rock as a girl…. I mean I've played on the floor of many clubs. More times than not, some guys wanna start a pit and they want to test you to see how tough you are, and in some instances a guy will come up intentionally to punch the mic into your face. I have had busted lips and even a cracked tooth from their brutality. [Laughs]. This is just the life of a lifer!
That sucks. Along with testing you and the band do you feel that sometimes there are people who judge you guys before even hearing you? [Laughs]… I hate that. I feel that nine times out of ten I get up on stage and here some asshole in the crowd moan, "Oh great, a chick band." However after we play, 9 times out of 10 I get comments like "You blew my fucking mind!" It's then I usually feel don't judge us until you watch us. Some people expect a squeaky "girl band" or something like that before they see us. I like girls that sing with everything they have inside of them that reflects their angst, pain or torture. There has never been a time we didn't have the respect from all the "boy bands" we play with. I've always been welcomed with open arms.
On a more positive note who are some bands/artists have inspired you guys the most?
It's hard to say as I'm usually inspired by good songs than I am by bands. I would say that the Go Go's were influential especially when I was a little kid who went out and bought the record. I listened to it and my dad would make fun of me and call them "The Went Went's." My mom worked for Bill Graham Productions and I grew up around their printing press and Madonna t-shirts and Motley Crüe t-shirts and all that kind of stuff. As for other influences there have been a bunch bands on Fat Wreck that have influenced us including NOFX, Screeching Weasel and Swingin' Utters. These are bands we could all agree on in the car or on tour. I personally could definitely go back to the East Bay bands like Crimpshrine, Fifteen and even Green Day back in the day. Good songs inspire me, don't care who wrote, sang or performed them. A good song is a good song. Fuck, I even love Huey Lewis.
What are some upcoming touring plans?
We're playing Punk Rock Bowling main stage on Monday with NOFX, Against Me!, Leftover Crack, OFF!, along with a bunch of other cool bands. It's also Memorial Day, which I'm stoked about and hope everyone has the day off. We're going to work on the full length for a little bit and head over to Europe at the end of August and into early September. We'll come back and track the full length. Hopefully by next year we could do a full US tour.
Nice! Any more details about future recording plans?
Initially after we signed, we all met up with Mike over at Fat's headquarters about what we were going to work on. We're working on our full length right now and we hope to be demoing by June. We hope to get some tracks over to Mike so we could pick out of 20 songs what we're going to nail down and keep. We just want to make the most kick-ass record we could possibly make.
Overall, what makes Bad Cop/Bad Cop awesome and what are your goals?
My bandmates are awesome overall. Jennie Cotterill is such an amazing person and artist. She is an awesome muralist, painter, sculptor, crafts maker and musician. Hopefully since we're active and gaining some attention that people will check out her art. Because it's extremely good, you will want one of your pieces in your home one day, promise! Our drummer Myra is sweet and amazing and hits really hard and never messes up, she's a ray of sunlight! Linh is just super awesome and talented and even plays upright bass and is in an Irish punk band as well. As for us overall, it's great being in a band that's on the same page, and we just want to go for it with each other. We want to make great music that leaves people affected and empowered. We want to use our voices to raise awareness of things that vex us and hope we can get people to jump on our team and change some shit in this world.