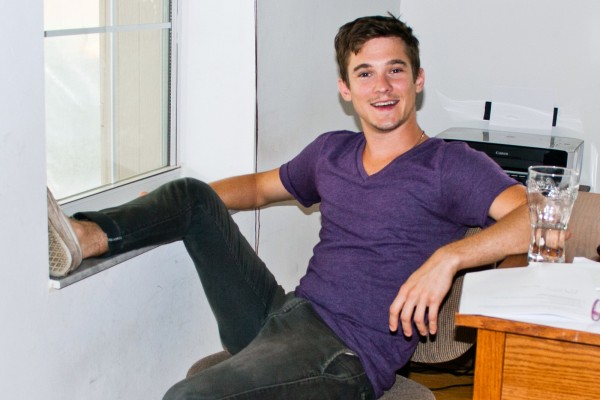 If you can't find something to love out of all of Chris Farren's different projects between his solo work, Antarctigo Vespucci and Fake Problems, then chances are that you have real ones. The punk frontman turned acoustic troubadour turned power pop maestro wears a variety of hats, and recently added t-shirt impresario and Lost podcast host to his impressive array of titles. Staff interviewer G'Ra Asim caught up with Farren to get the lowdown on making a Fest appearance with a brand new band, his estrangement from once-dear friend Mr. Yucky and the unlikely role the Fresh Prince played in the making of Antarctigo Vespucci's debut EP, Soulmate Stuff.
As I understand it, you're on the Koji tour right now. Is that correct?
Yup.
Ok. Doing the solo thing?
Yeah, I'm doing a run of acoustic shows with Koji. It's Koji, me and this band Lee Corey Oswald on No Sleep Records.
One thing I was kind of wondering about is, what with you doing Fake Problems, the solo thing and A/V, when you sit down as a songwriter, how does a song lend itself directly to one project? Or is that something you think about after the fact?
It kind of can be a little bit of both. I never sit down and say, "I'm gonna write a song for Fake Problems. Or I'm gonna write a solo song." But I will start -- well, I guess that's not totally true. If I have something coming up or maybe I'm gonna do a split with somebody, I'll write a song with that kind of in mind. Or, I'll just take from my big giant pile of songs that I've written over the years and take from that. So it's kind of situational, but I never think "Oh, Antarctigo Vespucci sounds like this, so I need to make a song that sounds like this." It's just about songs and then I think the circumstances of who I make music with kind of informs them turning in to the way they sound. Like I could make a song with Fake Problems and I could make the same song with Antarctigo Vespucci and they would both sound -- I mean, they'd be the same song, but they would both sound very stylistically different. So I never really…it's never like a worry.