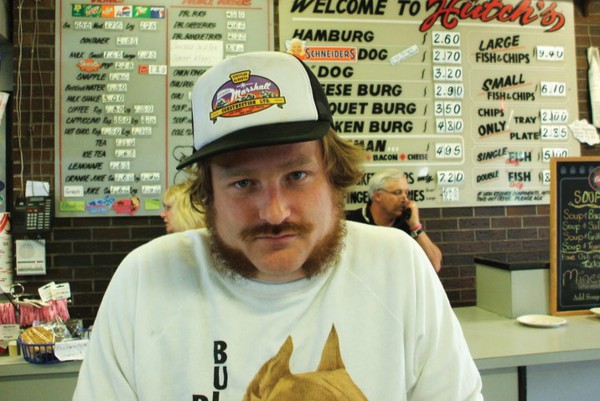 Mammoth Cave Recording Co. and Blacktop Records are celebrating the 10th anniverary of B.A. Johnston's 2005 full length My Heart is a Blinking Nintendo with reissues on vinyl and cassette. The storied and esoteric Hamilton, Ontario based solo artist is supporting the reissues with a string of shows in Ontario and Quebec later this month.
In a recent post to his website, Johnston made mention of a new full length, likely titled Shit Sucks, due for February of 2015, with supporting tours in the Martimes and Ontario (and a show in Winnipeg) throughout the spring and summer. Dates are to be announced.
Details on Mammoth Cave's first time vinyl issue of Nintendo can be found in their store. Blacktop's limited run of 100 orange cassettes can be found at Bandcamp.
| DATE | CITY | VENUE | WITH |
| --- | --- | --- | --- |
| 11/07/14 | Brantford | Brantford Arts Block | TBA |
| 11/08/14 | Waterloo | Jane Bond | w/ Lee Reed |
| 11/14/14 | Hamilton | This Aint Hollywood | w/ Public Animal, Pete Tremblay and the Boozy Truth, the Great Machine |
| 11/15/14 | Welland, ON | The Rex | w/ Pete Tremblay and the Boozy Truth |
| 11/21/14 | Kingston | Mansion | TBA |
| 11/22/14 | Peterborough | Pigs Ear Tavern | w/ Mokomokai and Velour |
| 11/29/14 | Eugenia | Flying Chestnut | w/ Vandeleur |
| 12/06/14 | Montreal | Grumpys | w/ Robots Everywhere! |
| 12/31/14 | Hamilton | TBA | New Years Eve show |