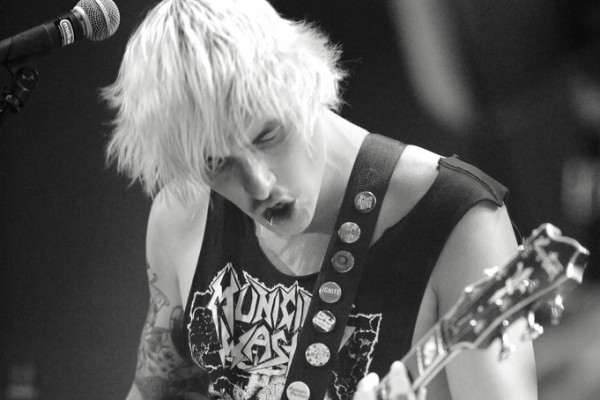 Hailing from the land of Sweden, Atlas Losing Grip is at it again in creating a new set of melodic, metal-inspired tunes for our listening pleasure. They released their fourth full-length album titled Currents on Jan. 16, four years after their previous release, State of Unrest. Contributing editor Samantha Barrett met up with guitarist Gustav Burn in The Cake Shop in New York City to chat about the new album.
Tell me about your band?
In 2005, Stefan Bratt (who plays bass) and I were hanging out at this youth center where there was various bands practicing in the basement. We did not have a band together back then but we were involved in other bands at the time. Years before, when I was younger, we used to play Iron Maiden songs together to practice, he was much better than I was at guitar back then, just kidding. We wanted to form a skate punk band because there wasn't many skate punk bands around at the time, like there had been in the '90s. We started the band with my brother playing drums, a different guy playing bass, Stefan and I on guitar. Julian Guedj and Max Hudden joined the band, we started to recorded some demos and started playing live. We went on a European tour for 19 days playing shows. We took a bank loan to afford the first tour, it was complete madness. Rodrigo Alfaro was in another band back then with Stefan called Enemy Alliance and then he joined us as the lead singer. It kind of took off from there, we did a mini CD of our second album with Rodrigo.
What are your biggest influences in writing for Atlas Losing Grip?
Stefan writes 80 percent of the riffs and stuff. He basically writes the foundation of the songs. We will take it to the practice space and play it all together and change parts when needed. We finish the song musically and Rodrigo comes in and changes a little bit and writes the melodies and the lyrics on top.
We started out as a pure skate punk band but none of us really listen to skate punk anymore. We listen to a lot of different styles of music now. Stefan and I are really metalheads, we listen to a lot of Iron Maiden and Metallica. Stefan is also into a lot of death metal, trash metal and stuff. I listen to whatever, anything. Julian listens to a lot of electronic music and Max listens to a lot of different types of music. We just kind of find everything to influence us. We kind of transform it to something for Atlas Losing Grip. Lately it's been a lot of heavy metal.
Is that the main thing that influence this new album?
Our previous albums was a lot of fast melodic punk rock and you can hear that we were kind of influenced by some heavy metal. With this new album we took it a step further with all of our different influences. We really didn't want to turn any idea down, we saw it through all the way. We just wanted to get it out there.
Can you tell me the differences between Currents and your other albums?
I think it's mainly when we started writing the songs that we started the idea that we didn't want to scratch any ideas, we're going to see it through even if someone might think it's too cheesy or whatever. We didn't want to scratch any ideas at all. We wanted to be able to decide what is good. We had more than 13 tracks on the album, we recorded 16 or 17 tracks, we just choose the best ones and it was a really cool way to work because we didn't want to let the expectations of the fans decide where we wanted to go. We just wanted to go all the way with whatever we came up with. I think you can really hear it in the album.
With this release, were you guys planning from the start to have a worldwide release?
We have been working on finding labels all over the world. It started off for us by finding a really good label in Europe, Cargo Records, they have really good distribution in Europe. Then we found Ben of Creator-Destructor Records which covered this [United States] part of the world. In a sense it's not really worldwide since we do not have anything in Japan yet but we do cover Australia. It's kind of big, the record is gonna be all around, it's really important. I don't really care about the business-side of things, that kind of stuff was the reason why the album was delayed for so long. But you can't deny that it is important to find a good record label. Of course, we can release it ourselves but it won't have the same spread like it has now. I am glad that we have a bunch of labels backing us up. It feels really good.
You seem to have "ex" attached to your band for reference to Satanic Surfers. What is your take on having that attached to your band?
I cannot deny that it is kind of a selling point for everyone. It's not that we want to throw that in the faces of everyone when people put on shows, they want a lot of people to come, if there is a great selling point they will write it on the poster for the show. But it has nothing to do with the music we play now. I cannot deny that it helped us, in getting fans and getting people to shows. I really don't care, its whatever.
Are you trying to move away from that now?
How can we? People decide if they like us for what we are or if they like us for Satanic Surfers. Sometimes it's like "give us a break."
It's like, you are your own entity now?
Yeah and I feel like we are, we have always been I cannot deny that it's been a good thing in some ways but I really don't care that much. I am not annoyed about it.
You guys have traveled the world. Is there a place you guys are dying to play?
The U.S. would be really cool. I really love it here. Julian has been on several other U.S. tours, he's in another punk rock band, they sing in Swedish, it's like an old school hardcore band. They have been all over the U.S. It's an amazing country, I would love to go on a U.S. tour. Australia and Japan would be cool because it would be so far from home. We have basically been all over Europe so many times. It's about time we crossed the ponds. We were supposed to go on a Russian tour in February but that was right around the time Russia invaded Ukraine. We were supposed to play in a border town where the Russians had like 500 tanks… it would of been crazy. We canceled two days before we were supposed to leave, the promoter out there said that it was not safe. I am glad we didn't go. I am sure it would have been a problem to cross over to go to Ukraine, I'm sure. I wouldn't want to be stuck there. It's really sad because we really looked forward to playing Russia and Ukraine, we have a lot of fans over there. We were really looking forward to it, but we'll come back.
Do you have any tour plans for this release?
We are touring a 10-day tour through Europe then there are other tour plans coming up nothing confirmed yet but we are looking for different areas of the world.