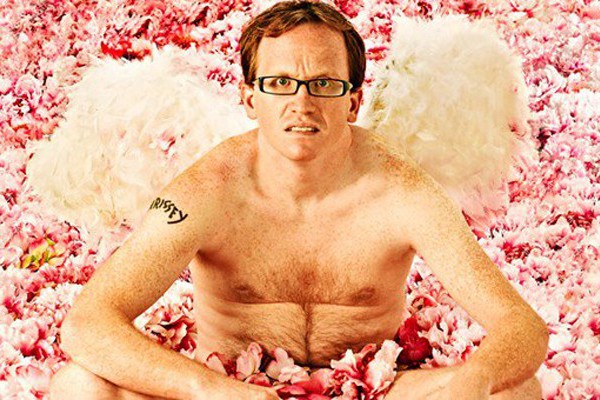 Just minutes ago, Chris Gethard aired the very last episode of his public access show, The Chris Gethard Show. Over the course of five years, Gethard grew the talk show through a punk rock dedication to DIY culture, and created a weird world with regulars like Vacation Jason, a man who is always on vacation, The Human Fish, a fish in a man's skin that dispenses sage-like wisdon, and… um… "The Beast Masturbator."
On top of that, almost every TCGS features wild, new acts, most of them culled from the punk and indie circles, such as Night Birds, Plow United, and Crazy and the Brains. Despite all the chaos, with many shows collapsing during filming, the affable Gethard remained the constant straight man, reacting to the chaos constantly shambling about the set. (Fittingly, the last episode was cut off with two minutes to go.)
Now, Gethard is taking his show to a for-real-deal cable network, executive produced by Will Ferrell. It's a big step for Gethard and the show's fans seem to be as excited as they are pensive. To get the details, features editor John Gentile spoke to Gethard on the afternoon before the final taping of the public access show. You can click read more for the interview.
What is the plan for the brand new show?
There's this network called Fusion. they are progressive and are looking to do things differently. They reached out to us and it really quickly seemed like a good match. They want to do all this internet driven stuff and they want to let fans feel like they are a part of things. I think that's what we've been about for a long time. For a network that is one cable, it seems like they are willing to do things differently. It seems like they are as questioning of the TV world as we are.
They have a bunch of weird shows on there now. There's a Paul F. Thompkins show there. It seems like it will be on the fringe of things.
How much of the old cast will be on the new show?
I mean we're bringing everybody. People's roles might have changed slightly. I'm really proud that we're a family and being a family is taking these steps together. You'll see Vacation Jason. You'll see the Human Fish. Over the course of pitching this thing there were some networks that suggested "we can do stuff if you recast." I was like, "You really don't get what we do, because that would betray why people like us already." Fusion was so welcoming of everything that we do.
There's a certain nobility there. "If my friends can't come, then I won't either."
I mean, I don't know if it is noble so much as it is the right thing to do. This isn't a thing that we wrote down an outline and tried to pitch in a traditional way. The reason anybody like this goes beyond a pitch. It is about the family that you get to know. I think it's the right thing to do in general and for the show. We had to really stand strong on that. I'd rather not to this at all than not do it with my friends.
Now, I believe the new show won't be live.
The cool thing about this network is that they are really interested in using the internet in ways that it hasn't been used by TV before. We're working really hard on getting people to interact with us while we are taping the show. We are building an infrastructure that is a little different than the way things were before. We are going to try to keep people interacting even if they aren't in New York. I don't know why people can't see the tapings even if they get to New York City. Maybe this will be a way that is up close and personal that we haven't seen before.
How different will the new show be from the current Chris Gethard show?
It will be really similar. Fusion has been very upfront that "We're not going to change what you do. We're here to facilitate that." It will be a shorter show. It will be a half hour. Our writers just need to make sure that we don't let that get into our heads. We just have to keep building things out like we have for the past five years.
Is there any idea of when the new show will premiere?
We're not totally positive. I think it will be sometime in the Spring. When we have that, I will get the word out by being very annoying on social media. It is looking like April, but that is not set in stone.
Right now we are nine hours away from the last ever Chris Gethard public access show. How are you feeling?
I mean, I'm definitely sad, just because I fear change in general. Moving on from this seems like a scary thing, but it's also a milestone, that reminds me of how much I fear mortality. There is a lot of emo, melodramatic thought that is going through my head. Bt, I'm excited to move on.
My time on public access has been indescribably positive. When we started it, we we're like, "Public access is a strange thing. Let's se how it goes." But, now I see it as one of the most punk rock things there is. It gives a voice to anyone. You can have a fully functioning TV studio even if you don't own a laptop. It's even more free for all than an internet. Here, you down even need a computer or a camera.
Public access is an organization with ideals that are profoundly respectable. One of the things I was shocked by is that once a show is put on the air, the development people don't watch it. They don't want to be tempted to censor it, so they don't watch it at all.
To me, it's the voice of the people. That just ties that into the views of how things should be. It ties into the music I grew up and the comedians I grew up liking who were very behind free speech. I am very sad to leave it behind because I feel it is being a little forgotten in our time.
You often mention your punk rock background. How did you get interested in punk rock to begin with?
Basically, I have an older brother and he just knew about things. He was always finding out stuff a little bit ahead of the curve. He was listening to WFMFU before any one else I knew. He had Ramones tapes before anyone else I knew. When we were in high school, he fell into the crowd that was putting out fanzines and going to shows in North Jersey. He started taking me to shows in eighth grades.
I'm very lucky that I have an older brother that has really good taste. He grew up jus questioning everything, in a way that rubbed off on me. that lead me to a way of people making things for the sake of making them, and making them intentionally through avenues that were smaller so they could control them. I saw that at a young age and it all boils down to the fact that my brother is weirdo that knew about things before anyone else did.
Chris, you have had so many awesome acts on your show- Night Birds, Crazy and the brains, Jeff Rosenstock, Plow United, Screaming Females- do any of those stand out to you specifically?
Yeah, absolutely. The first one that comes to mind is Jeff Rosenstock. We had an episode that got completely out of control at the start. I was in a bad mood that week. I named the episode "I'm nervous all the time" and I didn't think that I would be able to host the show unless it was about how I didn't think I was going to be able to host the show. I thought it would be rambly and me tapping into my love of Morrissey and over-sharing.
But, the crowd started shouting "More butts" and keep going for like 30 minutes/. Jeff, I think I had met him once or twice before the show, but I think we are kindred spirits and we became buddies and he realized that this is totally off the rails and without prompting, he jumped up and started playing along to this "more butts" chant and merged his songs into the chant. It was strange and culty and he just used his musical talent to through his fuel on the fire. It was such a blend of music and comedy that I loved it. Sometimes when our show goes off the rails the best stuff comes out of it.
Crazy and the Brains comes to mind. They really went out of their way to involve the audience. Screaming Females- King Mike got on a chair so his head was never in the shot. Shellshag- musically and visually is such a it for our show. I'm leaving out so many just for time. I think bands looked into our show and saw their vibe was the same as ours. There are just so many that I couldn't name them all.
Now, you have a Morrissey tattoo. I think Moz is great, but a lot of the Punknews kids hate him. What does Morrissey mean to you?
He means everything. I have two Morrissey tattoos. I've never met somebody that doesn't care if you don't like him. I'm amazed when punks don't like him. I think he might be the most punk person in the world. I think there's a version of him where he embodies punk rock completely. Musically, people might say you can't even argue that. But, as far as questioning everything, not caring if you turn people off, sticking to your guns, of you look at how he has values and will not betray them, even of it turns people off- that theory behind punk- to question everything, stick to your guns and your values, I would put Morrissey out there with Ian Mackaye and Jello as far as people who put their money where their mouth is and don't betray their values and having it be a part of their art, even if it turns people off.
I'm amazed that Morrissey is not embraced by every punk. But, neither is the Chris Gethard show, so it makes a lot of sense.