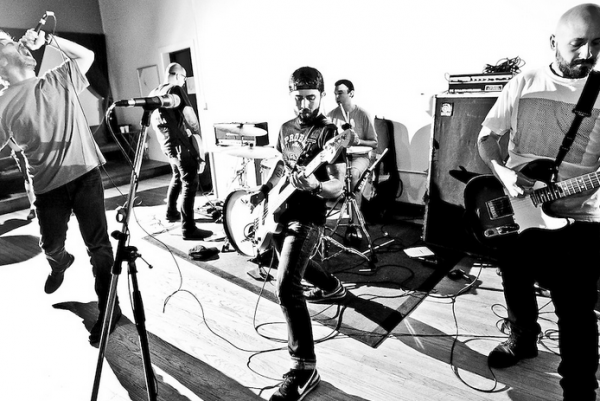 Being in a band isn't easy. In fact, it's pretty damn difficult. But how difficult could it be to be in three bands? Jim Connolly knows, and doesn't really seem fazed by it. Known as the guitarist of New England hardcore outfits Soul Control, Fucking Invincible and most recently Sweet Jesus, Connolly has played an integral part in the Northeast's independent music network. Punknews staff interviewer Gregg Harrington recently spoke with Jim over the phone about his new project, familiar faces and the correlation between hardcore and agriculture.
How did the band get started? I noticed you guys have actually been around for a few years.
Yeah, we've been actively playing together for about four and a half years. We technically came together when Have Heart was doing their final tour. Pat was figuring out what he wanted to do afterwards and he wanted to do a band like this. He called all of us individually on the same day asking us to do this band and we all said yes. Then it was just a matter of time before life slowed down and we got to play. It was actually about six months later before we had our first practice. We practiced once, wrote a song, and waited another 10 months. It was slow going but we played a few shows out of the gate; we just played our tenth show in four and a half years last month.
When you guys were practicing sporadically and writing material, was it hard to get into the rhythm of it since it wasn't a constant thing?
I was surprised that it didn't have an effect on us. We've all known each other for a long time so we have a personal chemistry. We've all played in bands together at one point or another and written together so it didn't matter if we practiced once every 10 months or once a week, we could just jump right into it.
Right. When you have that good of chemistry personally it seems like playing and writing together would come easily. The other cliché question I had was what kind of influences you guys are bringing into the band. After taking a listen to Box, it's noisy but still maintains a straightforward hardcore vibe so it's hard to pinpoint.
We definitely do, and if you catch us at a show you'll hear Pat explain this. We became a band because we all wanted to rip off Swiz. They were our jump off point: we're all big Swiz fans. At our first practice we just played one of their songs. We have other influences too but they're all from that era, early '90s DC stuff. We don't try to hide it at all. We even recorded a Swiz cover and mentioned them in our liner notes.
I'm glad someone is being honest about it. I've noticed when you're jamming with new people it's a lot easier to play a cover of something you all like rather than try to trudge through writing something together which can be treacherous.
Yeah, that was one of the questions Pat asked us. The first question was, "Do you want to do a band?" and the second one was "You like Swiz, right?" So we all had some of their stuff in our back pockets. We try to mention their influence on us at every show because there's probably someone that picks up on it.
Getting back to Box for a bit, how did you guys get hooked up with Triple B Records for that release and your contribution to the America's Hardcore Compilation?
I was in a band called Soul Control and he put out one of our 7-inches. When we started Pat was living with Sam from Triple B so before we even practiced we knew we would do something with his label. It took a long time. We were on his release list since we started in 2010. Sam also roadied for Have Heart forever too. He's the sort of guy that helped everyone out and it was a no-brainer that we would release something with him. The song from America's Hardcore, we recorded that when we did our demo. That song is actually a cover of George and Adam's old band Voices Forming Weapons. We figured it would work because they were already ripping off Swiz back in the '90s.
Was that weird for them to cover a former band of theirs?
They were only a band for I think two years at the most. They had a bunch of member changes but ended up putting out an LP themselves later down the road. Outside of New Bedford and the Boston area no one really knew that was a cover. At the beginning we were going to take a couple of their songs since George and Adam wrote them but we ended up choosing one that Pat always wanted to play. When he was young they were the local band he'd go to see. It was a weird connection because they were one of Pat's favorite locals and then George didn't know him but through a friend he did the layout for Pat's first band's CD. There's a lot of weird ties to all of us in this band.
It seems like, not only Boston but the New England hardcore scene in general, is a pretty tight-knit community. Is that a fair assumption?
Everything is so close together but separated. Boston is only 40 minutes from Providence, where I live. A band can play both cities on a tour and play to two totally different crowds. And New Bedford is kind of tucked away on the water so they were always separated from everything and in the '90s New Bedford was its own thing. That band Chokehold from Canada, their last show ever was in New Bedford because that was more of a home to them than Canada was. There were always different shows going on so close. Providence is a lot weirder because we have a lot of art students and everything so the hardcore bands tend to be a little different.
I was going to ask about you splitting time between all the bands you're in, but I didn't realize until today that Soul Control just went on a hiatus so I'm sure that frees your time up a bit more now.
Yeah, we had been really inactive for a long time. We played four shows last year, three shows the year before and maybe four shows before that. We're kind of spread out now, our singer lives about seven hours away. We weren't playing out much but our bass player just moved to Southeast Asia, so if he ever moves back we'll play out a bit again but we kind of had to put it on the back burner.
Right. Does that free up more time for Fucking Invincible as well? It seemed like you guys were relatively active for a time.
The one thing is that in every band everyone is pretty old, so everyone has jobs and families. Both bands are really limited to vacation time and if they line up together. FI has only done two 10-day tours because we could all just take four weeks of vacation. Sweet Jesus hasn't toured at all yet. We played in Brooklyn for the Soul Side reunion last month and those were our two shows that weren't in Boston, Providence or New Bedford. We haven't really gone anywhere yet, and we're not sure if we can. Two of the guys are teachers and Adam is having a kid any day now. I'm at the point where I can take extra time if I need to but I'm the only guy in either band that can do so. I'd get up and tour right now if I could but no one else can.
Both of your bands are made up of seasoned veterans of hardcore and punk. Do you find it easier for a band to get together when all the parties involved have been through the rigors of being in a full-time band?
At this point it's old hat for all of us. Everyone in FI has been playing in bands for a long time. George started playing in bands in '90 or '91. Alexis and I started playing in '94 or '95. Sweet Jesus is the same thing, Pat and Shawn are the babies and they started playing shows about 15 years ago. We've all toured a bunch and put out a bunch of records with a bunch of bands so there's nothing really new for us to figure out.
I know you described how you guys got hooked up with Sam and Triple B, but I was wondering how the upcoming LP on Atomic Action came up.
Brian who runs Atomic Action is an old hardcore guy; he used to hang out with the Verbal Assault crew back in the '80s. Verbal Assault used to go down and play with the DC bands all the time, so all these bands that we are trying to emulate are his friends. He likes this style of music a lot. He started the label in '87, he put out that Alone In A Crowd 7-inch. He's changed the name of the label a few times over the years and in the '90s he got really into noise rock and got out of it around 2000 because he wasn't really into it. His son became a teenager and started coming to a lot of shows, he even came to a lot of Soul Control shows, and so Brian would bring his son to shows and he ended up putting out a compilation of a bunch of Rhode Island bands a while ago. Sweet Jesus was supposed to be on it but we didn't have any material for it and Soul Control couldn't get together to play so I told him I had this new band, Fucking Invincible, and after he heard it he said, "That stuff was awesome, come back to the studio and I'll put something out." It's been really awesome working with him. He actually runs a farm down in Newport so he's just this really cool farmer that's a seasoned hardcore vet. The FI stuff went so well we thought we should put out the Sweet Jesus LP with him. He's just a cool guy. He also suggested calling up his friend J. Robbins to record us and he called John Brown from Swiz to sing on the record and he did. Just really cool stuff like that. If we were going to do this band emulating these DC bands it's cool to work with him because he's friends with all those bands.
That's pretty wild to hear, "Yeah, let me call my friend J. Robbins to record you guys."
Yeah, he was like, "Yeah, I'll call him tomorrow." To him they're just his friends but he loves to see how we react to that stuff. He'll tell a story about that and me at 36 years old, my eyes are just wide like a little kid.
I don't feel like that ever goes away. You could be 60 and if someone tells you a story about hardcore that happened before you were turned onto it, you're always all ears.
You're right. He's got the stories but sometimes he doesn't realize he's telling a major story to us. But yeah, he's awesome and I'm glad he wanted to do the Sweet Jesus record and as far as the FI stuff goes, we have no intentions of releasing anything with anyone else except him. That's what's cool about working with the farmer down the road. I mean, we've all been on various labels. You can Google search which ones we've been on, but there's no weird bullshit. If we give him songs he'll just send them to the pressing plant. You don't have to wait for your slot on a release schedule or anything. He has a bunch of stuff coming out this year because he's more active and more bands send him stuff. His only caveat is that he has to see your band and like your band. He'll just walk up to you and say, "Hey, your band is cool; I wanna put out your record." So he's putting out stuff he genuinely likes. Other than crazy out of state shows, he's been to almost every FI show and I think out of the 20 shows Sweet Jesus has played, he's been to at least 15 or 17 of them. He's out there going to all these shows, and I see him every Saturday at the farmer's market so we use that as an unofficial label meeting. He's slinging organic greens and eggs and stuff, and in between that we're talking about pressing plants and everything.
Really bridging the gap between agriculture and hardcore.
He calls Atomic Action an "organic greens and punk rock" label.
Besides the LP on Atomic Action, what can we expect from Sweet Jesus in 2015? If the planets align, will there be any touring?
We had a hiccup a couple years ago when our bassist moved to Seattle because we didn't know if he was going to come back or not, but he moved back after a year and that's when everything kicked into gear. We wrote a bunch of songs, recorded the 7-inch and eventually wrote songs for the LP. We're going to try to do as much touring as we can. We're going to at least try to fly out and do a west coast tour sometime. With two of the guys being teachers, you kind of know when they're going to be free but if we can get it together we plan to do as much as possible. We played 11 shows last year and that was the most we had played in four years, so we're going to try to beat 11 this year.
Awesome, thanks for taking the time to talk.
No problem man, thank you.