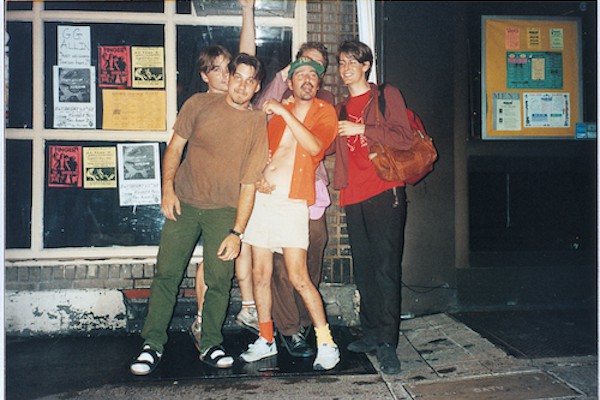 Pavement has set an August 11, 2015 for The Secret History Vol. 1 viaMatador Records.
It's the first of five compilations in a new series of Pavement rarities. The 30 tracks, 25 of which will be available on vinyl for the first time ever, include b-sides, unreleased session tracks, John Peel sessions, and a 1992 live concert from the Slanted and Enchanted era (1990-1992).
The deluxe double LP contains essays by Stephen Malkmus and Spiral Stairs, plus essays from Matador Records, Billions Corporation, and Drag City bosses, and a gorgeous gatefold designed by Rob Carmichael (Animal Collective, Dirty Projectors).
Sue Me Jack
So Stark (You're A Skyscraper)
Summer Babe (7" Version)
Mercy Snack: The Laundromat
Baptiss Blacktick
My First Mine
Nothing Ever Happens
Here (Alternate Mix)
Greenlander
Circa 1762 (Peel Session 1)
Kentucky Cocktail (Peel Session 1)
Secret Knowledge Of Backroads (Peel Session 1)
Here (Peel Session 1)
Rain Ammunition (Peel Session 2)
Drunks With Guns (Peel Session 2)
Ed Ames (Peel Session 2)
The List Of Dorms (Peel Session 2)
Conduit For Sale [Live Brixton 1992]
Fame Throwa [Live Brixton 1992]
Home [Live Brixton 1992]
Perfume V [Live Brixton 1992]
Summer Babe [Live Brixton 1992]
Frontwards [Live Brixton 1992]
Angel Carver Blues Mellow Jazz Docent [Live Brixton 1992]
Two States [Live Brixton 1992]
No Life Singed Her [Live Brixton 1992]
So Stark (You're A Skyscraper) [Live Brixton 1992]
Box Elder [Live Brixton 1992]
Baby Yeah [Live Brixton 1992]
In The Mouth Of A Desert [Live Brixton 1992]