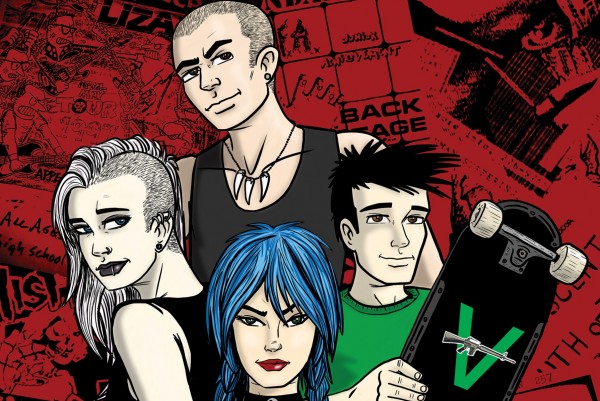 Today, we're excited to share the first ten pages of Fear of a Punk Planet, the new comic book written by The Vandals' Joe Escalante and drawn by Dominic Davi of Tsunami Bomb!
The comic is a resurrection of Escalante's late 90's cartoon of the same name (which was one of the first Internet shows!) It follows around a bunch if punk rockers who do punk rock things. Check out the first ten pages below along with a couple of quotes from the creators. You can order the comic here.
Joe Escalante:

"The original Fear of a Punk Planet TV series came about when I was working at the UPN TV Networking in the scheduling department and was approached to pitch a show for a niche audience in a new medium called "Internet Television." I went to the infamous Digital Entertainment Network, pitched the show as "Saved By The Bell for punk rockers" and they ordered 26 episodes on the spot. 7 episodes later they went bankrupt.

We decided to resurrect the series as a comic book because we realized that we have a lot of "under-told" stories at Kung Fu Records and this would be a great way to start telling them, and fabricating new ones. After straying from TV for a few years, I'm back full time as a writer on on the new scripted series "True Nightmares" on Discovery I.D. and I'm writing every day, which is what I like to do (instead of trying to figure out which punk band would lose less money than the other punk band). It's great to have an artist like Dominic Davi to help me tell these stories in such a fun way"
Dominic Davi:

"Fear Of A Punk Planet is based on is based on the 7 episode Digital Entertainment Network series created by Joe Escalante back in 1998. Kung Fu Records actually has the first 3 episodes for sale on DVD and they are worth checking out for sure. However when Joe approached me about the possibility of working the story into a comic book, I immediately thought that the sarcastic banter that runs through the episodes would translate really well to comic book form. However, as much of a fan of comics that I am, this is my first attempt to really make one, and I learned a LOT. It's very different from creating a poster or album cover. Joe also kept pushing me to make the characters more cartoonish so no one would mistake the tone of the story for taking itself too serious. So the art style is my VERY feeble attempt to draw from the legendary Dan DeCarlo (Archie Comics) and maybe a bit of Jamie Hernandez (Love & Rockets) to match the tone of the material.

For all my inexperience, I am very proud of the book. It's goofy, silly, and punk rock. It exists as both a love letter to the punk scene, while also making complete fun of it. Despite it taking place in the nineties and in a town called "Mullet", I think a lot of people can see themselves in it, no matter if you lived through that time or not. Even if what defines a "Hardcore" punk or "Skate" punk has changed a bit over the years, I think we all have a bit of these punks in us. I'm really excited to work on issue two. I hope you guys all enjoy this little teaser and a huge thank you to punknews.org for letting us showcase a few pages here. "