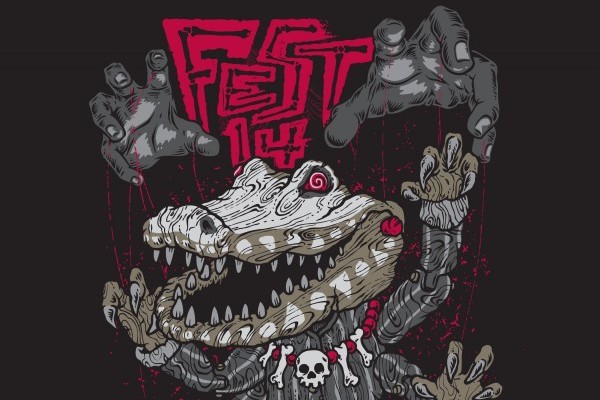 Well, it is now October and that means Fest is right around the corner. (We're sponsors, FYI!) Fest has an amazing lineup of 400 Punknews-type bands. But, you can't punk it up 24 hours a day. You have to eat! You have to relax! You have to free your mind, maaaaan.
So we put together a list of fun stuff to do at Fest if you need a break from 160-decibel punk rock bands. By all means, post your own favorite fun side activities below!
Adventure at Arrow's Aim Records
For most of the year, Arrow's Aim Records serves up new and used vinyl across a variety of genres. On Fest weekend, however, the Neil Young and Fleetwood Mac records move out to make room for a wall-to-wall selection of punk, hardcore, emo and every other obscure subgenre that Fest folks are into. Spend some time digging through the bins and you'll likely find a few rare gems and some new, hard-to-find LPs, plus a whole bunch of older 7-inches that are priced to move. If you're coming from far away, you may want to leave room in your suitcase for all of your finds. -Adam Eisenberg
Break bread at Boca Fiesta
There are a number of fine local spots in Gainesville that are worth your lunch money, and Boca Fiesta is among the best. Owned by former Against Me! (and current Sunshine State) drummer Warren Oakes, Boca Fiesta keeps it interesting with its own unique take on Mexican food. There are creative interpretations of all of the classics, plus a featured meat of the month for carnivores, which has in the past included selections like kangaroo and wild boar. Boca Fiesta is also the only restaurant where I've ever been helped by a server with an Amebix backpatch. If that's not enough, the spot also offers a variety of beers on tap, plus fresh-made margaritas. -Adam Eisenberg
Bro-down at Burrito Bros. Taco Co.
Sure, you hear about the Boca Fiestas and the Flacos that are downtown, but just across from the UF campus is my preferred burrito destination. Serving Gainesville since the '70s (originally on 13th Street across from the Holiday Inn), Burrito Bros. may have slightly changed its location, but still offers the oversized eats (Look for the GUAC sign in the window!) that locals crave. Especially convenient for the Holiday Inn crowd (and that long registration line!), you can call ahead and pick up at the store. You're welcome. -Mark Little
Dance with the Devil in the broad day light
The Devil's Millhopper is an ancient sinkhole fed by 12 separate springs trickling into it. The result is a unique ecosystem with three distinct ecological environments. A series of 236 steps and platforms leads to the bottom of the 120-foot formation, leading into a miniature rain forest. Fossils including shark teeth and remains of extinct land animals have been found in the sink, and the temperature at the bottom is significantly cooler than at the top, due to the natural canopy above. The Devil's Millhopper is located in NW Gainesville at 4732 Millhopper Road and is a great early morning trip before an afternoon of FESTing! -Mark Little
Feed your mind
Sure, you'll be killing a lot of brain cells with PBR during Fest, but that doesn't mean you can't learn something while you're in town, too. The Florida Museum of Natural History, on the campus of the University of Florida, is only a short walk from the Holiday Inn, and it opens early enough that you can get there before bands begin. If you're looking for a quiet, intellectually stimulating escape from the hustle and bustle of Fest proper, consider this a good option. -Adam Eisenberg
Gaze at some 'gators
Waaaaaaaay back when I was going through freshman orientation at UF, we were asked what we would do if we had to run away from an alligator. We all kind of snickered, but our host wasn't just blowing hot air. Gators (not just UF students) are very easy to find in Gainesville. Got some time when you're not sweating it out downtown? Head to Lake Alice on the UF campus (Go down Museum Road from 13th St.) or go to the prehistoric dry lake of Paynes Prarie (between Micanopy and Gainesville on 441) to look for prehistoric reptiles. Don't feed the animals. Oh yeah, and run zig-zag. -Mark Little
Get Mugged
Mug mug mug. After a long night of debauchery and a long morning of trying to rouse yourself from the effects of said debauchery, coffee is pretty fucking essential. So why drink that Holiday Inn swill when there's amazing coffee to be found in the immediate Fest epicenter? That's Volta Coffee, and that's where you need to be. Why take my word for it though? Former Punknews editor Jesse Raub makes a living as a wholesale educator over at Chicago's Intelligentsia, which as I understand it means he's paid to understand things like particle size and ground saturation so caffeine junkies like me don't have to. Here's what he says:
"Now, more than ever, is the essential moment for you to understand Volta. As the quintessential, high quality, high execution coffee bar of Gainesville, Volta has always served Fest crowds well. This year? Main stage area is right by their front door. Great focus on super rad coffees prepared very well, also strong tea program and a tight chocolate game. If you'd like, and he has time, owner Anthony Rue will chat with you about Pere Ubu for like 20 minutes, as well." -Adam White
Mash up the dance at Reggae Shack
What's the ONE thing you HAVE to do while in Gainesville for the fest, besides see some amazing bands? You have to go to Reggae Shack! The creators of some of the most delicious and spicy dishes you'll find just about anywhere. Don't eat meat? No problem! They have a huge vegetarian and vegan menu that will leave you more than satisfied. In years past if you showed up a bit later In the day you'd find a long line but the owners are currently expanding their space which should cut down on that wait time. If you're still in a rush you can always get it to-go. Stop making excuses and start making reservations! -Armando Olivas
Partake in the fine art of cinema
Sometimes even the most hardcore Festers need a break -- a comfy seat, some a/c and a bit of light entertainment. This year, one option for that is at The Hippodrome Theater, where you can catch a movie at the Punk Rock Film Fest. The two-day event will feature full-length flicks like "Filmage: The Story of the Descendents/ALL" and shorter fare like "Is Yoga Punk?," along with Q&As with filmmakers and more. While it isn't free, there are discount tickets for Fest passholders, and a few extra bucks to rest and recharge while catching a few quality films is well worth it.-Adam Eisenberg
Start your engines
Skate Station Funworks has Go-Karts. GO-KARTS, PEOPLE. GO. KARTS. 'nuff said. -John Gentile